Five Students Named 2016 Covenant Award Recipients
Five students were recognized for their exemplary commitment to the values of Christian faith, the liberal arts, academic excellence, community and service, respectively, at Augustana's 2016 Covenant Award ceremony, held Friday at Our Savior's Lutheran Church. The ceremony was the culminating event of Verdier 2016, a week-long celebration of the core values that serve as the foundation for Augustana's academic and student life programs.
A significant tradition at Augustana, the Covenant Awards are named in honor of each of the University's five core values: Christian, Liberal Arts, Excellence, Community and Service. A committee of faculty and staff review nominations from the entire campus community.
The 2016 Covenant Award recipients are:
Zach Jones '16, Covenant Award for Christian Faith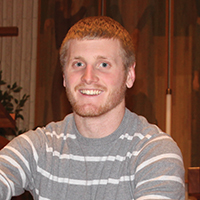 Nominees for the Covenant Award for Christian Faith are those who, during their time at Augustana, have searched for a calling that honors the Christian faith; who actively integrate faith and actions; who see their life journey as part of a bigger tapestry; who are growing in faith with Christ; and who are comfortable discussing their faith with others.
In receiving this award, Jones was described by his nominators as someone "who is one of the most open and respectful students with whom I have worked. He is a great example of how being deeply rooted – and growing in the rootedness of one's own tradition – serves openness. He readily shares the things he is learning about his own faith, was instrumental in Catholic Campus ministry choosing and adopting a saint [St. Therese of Liseaux] and articulating who she is and what she offers college students. He is just as intentional about hearing what Lutherans and international students and Muslims and agnostics are learning and thinking. I think not a single time has someone been intimidated or felt excluded by his witness."
"Zach is firm in what he believes, and loves to talk about what he believes," another nominator wrote. "He also is a very respectful listener, and even when he disagrees, he acknowledges the other person's perspective respectfully."
"He genuinely wants to know what others believe, why they believe it, and how they show those beliefs in their daily lives."
"Zach seeks out conversations where faith can be discussed between friends, in class, or even at track practice. These conversations are also seen in the fact that he is Catholic and is the campus president of the (Lutheran) chapel. Zach has seem how inter-denominational conversations, as well as inter-faith conversations, are important in fostering mutual respect and gaining new appreciation for your personal beliefs."
A member of the Augustana men's track team, Jones also serves as Chapel president, is a member of Better Together, and is an active community volunteer. After graduation, he plans to pursue advanced study at a Catholic seminary through the Diocese of Sioux City.
A double major in math and sociology, Jones is a native of Milford, Iowa.
---
Kofi Gunu '17, Covenant Award for Liberal Arts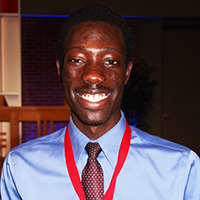 Nominees for the Covenant Award for Liberal Arts are those who have demonstrated a love of learning for its own sake; acknowledged or forged connections between academic disciplines; connected curricular and co-curricular interests; related their studies to important issues of human existence; and whose commitment to the liberal arts has shaped their plans for the future.
In receiving this award, Gunu was described by his nominators as someone "listens to what all have to say from whichever perspective, gives his opinion, and ..."
"... [he] engages all table members with a deep sense of respect and a hunger to learn from whatever they have to say."
"That is the iconic presence Kofi brings to wherever he goes. He wants to learn from any source and goes beyond to evaluate the source."
He looks to see what I am carrying in my hands and proceeds to find out about it. I have had the fortune of being close friends with Kofi; I find his pursuit of knowledge stamps, in me and others, a feeling of curiosity associated with him. That is, beyond his inquiring discipline, he encourages that of others as well."
A government/international affairs and economics double major from Tamale, Ghana, Gunu is also a member of Civitas, Augustana's honors program, and was one of Augustana's 2015 Peace Scholars. As a Peace Scholar, he spent seven weeks in Norway, deepening his understanding of the central issues and theories related to peace, justice, democracy and human rights. Read his account of his Peace Scholar experience.
Gunu has served as a Viking Guide to first-year students and is secretary of the Committee of Undergraduate Political Scientists (C.O.U.P.S.) club.
As a sophomore, Gunu shared reflections of his Augustana experience.
---
Matthew Housiaux '16, Covenant Award for Excellence
Nominees for the Covenant Award for Excellence are those who commit themselves to high virtuous and ethical standards; personal integrity; human excellence; self-discipline; and self-improvement. These nominees are known for bringing out excellence in others. Their commitment to excellence has shaped their plans for the future.
In receiving this award, Housiaux was described by his nominators as someone who "asks excellent questions in class ..."
"... [he] is always prepared and can be counted on for informed discussion."
"I first met Matthew in his freshman year when he entered into my Honors Western Civilization (modern) course in the spring of 2013," a nominator wrote. "Matt earned an A and had the highest grade point in the class. Central to this honors class is a research paper on the Holocaust that utilizes original source material. Matthew chose to focus his paper on two film producers, Mel Brooks and Roman Polanski, and their different approaches to the portrayal of the Holocaust. From its inception, I was confident that Matthew would provide a well-researched and written paper. Matthew showed how each man, both with very different backgrounds but both having experienced the war, sought to imagine the Holocaust on film. Matthew took the project very seriously and consulted often with me as he progressed. Matt's paper was superior. Matthew will graduate the History Department with departmental honors after he completes his honors thesis."
A native of Brookings, South Dakota, Housiaux is an editor for The Mirror, the Augustana student newspaper, and is also involved in Augie Green, a campus organization dedicated to environmental sustainability.
A journalism and history double major, Housiaux was a Sophomore Honors award recipient and in 2015, earned one of two prestigious David Kranz-Argus Leader Media Journalism Scholarships. Last summer, he completed an internship for the Kiplinger Washington Letter.
This summer, he will again work for Kiplinger, covering the White House as well as state and local government.
---
Brad Ostendorf '16, Covenant Award for Community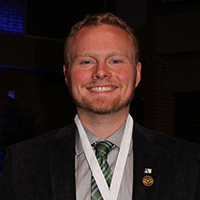 Nominees for the Covenant Award for Community are described as those who have demonstrated and fostered respect for others; who act as a leader, earning the respect of others; have left a mark on the campus and broader communities; and whose commitment to community has shaped their plans for the future.
In receiving this award Ostendorf, was described by his nominators as someone who has "made his mark on Augustana in numerous ways. His time as a peer advisor in the first year student halls allowed him to be the main influence on many students as they were getting used to college. Working with first year students as well as his time at Boys and Girls Club over the summer have further emphasized Brad's desire to become a teacher and continue to build young adults. Brad has an electric personality that draws people to him. He is our most visible male staff member and sets the standard for what we would like for all of our other employees to emulate."
"The legacy that Brad will leave behind on this campus will be that he was able to make some sort of connection to a good portion of the campus as well as leaving them with a smile," another nominator wrote. "His commitment to community will shape his plans in his future classroom."
"With Brad being an education major, I can only hope that he will make everyone feel welcome in his classroom like he has made everyone feel welcome here at Augustana."
A peer advisor and active member of the Recreational Services staff, Ostendorf is a math and secondary education double major from Andover, Minnesota. He was crowned Augustana's 2015 Viking Days king.
As a freshman, he reflected on his Augustana experience.
---
Tori Wilson '16, Covenant Award for Service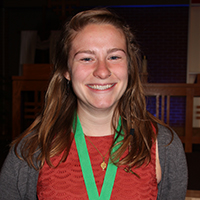 Nominees for the Covenant Award for Service are described as those who have a commitment to service on campus and in the broader community; who inspire others to serve; who serve quietly without fanfare and with no desire for recognition; and whose future plans have been shaped by service.
In receiving this award, Wilson was described by her nominators as someone who possesses "an attractive charm that engendered hundreds of friendships on campus and led her to becoming homecoming queen."
"Under her charm lies a compassionate heart that flows with generosity."
" Many know of her love of the Spanish language and her travels to Peru. However, fewer know of the hundreds of hours she has spent at Pueblo de Dios church serving parishioners and children. Not only does she serve there, she leads there, contacting the families in Spanish and English, teaching children songs and scripture, and bringing new volunteers from Augie to serve with her. On top of that, she incorporated her theme house to serve Pueblo and the greater Spanish community of Sioux Falls. Still, of those who know of her time at Pueblo, even fewer know about her refusal to take the weekly stipend the church offers." 
"She worked with Augie Admissions and the Spanish Department to create campus tours that were translated in Spanish and informed parents and young people of the recent legislation that allows many more residents of Sioux Falls to attend higher education. Her ability to organize, lead and to humble herself to even the lowest positions make her an excellent candidate. I have not even begun addressing the number of times she has served at The Banquet with Augie students and alone, or the number of times she has worshiped with prisoners in the penitentiary, or the number of times has simply said yes to a friend. The most telling part about Tori's commitment to service is that she would not want you to know any of this."
A native of Wayzata, Minnesota, Wilson is majoring in all grades education and Spanish and minoring in English as a New Language (ENL). She has served as a member of Chapel staff, has been a Viking Guide for new students and has worked on Viking Days committees.
---
Verdier 2016 continues on Saturday, April 16, with the Arthur Olsen Student Research Symposium, a gathering that fosters and celebrates student research. Dr. Cari Lee Skogberg Eastman '96 will deliver the keynote address. Learn more.