Mettler, Ali Named 2018 Peace Scholars
Augustana University today announced that junior Samson Mettler and sophomore Manaal Ali, both of Sioux Falls, have been named the 2018 Augustana Peace Scholars.
As Peace Scholars, Mettler and Ali will embark on a seven-week academic experience in Norway designed to deepen their understanding of the central issues and theories related to peace, justice, democracy and human rights. The two will study at the Nansen Dialogue Network in Lillehammer and at the University of Oslo International Summer School June 17 through Aug. 3.
Josh Barrows, a junior English and religion double major from Helena, Montana, was named the University's alternate. He will serve as Augustana's Peace Scholar if either Mettler or Ali are unable to participate.
---
About the 2018 Peace Scholars
---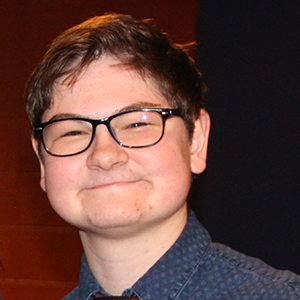 Samson Mettler is a theatre and interdepartmental major with foci in psychology and special education.
An active participate in Augustana Theatre and the Augustana Collaborative Theatrical Society, Mettler was selected to co-present a workshop on the LGBTQ+ community during the Kennedy Center American College Theatre Festival in January. On campus, Mettler also serves as vice president for Augustana's Gender and Sexuality Alliance, working alongside others to advocate for justice, equality, understanding and representation for all persons.
After graduation, Mettler hopes to build a career working with children with emotional behavior disorders and wants to serve as an advocate for transgender people.
In writing about a personal experience, Mettler described a desire to "remove the fear that surrounds the word 'transgender.' I hope to use my privilege to … change policies locally, regionally and nationally to help support trans people and their needs."
"I've worked to make the world a safer place for people who aren't typically supported by society, because to me, that's what peace is: Understanding other people and their needs, and working to make a place where everyone belongs."

— Samson Mettler
2018 Augustana Peace Scholar
A letter of recommendation described Mettler as someone who is committed to developing skills to advocate for justice and representation for all persons.
Mettler is "committed to fostering open dialogue, encouraging compassionate conflict resolution, creating accepting environments and exploring the social function of art," the letter said.
---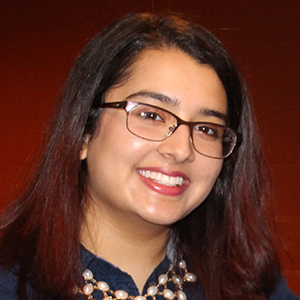 Manaal Ali is a double major in biology and government. She is also a member of Civitas, Augustana's Honors Program.
An active member of the campus community, Ali a co-founder of Augustana's Interfaith Reflection Room; co-president and founder of the Augustana Muslim Students' Association; co-president of the Better Together Club; a board member for the Diversity and Inclusion Office; and serves as an Augustana Cultural Exchange Ambassador. She is also a member the Committee of Undergraduate Political Scientists (COUPS), a student group on campus.
Ali recently founded HAPPY (Healthy, Accessible, Prevention & Protection for You), an organization on campus dedicated to providing free hygiene products to those who need it. In 2017, also created the Augustana Hijab Day, an interactive event designed to give students the opportunity to try on a hijab and learn more about Islam.
In addition, to her coursework and campus involvement, Ali also works at Sanford Research, creating and conducting experiments, processing and analyzing results and data, and communicating with the scientific community – a position she earned after serving as a PROMISE Scholar during the summer of 2015.
In thinking about her career, Ali wrote that she has a "deep passion for learning, understanding and helping the world.
"I would like to use my experience and my knowledge to help others attain the fundamental rights that they are born with. I am committed to create an environment of mutual tolerance for diverse opinions."

— Manaal Ali
2018 Augustana Peace Scholar
Ali said she also hopes to unite local religious institutions for the promotion of human rights and grassroots activism.
Because, she wrote, "there is no true faith without the fight for justice."
A letter of recommendation for Ali described her as someone who is "ethical and caring … someone who cares deeply about bringing people together in the hope of creating a more equitable and peaceful society."
---
About the Peace Scholars Program
The Peace Scholars program is sponsored by the Nobel Peace Prize Forum, a consortium composed of Augustana University, Augsburg University, Concordia College (Moorhead), Luther College, Pacific Lutheran University, St. Olaf College, California State University, Sacramento, and the University of Hawaii, Manoa. Students from each of the participating colleges will spend seven weeks at the University of Oslo's International Summer School deepening their understanding of issues related to peace, justice, democracy and human rights.
This summer in Oslo, they will embark on coursework that will include the causes of armed conflicts, peace building, peacemaking, humanitarian interventions and aid, peacekeeping operations, gender, civil society and nonviolence and peace movements. In conjunction with their studies, the scholars will also visit a number of influential institutions, including the International Peace Research Institute, Oslo; Nobel Institute; Oslo Center for Peace and Human Rights; and the Nobel Peace Center.
Mettler and Ali will be introduced at the 2018 Nobel Peace Prize Forum, Sept. 14-15 at Augsburg University in Minneapolis. The 2018 Nobel Peace Prize Forum will explore the dual themes of the paradox of peace and the paradox of water, through the work of the multiple laureates, artists and many others. It will feature the work of 2016 Laureate, President Juan Manuel Santos of Colombia; and the 2017 Laureate, the International Campaign to Abolish Nuclear Weapons (ICAN).
Upon returning to their respective campuses, the scholars will continue to communicate and find ways to build on the Oslo experience together. They will also be expected to play a leadership role in peace activities on their campuses and assist with the upcoming Nobel Peace Prize Forum.