New Master's Degree Program in Genetic Counseling Takes Shape
When Augustana's new master's program in genetic counseling launches next year, it will become only the 32nd program of its kind in the U.S. and the only one in South Dakota.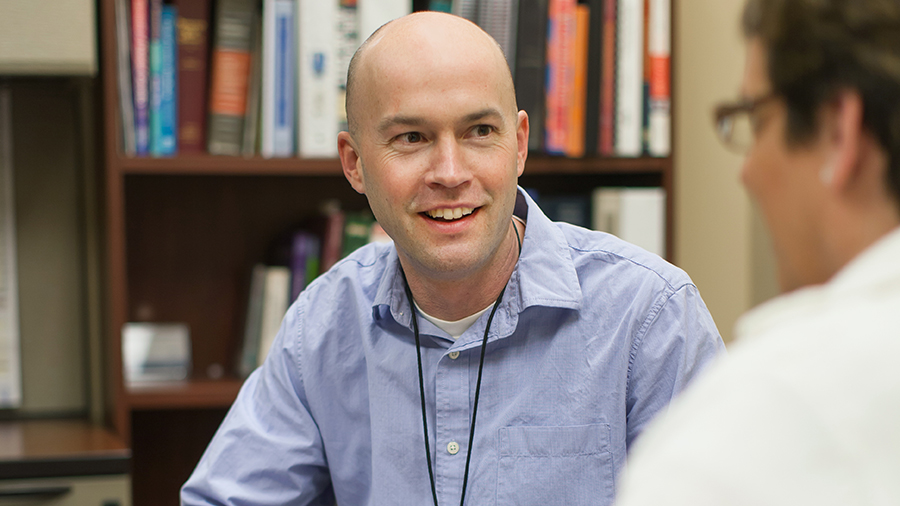 Last fall, Quinn Stein, a certified genetic counselor, was named associate professor and director of the program. In his new role, Stein is hard at work leading the development of the academic program and assembling the team of scientists, researchers and clinicians who will teach its courses and help recruit and select an annual cohort of students from around the nation.
Created through a collaborative partnership with Sanford Imagenetics, an initiative designed to integrate genomic medicine into primary care for adults, the program is currently undergoing internal review before accreditation approvals this summer. Stein said applications for the first class will be accepted beginning in late 2015. Accepted students will officially begin the two-year program in fall 2016.
In addition to its partnership with Sanford Imagenetics, Augustana's program will also feature a collaborative partnership with the University of California, San Diego, through which selected students will have the opportunity to spend the second year of the program studying at UCSD's campus and working in clinical rotations throughout San Diego.
Upon their completion of the program, students will have met the requirements necessary to sit for the American Board of Genetic Counseling certification exam. From there, Stein said, career opportunities will be plentiful.
"There is a high demand for genetic counselors in the marketplace today," Stein said. "So much so that programs can't train students fast enough to keep up with the demand. New opportunities in genetic counseling are emerging everyday. Many students who graduate from this program will go on to become genetic counselors, pursuing careers in cancer genetics, ophthalmology genetics or primary care genetics. Some will work for genetic laboratories writing reports or working in utilization management. Some will go on to become medical-science liaisons for genetics companies. Others might work for insurance companies. The possibilities are endless."
Those interested in learning more about the program can ask questions via email: genetics@augie.edu.