Oliver on New Science Complex: 'This Project is a Result of All Those Dreams'
The latest issue of Prairie Business magazine features Augustana's new Froiland Science Complex:
---
By Kayla Prasek, Prairie Business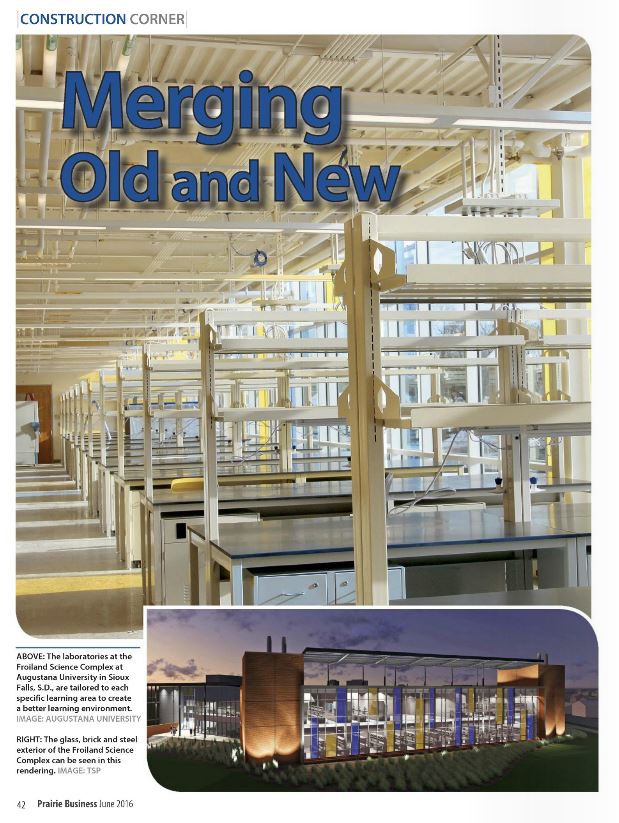 Augustana University focused on the sciences for its latest building project. The Sioux Falls, S.D.-based university is in the midst of building the $35 million, 125,000-square-foot Froiland Science Complex.
The project, designed by Sioux Falls-based TSP Inc. and SmithGroupJJR of Detroit, consists of 41,000-square feet of new construction along with the renovation of the existing Gilbert Science Center.
"This is a project that had been considered for a number of years for the primary goals of increasing capacity and modernizing the facility for natural science," says Rob Oliver, president of Augustana. "It had been dreamt about for a decade, and we had a number of different design solutions. This project is a result of all those dreams."
Construction, which is being led by Sioux Falls-based Henry Carlson Construction, started in May 2015 on phase one, which included the addition and renovation of one wing of the existing building. Phase one was finished in time for spring semester classes, and construction transitioned to phase two, which includes the completion of the renovation as well as grounds work. It is expected to be complete by August.
"This allowed us to keep using the old building then flip to using the new building," Oliver says. "We studied the possibility of creating an entirely new facility, but the existing building was very well constructed and had plenty of usable space. No matter what, we would've needed to update that building whatever it was used for, so we decided to put the two projects together and completely gutted the existing building."
Paul Boerboom, principal architect with TSP, says the main idea behind the project was "science on display." That idea is seen through the glass exterior of the addition and the glass walls inside the building. It also features a structural steel frame and brick exterior, while the interior exposes the piping, frame and concrete floors, creating an "honest" design. "We had to bring a very outdated facility up to date and also create a new addition and make the two parts flow together," Boerboom says. "With the addition, the building forms a gateway feature and is a landmark building on that southeast corner of campus. It's very prominent now."
Chase Kramer, an architect with TSP, says one of the big challenges was to "make it not feel like an old building with an addition on it. It blends together in terms of finishes and character of the structures. When you walk through it, it's hard to tell where the addition ends and the old building begins."
The Froiland Science Complex is home to nursing, exercise science, biology, chemistry, biochemistry, computer science, mathematics and physics courses. It includes classrooms, a greenhouse, multi-purpose laboratories, research labs designed for each specific area of study, a flexible lecture hall and what the university is calling "classatories," rooms that are both a classroom and a lab.
"Professors can begin with the lecture and then have their students move to the lab bench, which allows them to put to work right away what they just talked about."

— Rob Oliver
Augustana University President
The existing lecture hall was a typical tiered lecture hall. The design called for gutting that space and creating a flat floor with retractable bleachers, flexible seating for varied set-ups and a retractable wall to split the space into two rooms.
The university also wanted the building to be more than just a location for class, says Chase Kramer, an architect with TSP. "We created collaborative spaces, open conference rooms and study rooms to encourage students to use the building as a gathering place as well."
As a liberal arts institution, Augustana is "a big proponent of art in facilities, so we worked with a faculty member on a new pendulum to replace a pendulum from the original structure," says Brian Heidbrink, principal and project manager for TSP. "We tried to keep part of the old in the new."
Augustana's decision to invest in the sciences comes from the increasing interest in those majors the university has seen in recent years. "Augustana has always been strong in the sciences," Oliver says. "We have seen even more interest in the STEM fields, and part of that is because our students are also immersed in the arts, which links those fields in new ways. Because of that increased interest, we felt we really needed to expand these spaces and the former facility had become outdated, so we decided to expand and modernize."
Oliver also notes that in addition to serving all of the university's natural sciences majors, the Froiland Science Complex serves the whole Augustana community as all students take science courses throughout their college careers.
"Areas of the facility will also be used for multi-purpose reasons," Oliver says. "The facility is being celebrated across campus. Everyone acknowledged the need for it and is excited to get it finished."