Q&A with Betty Erickson: Executive Assistant to the President
Last week, Betty Erickson celebrated her retirement after having served as the executive assistant to five Augustana presidents: Dr. Lloyd Svendsbye, Dr. Sidney Rand, Dr. Ralph Wagoner, Dr. Bruce Halverson and currently president, Rob Oliver.
She started at Augustana in the social science department under a grant position for several years. When the grant was dissolved, she took a position in academic affairs – which eventually turned into her role as the executive assistant to the president.
In her 36 years working at Augustana, Erickson has seen the college transform in more ways than one. We caught up with her on her last day to hear about her Augustana experiences.
Q: You started this position working with President Svendsbye for a short time. Who came after that?
A: There was an interim president for a year – President Rand. He always told me: "You never pick up a piece of paper twice. You pick it up, you do something with it and it's off your desk." His desk was always immaculate.
Q: What was it like to adapt to these new presidents?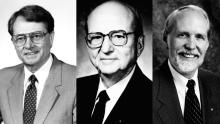 A: They all operate differently. They all have different personalities. I didn't really have any problems. You just do what they say and it works well.
Q: Which president did you work with the longest?
A: I worked with Rob [Oliver] the longest. He started in 2006.
Q: What is the biggest reward of this job?
A: I just think I've been blessed to be here for this many years. [The presidents] all have different personalities, but boy have they all been nice and treated me well. I can't pick out any one thing; it's just that it's a great position and a great place to work. There's no place like Augie. It's just a little close-knit family. I can't believe it's gone this fast.
Q: Over all these years, you must have seen Augustana change quite a bit. What have you seen change since you've been here?
A: So much has changed from when I first walked in the door. It has become a bigger college, a better known college, there are new buildings, and athletics have grown.
Q: How has the campus developed since you've been here?
A: The social sciences building has changed. That used to be an old wooden barracks when I came here. That was the building I first worked in. To watch that go down and see the new social science building go up was interesting. The Elmen Center went up when I was here. The chapel was built. So there's just been a progressive growth on campus since I've been here. My husband graduated from here in 1955. They didn't have half of what they have now. They had chapel in the gym [which is now the Edith Mortenson Center Theatre].
Q: So you weren't a student here, but you've gotten to know a lot of faculty and students through this job?
A: Oh yes. We get a lot of traffic through here. And you just gradually, if you're out and about, get to know the faculty and students. The students are always very friendly. Somehow you just get to know a lot of the students so you really get a broad base of the whole college in this one office. They're just fun to talk to, and I like to talk to people!
Q: What was technology like when you first worked here?
A: When I was in the social work department I had an electric typewriter. I think the one I had in the office of the president was an electric one too.
We also mimeographed a lot when I was first here. (Editor's note: for the young folks, mimeographing is the old manual version of the modern-day copy machine.)
Q: What do you think of Augustana students?
A: We draw just absolutely amazing students. I think the quality of education they get here is very good and the faculty members are so ready to listen to a student and help students. I think the research that goes on in GSC is amazing what those students can do.
Q: What did you do before coming to Augustana?
A: Worked as a dental assistant before coming to Augie. So this has all evolved in kind of a strange way, but like I said, I feel very blessed that this has happened in my life.
I think you find that people stay a long time here too. Because it just such a warm place to be. It will be very hard to walk out the door.
Q: What are you planning to do in retirement?
A: To start with, we don't have a lot of plans. We have a grandson in southern Florida – which is a good place to visit in the winter, and we have a son who lives in Denver – which is also a good place to visit, and a couple kids here in town.