Student Research On Display at Symposium
Scholarship and excellence are alive and well at Augustana University as more than 70 students participated in the 2016 Arthur Olsen Student Research Symposium on Saturday, April 16.
During Saturday's event held in the Humanities Center on campus, 38 oral presentations and 26 poster presentations were on display for students, faculty and community members. Some of these presentations and posters are on their way to professional conferences later this year. View a list of all the research sessions and presenters.
"This truly is a celebration of student excellence and the work they have done for the past year or so," said one of this year's event coordinators, Assistant Professor of Spanish Dr. Michael Rueter. "It's easy for student work to get lost in the classroom, so to see it in a visible forum like this symposium is a great opportunity for the community to gather around and lift up the work these students have done."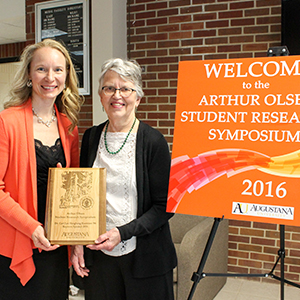 The symposium also featured a keynote discussion on "Shaping Perceptions from Misconceptions? Analyzing Myths and Realities of the Contemporary U.S. Immigration Debate," by alumna Dr. Cari Lee Skogberg Eastman '96. She was presented with a commemorative plaque during her presentation (She is pictured on the left with Ruth Olsen).
This is the 16th year a student research symposium has been held on campus and is the second year since it has been named for Dr. Art Olsen, professor emeritus of philosophy and religion at Augustana and former provost. Olsen served the University for more than 40 years, retiring in 1996. He passed away in May 2014.
In 2015, the family of Dr. Arthur Olsen made an endowed gift to support the Augustana Symposium and student research. In honor of that gift and in tribute to Dr. Olsen's many contributions to the campus community and student research, the Augustana Symposium was renamed the Arthur Olsen Student Research Symposium.
The Arthur Olsen Student Research Symposium is supported by the Office of Academic Affairs, Civitas, Mikkelsen Library and UBG.