Students Set to Rebuild on Site of Steen House Fire
A new student group on campus is dedicated to turning big ideas into reality. It's called the Big Ideas Committee, and its first project is truly life changing.
The committee, led by senior Lance Shaull, has struck a partnership with Wayne Wagner, housing development director for Affordable Housing Solutions in Sioux Falls. They plan to recruit students across campus to build a house for a low-income family in need.
"I think that Augie students are known for biting off more than they can chew and finding a way to overcome it," said Shaull who founded the committee this spring. "Like the Big Event each year, we want students and people around Sioux Falls to look forward to what Augustana students are going to take on next."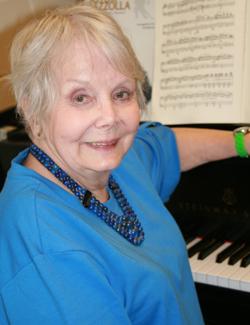 The project includes a deeply sentimental element for the students as well. They've decided to construct the house on the site where a former piano instructor, Solveig Steen (pictured), lived before she passed away in a house fire on April 12, 2013.
A piece of the original foundation from Steen's home will be placed in a showcase on campus during the process, making this both an important service project and a memorial for the beloved piano instructor who served Augustana students for 52 years.
"Our goals are to build a home that Ms. Steen would have been proud of and to provide an avenue for Augustana students, staff and alumni to honor someone who gave her life to education and music," Wagner said.
Wagner said other project goals include adding beauty to the neighborhood and providing a home ownership opportunity for a low- to moderate-income family.
"Our older neighborhoods are at risk. We need to continually re-invest in them to prevent a downward spiral that results in lost property values and crime," Wagner said. "We also need to honor those that have dedicated themselves to the education of our children. This project does both along with providing a home ownership opportunity to a low-income family."
When Shaull started the committee, he didn't have any specific project in mind. In fact, he didn't know if anyone would be interested.
"I started this committee around December and had no idea what I was doing," Shaull said. "I just sent out a really vague email and told people that I wanted to get a bunch of students together and try some sort of big service project that would get people's attention."
Fortunately, he received several responses, and the group collectively decided that building a house would be the kind of project that could give the group momentum.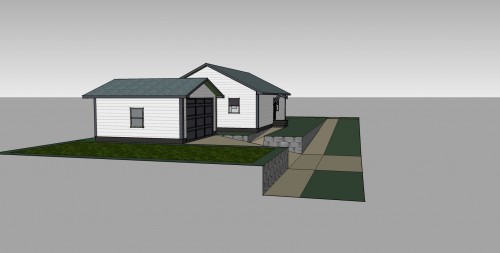 "The group voted and decided that a house-building project was as big as we could go," Shaull said. "We talked to a couple contractors, got laughed at a little bit, and were a little bit lost for a while. Wayne came along with Affordable Housing, and our idea fit perfectly with their mission."
Affordable Housing Solutions creates three to 10 homes each year as part of their neighborhood revitalization project. As with all of their houses, this new home will house a low-income family. Though the family has yet to be chosen, Wagner said he would prefer it be given to a veteran.
Of course, one thing is certain: this will be an experience the students will never forget.
"Students can be a part of something that will affect this family for the rest of their lives," Shaull said. "They can also know that their efforts in making this a successful project will play a role in any future projects that this committee is able to take on. When you are looking at the large-scale cause that this project could have, there are bound to be some great large-scale effects."
Shaull and the committee plan on tying this project into the spirit of Viking Days by breaking ground on Sunday, September 28, the day after the homecoming parade. The construction is expected to last one week.
The committee is looking for volunteers. Anyone interested can contact Lance Shaull or Ali Lindgren to get involved.
—Jake Shama '14