A Study in Brewing
An Augustana scientific research project conducted this summer will provide local yeast strains for a local brewing company co-owned by an Augie alumnus.
Beer 101: The main ingredients to make beer are grain, hops, water and yeast. The first three account for much of the taste in beer while yeast plays a key role in fermenting them to make alcohol.
At Fernson Brewing Co., Blake Thompson '10 has locally sourced his water, hops and grain for years, but by the end of this summer, he hopes to be able to say that Fernson beer is a 100 percent locally sourced product with the help of Augustana senior Dan Schmidtman and biology professor Dr. Paul Egland.
In conjunction with Augustana's 2016 undergraduate summer research program, Schmidtman, a biology and Spanish major from Sioux Falls, received a South Dakota Biomedical Research Infrastructure Network (BRIN) Grant to work with Fernson and Egland. The BRIN Grant gives students the opportunity to help local industry and strengthen the biomedical research infrastructure in South Dakota.
Researchers hope this 10-week project, titled "Isolation of Native Microbes for Use in Commercial Brewing," will provide Fernson with yeast strains from South Dakota to use in their brewing process.
"What we've done, so far, is isolate and characterize yeast strains in the area using selective enrichment  techniques like a low pH and antibacterial environment," Schmidtman said. "Then it's about isolating the yeast that can be used for fermentation."
After one week of research, Egland and Schmidtman had an incubator full of 20 different cultures.
"Yeast is everywhere," Egland said. "We just set up culture conditions that favor the yeast we want." They've even collected yeast samples right on Augustana's campus. Next, they will be testing the yeast's ability to make CO2, "which is good for the brewing process," Schmidtman said.
A few weeks ago, they handed off the yeast they've deemed good for fermentation to Fernson and hope to see a successful brew that is uniquely South Dakotan.
"And since yeast is a living organism, they can grow more and use it for years to come," Egland said.
Why Local?
"Many people think that using locally sourced products is better for you, not just economically, but for your own health," Egland said. "As our bodies adjust to our local environment, we build up what are called normal microbiota in our systems (bacteria natural to your body). Eating and drinking local foods is thought by some scientists to be easier on your body as it matches the microbiota you already have in your system."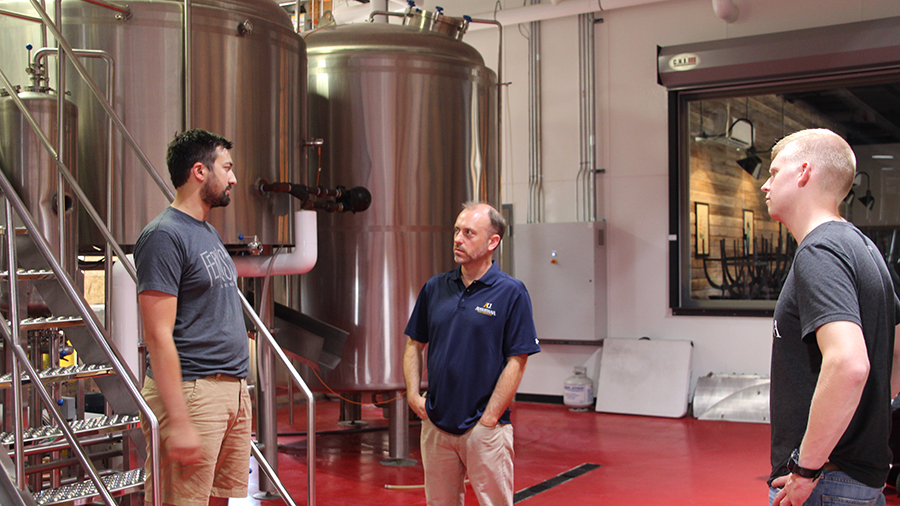 ---
Augustana's Dr. Paul Egland and senior Dan Schmidtman visit with Fernson co-owner Blake Thompson '10 on site at Fernson Brewing Co. in Sioux Falls.