Nico and Vinz in Concert
---
Augustana will host international music sensations Nico & Vinz in concert on Friday, April 24, at The District, 4521 W. Empire Place in Sioux Falls.
In the U.S., the singing/songwriting duo are best known for their Billboard Top-40 hit song, "Am I Wrong."
Doors open at 7 p.m. for the event, organized by the Union Board of Governors (UBG) Big Event Committee. Opening for the event is Sioux Falls-based group Valleyhill.
General admission tickets are $25 plus service fee.
About Nico & Vinz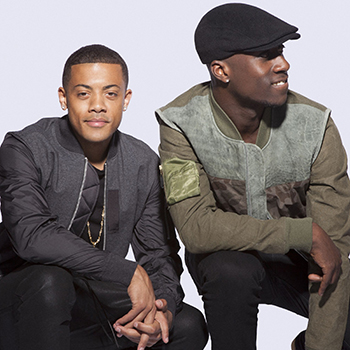 Hailing from Oslo, Norway, Nico & Vinz is made up of Nico Sereba and Vincent Dery who have tapped into the heart of global culture by writing and performing songs that joyfully speak of life, love and identity.
Songwriters of Ivorian and Ghanian backgrounds respectively, Nico & Vinz have come together fusing their varied eclectic influences — from pop to reggae, West African dance to hip hop, rock to soul — to create an engaging sound featuring soul-stirring messages that claim high hopes for the future.
"We are Norwegian and African," Vinz says, "It is important for us to inspire. We sing about things we've been going through and about finding ourselves. To us it's important to have a message, and the goal for us is to inspire people to find happiness.
Since their debut in 2010 as Envy, Nico & Vinz have drawn huge audiences thanks to their unique performance style.
In June 2011, they released their debut single, "One Song," which peaked at  No. 19 on the Norwegian Single Chart and earned the duo a Spelleman Award (the Norwegian equivalent to a Grammy Award) for the song's video.
In 2013, they performed live at the Nobel Peace Prize concert in Oslo, Norway.
The pair say their song, "Am I Wrong," speaks about a universal theme following your own heart.
"It is our hope that people who are asking 'should I go the safest way that everybody says I should go, even though my gut says to go where my true happiness lies?' to be happy. We want to inspire them to follow their heart," Nico said.
Last fall, they released their new album, "Black Star Elephant," following a summer spent  supporting Bruno Mars on his national tour. Next up, a European tour with Usher.
About UBG Big Events
The Augustana Big Event planning committee works each year to bring a big-name musical artist to Augustana's campus. Past Big Event artists include: Ben Folds, O.A.R., Widespread Panic, Third Day, Raining Jane, Goo Goo Dolls, Sara Bareilles, Phillip Phillips, Macklemore & Ryan Lewis and, most recently, Plain White T's and Parachute.
The successes of these events stem from the high attendance of both Augustana students and the Sioux Falls community. Big Event strives to uphold Augustana's mission of fostering community by connecting Augustana students with other students and community members in the greater Sioux Falls area.