Hjerpe, Yang Named Recipients of Covenant Award for Liberal Arts
Seniors Kaitlin Hjerpe and Tony Yang were recognized for their exemplary commitment to the Liberal Arts during Tuesday's Verdier 2013 ceremony, part of a week-long celebration of the core values that serve as the foundation for Augustana's academic and student life programs.
"As faculty and administrators, we often talk about how lucky we are, indeed, to be surrounded by these curious, energetic and innovative young people who remind us that the future is written by what we do today," said Dr. Jim Bies, Dean of Students for Augustana. "We celebrate Kaitlin and Tony on this honor and we congratulate each of the students who were nominated for their commitment to living out our value of the Liberal Arts."
A significant tradition at Augustana, the Covenant Awards are named in honor of each of the College's five core values: Christian, Liberal Arts, Excellence, Community and Service. A committee of faculty and staff review nominations from the entire campus community.
Nominees for the Covenant Award for Liberal Arts are those who have demonstrated a love of learning for its own sake; acknowledged or forged connections between academic disciplines; connected curricular and co-curricular interests; related their studies to important issues of human existence; and whose commitment to the liberal arts has shaped their plans for the future.
In receiving this award, Hjerpe, a 2012 Peace Prize Forum scholar, is described by her nominators as someone who demonstrates leadership and service; who connects her academic goals to issues related to human existence; who is a committed advocate for peace who seeks to further social justice by working to break geographic and cultural barriers.
Yang, a violinist with the Augustana Orchestra, is described by his nominators as someone who believes in the importance of advocating and motivating others to make a difference. He has conducted research in New Zealand and at the University of Minnesota and served as his mother's lead translator when she returned to school to earn a bachelor's degree in Nursing. After graduation, he plans to enter the Peace Corps to serve in Liberia before pursuing medical school.
Hjerpe is a Sociology and Interdepartmental Studies major from Hutchinson, Minn. She is the daughter of Kurt and Ramona Hjerpe.
Yang is a Biology major from Hugo, Minn. He is the son of Chon Yang and Ai Vang.
Verdier 2013 continues throughout the week. Augustana's core values will be celebrated each day and student Covenant Award nominees will be recognized. Upcoming Verdier events include:
Wednesday, March 20: Recognizing Excellence
Watch students take on faculty members in the Quiz Bowl. The 2013 Covenant Award for Excellence will be presented at 5 p.m. in the Siverson Lounge.
 
Thursday, March 21: Embracing Community
Join fellow students and faculty/staff for Viking cookies before the presentation of the 2013 Covenant Award for Community  at 10 a.m. in the Siverson Lounge.
 
Friday, March 22: Lifting up our dedication to Service
Pledge to participate in the April 20 "meal packing day" to benefit Kids Against Hunger. The 2013 Covenant Award for  Service will be presented before the Rendezvous at 3 p.m. in the Back Alley.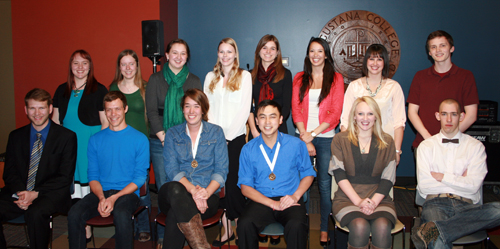 Nominees for the 2013 Covenant Award for Liberal Arts.
Front Row: Michael Seeley, Mason Voehl, Kaitlin Hjerpe, Tony Yang, Maren Engel and Aaron Munce.
Back row:  Ally Lloyd, Erika Zetterlund, Marissa Knaak, Tina Skeie, Anne Pfeifle, Kelly Wong, Hannah Kuelbs and John Detlie .