Homan, Titze Named Recipients of Covenant Award for Community
Seniors Kimberly Homan and Thad Titze were recognized for their exemplary commitment to Augustana's core value of Community during Thursday's Verdier 2013 ceremony, part of a week-long celebration of the five values that serve as the foundation for Augustana's academic and student life programs.
"At Augustana, we often say that our students enter to learn and leave to serve. Here, they come to understand that in order to create a better tomorrow, they must do all they can to develop, support and nurture communities near and far today," said Dr. Jim Bies, Dean of Students for Augustana. "We celebrate Kim and Thad on this honor and we congratulate each of the students who were nominated for their commitment to living out our value of Community."
A significant tradition at Augustana, the Covenant Awards are named in honor of each of the College's five core values: Christian, Liberal Arts, Excellence, Community and Service. A committee of faculty and staff review nominations from the entire campus community. 
Nominees for the Covenant Award for Community are described as those who have demonstrated and fostered respect for others; who act as a leader, earning the respect of others; have left a mark on the campus and broader communities; and whose commitment to community has shaped their plans for the future. 
In receiving this award, Homan is described by her nominators as someone who "is an advocate for people with special needs; who is guided by her heart; and whose leadership is influenced by her caring personality and her ability to build rapport with people from all walks of life."
Titze, president of the Augustana Student Association (ASA) for the 2012-13 academic year and a 2011 Peace Prize Forum scholar, is described by his nominators as someone who "is known by many on campus as one of Augustana's finest; who acts on opportunities to serve the world; who uses his collaborative skills to always seek input from others; and whose style of leadership is full of thoughtfulness, sympathy and humility."
Homan is a Communications Disorders major from Marshall, Minn. She is the daughter of Richard and Catherine Homan.
Titze is a Political Science/Government and International Affairs major from Watertown, S.D. He is the son of Blair and Nancy Titze.
Verdier 2013 concludes on Friday, March 22, when Augustana will lift up its dedication to the value of Service. The campus community can pledge to participate in the April 20 "meal packing day" to benefit Kids Against Hunger. The 2013 Covenant Award for  Service will be presented before the Rendezvous at 3 p.m. in the Back Alley.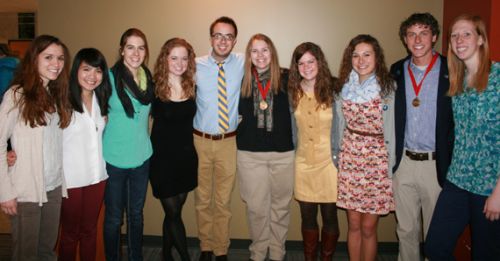 Nominees for the 2013 Covenant Award for Community:
Left to Right:
Amanda Warmka, Chi Ngo, Coral Hanson, Sanna Horsley, Dylan West, Kim Homan, Megan Kremin, Erin Schoenbeck, Thad Titze and Krista Youngberg. Not pictured: Megan McDonald.