Seberg Named Recipient of 2013 Covenant Award for Service
Junior Molly Seberg, a Communications Disorder and Psychology major from New Brighton, Minn., was recognized for her exemplary commitment to Augustana's core value of Service during Friday's Verdier 2013 ceremony, the final in a week-long celebration of the five values that serve as the foundation for Augustana's academic and student life programs.
"From serving at local food pantries to forging new pathways in science, our students show us time and time again that they rely on a moral compass that stresses the importance of giving back and helping others to guide them through this journey we call life," said Dr. Jim Bies, Dean of Students for Augustana. "It's an honor to work with such bright and thoughtful young people who truly do live out Augustana's core values each and every day. We celebrate Molly on this honor and we congratulate each of the students who were nominated for their commitment to living out our value of Service."
A significant tradition at Augustana, the Covenant Awards are named in honor of each of the College's five core values: Christian, Liberal Arts, Excellence, Community and Service. A committee of faculty and staff review nominations from the entire campus community.  Nominees for the Covenant Award for Service are described as those who have a commitment to service on campus and in the broader community; who inspire others to serve; who serve quietly without fanfare and with no desire for recognition; and whose future plans have been shaped by service.
In receiving this award, Seberg, a member of Augustana's Serving and Learning Together (SALT) outreach team, is described by her nominators as "someone who sees service and helping others as a way of life; someone who serves with an eager heart full of love; who always goes beyond what's expected."
In late 2012, Seberg helped organize an Augustana effort to collect more than 500 Christmas gifts for Teen Town, a Salvation Army program that provides gifts to teens between 13-18 years of age from low-income families. She is the daughter of Christopher and Karen Seberg.
At the event, students had the opportunity to pledge their support for Augustana's "Packing Event," set for Saturday, April 20. Students and the campus community will gather at Kids Against Hunger between 10 a.m. and 2 p.m. to pack meals for children in need.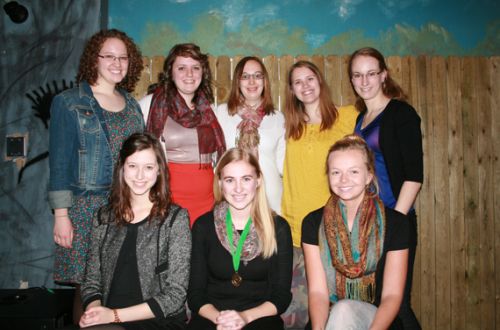 Nominees for the 2013 Covenant Award for Service:
Front Row: Mallory Schulte, Molly Seberg, Sara Weinreis.
Back Row: Stephanie Larson, Brooke Walker, Ashley Schreurs, Kim Homan, Alison Peymann.