The Literary Scientist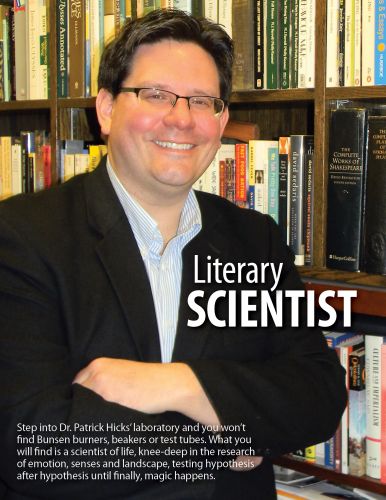 Step into Dr. Patrick Hicks' laboratory and you won't find Bunsen burners, beakers or test tubes. What you will find is a scientist of life, knee-deep in the research of emotion, senses and landscape, testing hypothesis after hypothesis until finally, magic happens.
Early in the morning, in-between his courses on the history of literature and the art of creative writing, and on weekends, you can find Dr. Patrick Hicks, Augustana's Writer-in-Residence and chair of the English and Journalism department, writing in his self-dubbed "lab," a room wallpapered in books and cluttered with papers inside the Humanities Center. Alternating between his two desks (one with a computer for writing fiction; the other an empty slate except for a pencil and a pink eraser with worn, rounded corners), he works to perfect the craft he fell in love with as a kid.
"From the word go, I always wanted to be a writer. I was that kid who was always writing short stories. At a young age, my parents got me this old, beat-up IBM typewriter, the kind with the ball that jumped all over the place. I was a voracious reader, too. I was always so mesmerized by the magic of it all — that I could open a book and could be transported somewhere else. I just wanted to know how these writers could do that. Writing is like hypnosis. It's like a magic trick. I wanted to know how you could perform this hypnotic magic trick on people."
It's safe to say, he's figured it out.
Making Magic
A native of Stillwater, Minn., Hicks earned his bachelor's degree from St. John's University, has lived in Northern Ireland, Germany, and Spain, and holds a Ph.D. from the University of Sussex in the United Kingdom.
It was as an undergraduate, he says, when he started thinking seriously about how he could fulfill his dream of writing and still make a living.
"That is the ultimate question you have to answer if you're serious about being a writer. You have to figure out how you're going to support yourself financially. When I was in college, it became more clear to me that the way to support myself as a writer was to teach writing," he said.
Today, at 42, Hicks is doing just that. In addition to his teaching, he is the author of five poetry collections with a sixth, "Adoptable," set to come out next year. His collections, "Finding the Gossamer" (2008) and "This London" (2010) are both from Ireland's acclaimed press, Salmon Poetry. Most recently, he served as editor for "A Harvest of Words" (2010), published by the Center for Western Studies and partially funded by the National Endowment for the Humanities. His work has appeared in some of the world's premier literary journals including Ploughshares, Glimmer Train, The Missouri Review, Natural Bridge and New Ohio Review. He has been nominated seven times for the prestigious Pushcart Prize, and was the recipient of a grant from the Bush Artist Foundation to support work on his first novel.
Dr. Harry Thompson, executive director of the Center for Western Studies, has worked with Hicks on numerous projects, including "A Harvest of Words."
"As Augustana's Writer-in-Residence, Patrick is a worthy successor to Herbert Krause, whose idea for a research center focused on the American West became the Center for Western Studies. Patrick is also a valued member of the Center's Board of Directors and a participant in all of its programs," Thompson said.
Hicks' latest novel, "The Commandant of Lubizec," is a book he just completed based on the Operation Reinhard death camps in Poland during the early 1940s.
To research the book, he read extensively on the Holocaust and traveled to Warsaw and Krakow to discover the kind of details that he says "make fiction real."
"I knew what I was going to look for. It's important as a fiction writer to actually go to these places where history took place. It's one thing to study the Holocaust from a safe academic distance. It's another thing to stand where these crimes took place. It becomes more real for you. It does something to you to be in these places and that just naturally affects you as an artist," he said.
"Then there are all these other tiny things, like, how do the birds sound in Krakow? What do the buildings look like at sunrise?"
Hicks says the experience of writing "Lubizec," a fictional death camp created as an aggregate of Operation Reinhard's three camps, Belzec, Sobibor and Treblinka, was an emotional one.
"I don't think people really understand what happened in those three camps as well as they should. I've taken the stories from these three real places to tell the story of Operation Reinhard. Sometimes I think people haven't approached these camps because they are so horrifying. I think fiction can offer a type of filter because you can read it and go, 'oh well, this wasn't a real prisoner.' In the back of your mind though, you know it happened. There's a kind of psychological buffer there. It was hard to write but, when I think about the stories you could focus on, really, there is no other story more important than the Holocaust."
Seeing the Details
In the classroom, Hicks teaches his students about the importance of finding and seeing the details.
"Teaching creative writing is something I'm intentionally very serious about because writing is such a naked proposition to begin with. It takes a lot of bravery to write. I feel my job is to nurture my students' imaginations, and their bravery, to put themselves onto the page."
He says he encourages his students to look beyond what they know and to explore the unknown.
"I tell my students 'write what you don't know.' What I mean by that is, write a story about a firefighter. Go interview a firefighter and, by stepping into the boots of that person, I think you're going to write a better story because you're writing about something outside of yourself. And, I think that's really important, especially for fiction."
He uses his experience as a professional writer to offer his students another perspective on the art.
"I see creative writing as not just teaching someone how to be a better writer. It's teaching them how to be a better thinker and how to be a better conveyor of ideas. I want my students to be able to accept and understand constructive criticism and take away what they can about the arc of a story or the development of a character. For me, it's not just about the writing. It's teaching them how to interpret and understand constructive criticism and how to give constructive criticism, as well."
His students can also visit his "lab" to see, first-hand, a writer at work.
It's there where he writes before classes begin in the morning, during the day if time allows, in the evenings and on weekends.
"I don't believe in writer's block. Sure, there are days it doesn't go as well. But, I am committed to writing or re-writing 750 words a day. It takes about the same amount of time to write 750 fresh words as it does to edit 750 words. Poetry is different. Sometimes I work for an hour on one line. I work until I get that sense of satisfaction."
The difference between fiction and poetry is why, Hicks says, he has two desks.
"For me, poetry is very personal and immediate. Poetry is like taking a photograph of an emotion or a thought that you offer to someone. It's why I write it using a pencil — I want to feel the words move onto the paper. A novel is more like a landscape or a movie. It's moving pictures."
"I really am intentional about making sure students understand that this is my laboratory. I think it helps students understand the creative process. There's creation and frustration. Experiments go wrong. Sometimes they go right. To be honest, I don't see a real difference between the creative arts and the sciences. They're both creative in that you start with an idea, you test it, and sometimes it works and sometimes it doesn't."
The Importance of Poetry
"Adoptable," Hicks' latest collection of poetry, is a study of trans-racial and international adoption, a subject he holds close to his heart.
Three years ago, Hicks and his wife adopted their son, Sean Min-gyu from South Korea.
"I needed to write that book concurrent to writing the book about the Holocaust. I needed to write about wonderment and joy and beauty while I was writing about these other things. It balanced me psychologically to write these books at the same time."
To research the collection, he reached out to poets across the country who were adoptees to gain insights about what it's like to be adopted.
When it comes to the power of poetry, Hicks admits he doesn't mince words.
"We always turn to poetry in the most important moments in our life — a birth, a death, a marriage, graduation. And yet, it languishes in daily life. I'm perplexed as to why we turn to it in moments of great importance and we don't care about it otherwise. This confuses me because we live in such a hyper-fast world. You'd think poetry would be perfect. It's only a page long."
"The reality is, poetry forces us to cope with our mortality and it forces us to cope with very difficult issues about what it means to be a human. Poetry doesn't allow us to pretend those issues aren't there. I really do believe that it takes a lot of bravery to read poetry."
Rising playwright Jon Josten, class of 2010, had Hicks for two writing classes during his time as a student.
Josten, who was named a semi-finalist for the prestigious Eugene O'Neill National Playwrights Conference last summer, says he counts Hicks among his mentors.
"You subject yourself to a certain level of insanity when you write creative work, and then, you give it to someone else to read, and you begin to consider the nearest exit. I became comforted that [Dr. Hicks] had been there, in the trenches, through all the excitement of a new idea, the torture of a critique, and the elation when somehow this idea resonated with someone," Josten said. "In all, I took three classes with Patrick while at Augustana and two of them were writing classes. I know my writing grew under his direction, and I truly feel that is because Patrick has a true gift. Undoubtedly he is passionate about writing; however, more profound is the care he displays for students' work."