Alumni Bring Adventure Stories to City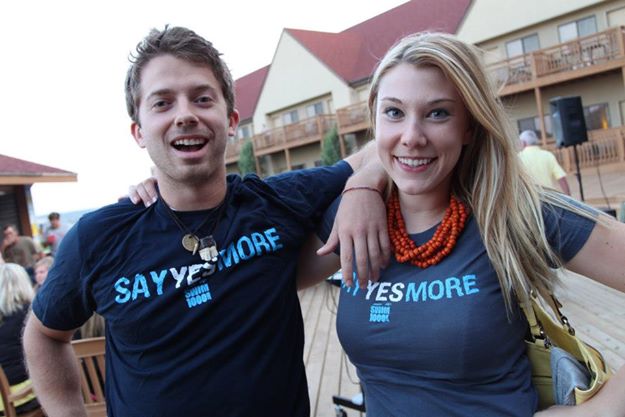 South Dakota natives and Augustana alumni Rob and Robyn (Clemensen) Green, both class of 2011, have built a life chasing each other around the planet – from working in grimy third-world operating rooms to guiding in Central American jungles. Most recently, they were among the first people to circumnavigate the island of Martinique, located in the eastern Caribbean Sea, on stand-up paddleboards.
Far away from all-inclusive resorts, the couple's love of gritty travel has inspired them to show others that the most rugged places in the world are often home to those who have the most to teach.
It's also what led the pair to bring together a group of  fellow adventure seekers for an evening of Adventure Stories, an event to raise money for Project Origin, a project aiming to plant one million trees around the world. The event is set for 7 p.m. on Monday, Jan. 12, at Icon Lounge in downtown Sioux Falls. Admission is free, however donations for Project Origin will be accepted.
Along with Rob and Robyn Green, who will detail their Martinique paddleboarding adventures, the event will feature:
Dave Cornthwaite, British adventurer, author and nine-time world record breaker is the founder of Project Origin and life-affirming brand, Say Yes More. Since leaving his job as a graphic designer in 2005, Cornthwaite has traveled more than 19,000 miles under his own steam as part of the ground-breaking Expedition 1000 project, an effort involving 25 different non-motorised journeys over 1,000 miles.
Wes Eisenhauer, musician, photographer, hustler, helper, husband and father. Residing in Sioux Falls, Eisenhauer has spent the last 10 years making music and touring the country with his groups Soulcrate Music & Later Babes. His recent discovery of photography has taken him down a new creative path inspiring him to embrace the beauty and culture in his own backyard.
Ted Heeren, adventure seeker of far away places like Montrose, Hecla, and Norway Center, South Dakota. In 2000 during a broadcast internship, he pieced together a rock and roll gardening show that would go on to become the Rock Garden Tour, currently in its fifth season on SDPB Radio. In 2004, Heeren co-founded the creative firm Fresh Produce. He lives in Sioux Falls with his wife and son, and spends his days wandering South Dakota in search of polished rocks.
Green credits his courage to explore and discover to his time at Augustana and his professors here.
"Since graduating from Augie, I've found myself in nearly every corner of the globe two or three times over. Each time I go, there is this thing that is drawn out of me – something hauling me forward into these foreign spaces – that grows in strength and confidence each time I set foot someplace unfamiliar," Rob Green said. "But without the right mindset and without the right teachers, all of these places would be notches in the belt. I attribute the way I was taught to travel by the professors I had while I was at Augie. If not for them, I don't think I would have developed the sense of exploration tempered with compassion that has taken me all over. Moreover, my time at Augie brought me to my wife, who has not only been alongside me for each of my journeys, but also has an adventure streak even wilder than mine."
"Augustana is sharpening stone in its own right. It's a place that helps you hone your ideas and your values by blurring the line between the classroom and the wide open spaces until you suddenly realize everything about you – your thoughts, your questions, your actions – are more pointed than you ever thought they could be," he said.