AU Junior Looks Back on Internship With Minnesota Vikings
Junior Peter Bakk, a sport management major from Medina, Minnesota,  reflects on the two preseason games, eight regular season games, and one home playoff game he was part of during his internship with the Minnesota Vikings.
---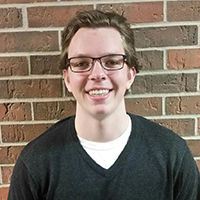 Q. How did you choose your major in sport management?
A. I've always loved sports more than anything else. My thought is if I can't play sports, I'm going to try my hardest to work in sports.

Q. Tell us about your internship.
A. With the Vikings, I was a public relations intern. I worked every home game. Before the game, my intern team was in charge of putting together game day packets for members of the media. We also administered on-field credentials to photographers and videographers.
During the game, we distributed quarter statistics to all the media members in the press booth, as well as photographers on the field during the game. We were also in charge of setting up the press conference rooms.
After the game, my fellow interns and I split between the press conferences and the locker rooms, recording interviews from the players and coaches. We did this so that members of the local and national media could have quotes from every interviewed player.

Q. You were there for that heartbreaking final game and witnessed the missed field goal. What was that like?
A. I was at the last game of the season. When the Vikings lost, there were a couple moments of shock and sadness, however, we were unable to dwell on the game. We had to go on with the day like it was business as usual. My supervisors thanked us all for the successful season. They didn't speak on the game in particular, but the season as a whole.

Q. What's your dream job?
A. That's easy: either director of marketing for the Minnesota Vikings or the Minnesota Twins.

Q. What brought you to Augustana?
A. The campus size is perfect. The environment at Augie is amazing. Everyone is so inviting and welcoming, everyone from the dining employees to the professors.

Q. Most influential professors at Augie so far, and why?
A. I'd have to say Dr. Steve VanBockern (Education). He showed me what it was like to truly care about someone. He has a genuine care about each and every one of his students. I desire to have that kind of care for everyone that I interact with here at Augie and everyone I work with in my professional career.