Artist Conducts Workshop With Local Middle School Students
In collaboration with his new exhibit, "Lifeline," now on display in Augustana's Eide/Dalrymple Gallery, Los Angeles-based artist Len Davis took time on Thursday to conduct a collage workshop with local middle school students.
For Edison Middle School Art Teacher Sherri (Schriever) Sherard '89, bringing eighth-grade students from her "Drawing and Painting" class to campus to learn from a nationally known artist was a great opportunity.
"The students were so excited," Sherard said.
A native of Philadelphia, Davis studied communications and art at East Carolina University in Greenville, North Carolina, before relocating to California. He's given dozens of solo exhibitions across the U.S. and his work has been featured by The Gap and in the set designs of several Hollywood films and television series, including: "Two and a Half Men," "Parks & Recreation," and "Six Feet Under."
His exhibit in the Eide/Dalrymple Gallery will feature three separate artwork series designed to "explore the balancing act of life on the line." Learn more about the exhibit.
"We are thrilled to be able to collaborate with Edison Middle School to bring these students to Augustana's campus," said Dr. Lindsay Twa, chair, associate professor of art, and director of Augustana's Eide/Dalrymple Gallery. "Meeting and interacting with professional artists is such a great way to show young artists how their passions can develop into careers."
A gallery reception featuring an artist's gallery talk is set for 7-9 p.m. on Friday, Sept. 9 (artist's talk will begin at 7:30 p.m.).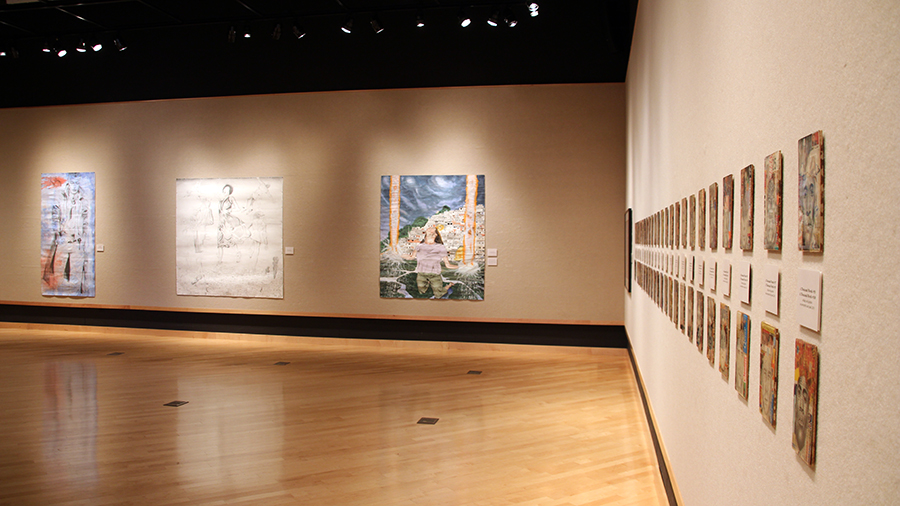 ---

"Lifeline," works by Len Davis, is now on display in Augustana's Eide/Dalrymple Gallery.