University Pathway Program

Have you completed high school or will you do so in the next year?
 The Pathway Program
Get a well-rounded, outstanding American education at two premier institutions starting at O'Gorman High School to completing your bachelor's degree at Augustana University. In partnership with American Education Pathways (AEP), O'Gorman and Augustana are excited to offer a high school to university pathway program. After completing 2 to 4 years at O'Gorman, students will receive guaranteed admission to Augustana with a $17,000 tuition scholarship*. This tuition scholarship is renewable annually for the student's bachelor program at Augustana University. 
*Eligibility requirements: To be eligible, a student must achieve a 3.0 GPA or better while at O'Gorman.
O'Gorman High School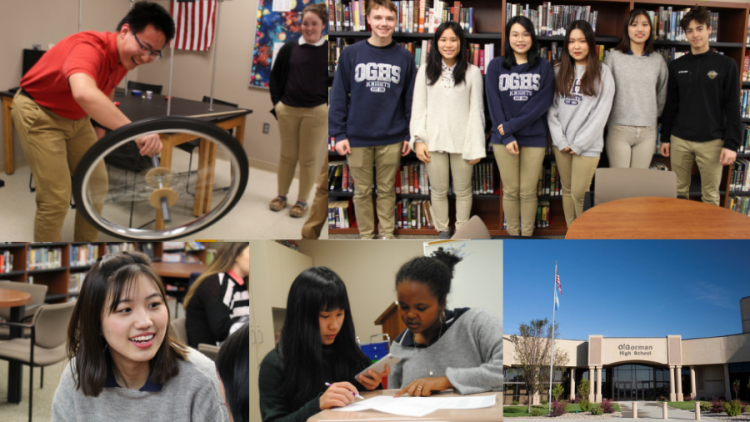 O'Gorman, the #1 college preparatory school in South Dakota, works to develop the whole student--mind, body, and spirit--through involvement in athletics, fine arts, clubs, organizations, and a strong faith family. O'Gorman offers specialized opportunities for its international students; during the fall semester all international students will be enrolled in the course "US Language and Culture" designed to further acclimate international students to O'Gorman. International students can make a smoother transition to our high school through the International Club. This organization offers social opportunities outside of the classroom.
Students at O'Gorman have the opportunity to live with American families, and they get a chance to learn more about US culture, integrate into the Sioux Falls community, and get more practice using English. For the 2020-2021 school year, students can apply to stay in our new residence hall. O'Gorman is excited to introduce the boarding component to the quality education that students receive at the school. To learn more about O'Gorman, visit the international student page.

Augustana University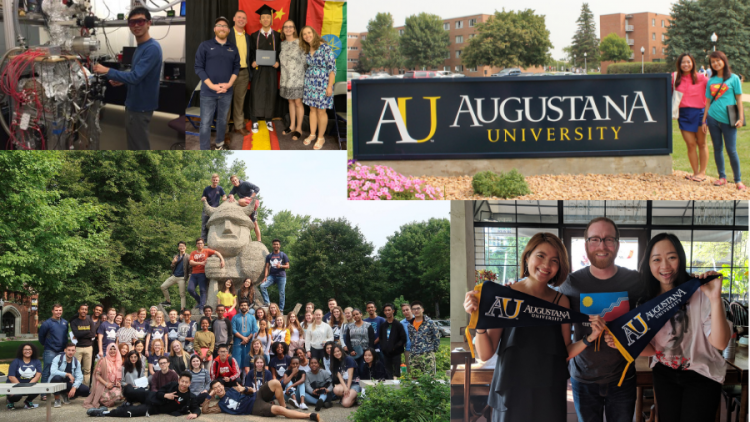 Founded in 1860, Augustana is a selective, comprehensive university and is highly ranked by several publications in the United States. With more than 100 majors, minors and pre-professional programs for undergraduates, along with graduate degree and continuing education programs, the University is committed to enriching lives and fostering development by combining a foundation in the liberal arts with professional skill and advanced study. 
Augustana serves more than 2,100 students from 42 states and 35 countries. Sioux Falls is a city rich with internship and research opportunities, cultural activities, shopping, dining, and recreation, so it's no surprise that so many international students call Augustana home. AU students directly benefit from our vibrant city, which is shown by our graduates'  98 percent job placement rate . We think our top-quality academics, small class sizes, excellent research opportunities, outstanding job placement rates, and friendly campus speak for itself. With more than 150 international students on campus, there are multiple international student organizations to join and students participate in various activites to enhance the community and their own lives. To learn more about Augustana University, visit our international student page. 
Augustana University Graduate Outcomes
Augustana graduates go on to continue their studies at some of the world's most prestigious institutions. Through small class sizes, individualized education, and working one-on-one with teachers and professors, our students have the confidence, critical thinking skills, and foundation of knowledge to succeed anywhere. Learn more about our graduate outcomes here.
Below are listed some of the institutions where students have gained acceptance and/or are attending.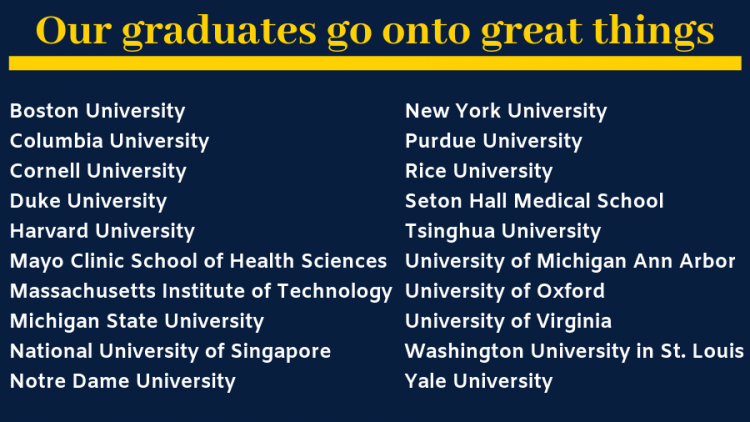 If you have graduated high school or are in your last year of high school, please consider Augustana University for your American higher education experience. Please visit our prospective international student page to learn more or begin your Augustana application today.