Performing & Visual Arts Summer Program
June 21 - 29, 2020
Experience life on our university campus.
Choose music performance or visual arts as your learning opportunity.

As a high school student who's proficient in English, immerse yourself in a memorable cultural and educational experience at a small liberal arts institution at Augustana University in Sioux Falls, South Dakota. Upon arrival, you will experience five days of engaging, interactive instruction in either visual arts or music performance arts. In the afternoons and evenings, participate in community events and socialize with American counterparts. Choose to stay on campus in student housing or with a host family. After a week of growth on campus, your group will take a weekend trip to the Black Hills where you'll visit the famous Mt. Rushmore, Badlands National Park, and some of America's natural beauty.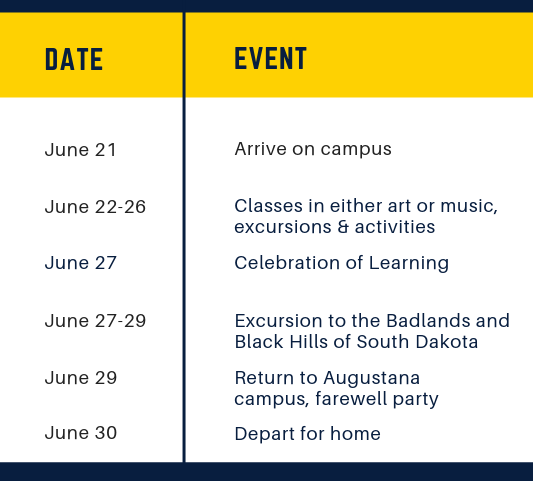 $2,700*
What's included: five-day course, two-day excursion to the Black Hills and Badlands, tution, materials, room, most meals, local transportation, admission to all activities, certificate of completion, and feedback from professors on student work. 
*Music students may purchase units of two additional 1:1 lessons for an additional $50 per unit of two.
Dr. Lindsay Twa
Scott Parsons
Anna Reich
Jonn Peters
Tom Shields
Dr. Lisa Grevlos - Director
Dr. Chris Unger
Dr. Larry Petersen
Dr. Paul Nesheim
Dr. Russell Svenningsen
Dr. Brian Hanegan
Dr. Peter Folliard
Marilyn Schempp
Geoff Gunderson
Maria Peters
Dr. Karen Melik-Stepanov
You must be an international student in your last two years of high school. 
You must show English proficiency by either getting verification from your institution that is partnered with Augustana University OR you can verify your English through an exam. Contact Customized Programs Manager, Heather Reed, for further details on accepted English proficiency testing.
Complete the online application (the application opens on November 15th, 2019) and include the following documents:
high school transcript(s) that includes the most recent term (translated into English) 
scan of passport photo page
approxmately 250-word essay addressing the following:

How has your background in art/music prepared you for this experience?
What do you hope to learn while at Augustana Univesity's summer performing art and music camp?
The application opens on November 15th, 2019. Applications are evaluated on a rolling basis, and space is limited.
Application Deadline: April 1st
$500 deposit due date: April 15th
Deposits can be made by utilizing Flywire. Directions can be found here. Make sure to note the student's name and "PVA Summer Program" in your payment memo. 
Check back soon for answers to these frequently asked questions.
General
What should I pack?
What are the dorms like?
What would it be like to live with a host family?
What is it like in the Badlands and Black Hills?
Art
What materials will the art department provide for me? Studio supplies will be provided, however students should bring their own sketchbooks and basic drawing pencils/drawing supplies that they are comfortabel with and enjoy using.
Music
Do I need to bring my instrument? While some students may want to bring their own instrument, some may find it to be too cumbersome or difficult. Please contact heather.reed@augie.edu to inquire about borrowing an instrument owned by Augustana University. Depending on demand and type of instrument, there is some availability.