Setting the Pace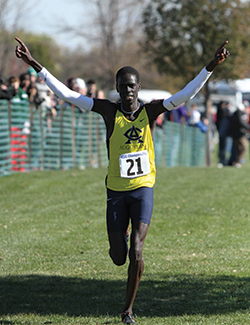 Their season was a historic one.
Led by Paul Yak's sixth-place finish, the Augustana men's cross country team placed third at the NCAA Championships in November,
a program best, with three runners earning All-America honors. In addition, the women's team placed an impressive fifth.
"I looked at the scoreboard and saw Augustana in third place on the men, the women placing fifth; it's just awesome!" said head coach Tracy Hellman.
"You want your teams to peak at the right time, at the end of the season. That's what we did and I am so proud of all of these men and women." On top of leading the men's team to the best men's team finish in school history, Yak etched his name in the Augustana record books with his sixthplace finish. In a time of 30:20.2 on the 10K course, Yak became the highest finisher in men's cross country history at Augustana. 
Joining Yak as All-Americans were the brothers Karbo. Tom Karbo placed 11th and younger brother Harald Karbo finished 19th after moving up at least 14 spots after the first 5,000-meters.
"At this level, there are such tough individuals," said Hellman. "For us to get [Yak] near that top five and he was with the lead pack near the end, shows how great of a runner he truly is. The Karbo brothers ran exceptionally well too and that was a key point for our team score." Adam Braun and T.J. Gleason placed 58th and 59th to round out the Vikings' scoring. John Klecker jumped up 22 spots after the 5K mark and Jordan Slusser finished his career as part of the historic Viking squad.
Hellman was thrilled with how his teams finished this year, and hownthey've become a nationally-known program over the years.
"We are now a top team year-in and year-out," said Hellman. "Last year, we were second and fourth, year before, first and sixth; and now this year, fifth and third. I can't tell you how proud I am of this group. I think what really happened is this team just really came together at the right time."
For the second time in three years, the Vikings have journeyed to Spokane and come away with a historic performance. Hellman believes that this can be a regular occurrence, regardless of where the national championship meet is held.
"Spokane has been very good to us," Hellman said. "But now we have this confidence that wherever we are at, we can run with the best of them." The Vikings certainly have proven that.