The 30-Day Challenge
We know that getting connected to the campus, creating relationships with professors, staff, and fellow students, and engaging in the Augie community are the best ways for you to create fulfilling social and academic experiences. We also know that it's much easier to do all of that if you are physically on campus. The 30-Day Challenge is just that — a challenge for you to be involved on campus and in the Sioux Falls community for the first month of classes. The Challenge aims at connecting you with the resources, relationships, and experiences you need to be successful!
Check out the 30-Day Challenge calendar for 2018! Make sure to use #AugieFirst30 on social media if you participate in any of the events, and check out Viking Central for more information on every event featured in the Challenge. Participants will log their attendance through the Welcome Week & First-Year Programs page on Viking Central. Check for each day's attendance log in the Forms section.
Individuals who attend the most 30-Day Challenge events will be recognized at the 30-Day Challenge Celebration on September 27; the residential community (Bergsaker, Solberg, Tuve, East, Granskou, Stavig, Apartments and Theme Houses, or off-campus) that has the greatest overall participation will be recognized as well.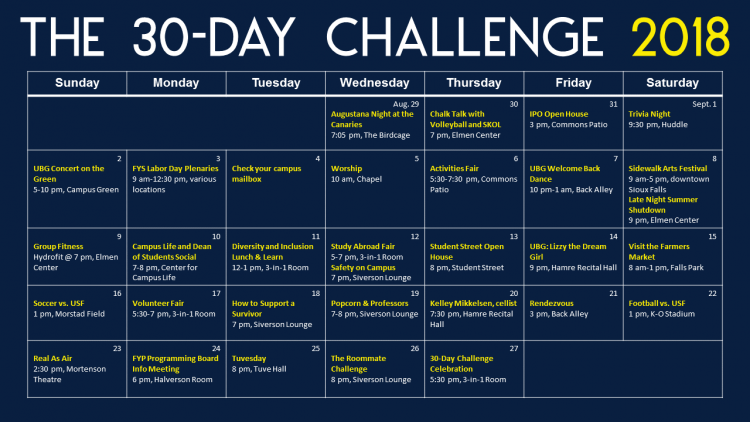 We hope you will accept our challenge and fully immerse yourself in all Augustana has to offer. Visit with your Viking Guides, Viking Advisor, Hall Director, or the Center for Campus Life for more information.