Tuve Hall
Tuve Hall has living options for upperclassmen and first-year students. Tuve Hall features newly renovated double rooms and offers exciting theme communities on each floor.
Flexible Housing
- This floor is available for students in any class year and will focus on personal growth and development with an emphasis on overall well-being.
Serve. Grow. Lead.
- A community for sophomores, juniors and seniors who want to develop their leadership skills through mentorship and service.
Amenities
Large recreation room
Ping pong and pool tables
Two kitchens
Laundry facilities on each floor
Lounges on each floor
Computer lab
Large lobby with TV
Room Dimensions
Rooms in Tuve Hall are 11' 8 1/4" x 13' 6 3/4".
Hall Staff
Tuve is staffed by 6 Viking Advisors (VAs) and one Hall Director. VAs On Call are required to be in the building and accessible to students every night after 7 p.m.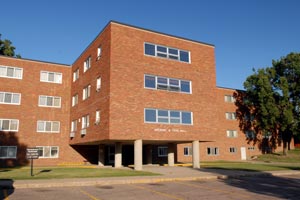 Named for Augustana's eighth president, Anthony G. Tuve, this three story building is a co-educational Residence Hall.