Upcoming International Student Excursions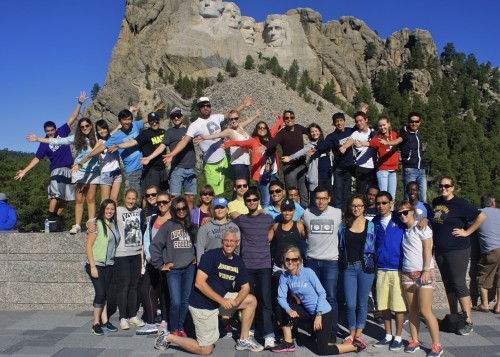 Spring 2016
Nobel Peace Prize Forum at Augsburg College and University of Minnesota
The Nobel Peace Prize Forum is a unique civic learning experience. Each year, this dynamic, global event brings Nobel Peace Prize Laureates, civic leaders, and scholars together with students and other citizens. As the Norwegian Nobel Institute's only such program or academic affiliation outside of Norway, the Nobel Peace Prize Forum has a special mission: to inspire and engage students and citizens to become full participants in peacemaking efforts around the world. The 2013 Nobel Peace Prize Forum will bring together yet another dynamic collection of speakers — including leading peacemakers in journalism, politics, business, economics, health/science, and the arts. Visit Nobel Peace Prize Forum for a full list of speakers.
April 18, 2015
Omaha, Nebraska: The Henry Doorly Zoo and Old Market
Located three hours south of Sioux Falls, Omaha's Henry Doorly Zoo is one of the best in the U.S.
After the zoo, we will explore the Old Market area of downtown Omaha with many diverse restaurants, shops, parks, and entertainment choices. 
May 3, 2015
Learn about "America's favorite pastime" as the Minnesota Twins take on their rivals, the Chicago White Sox.
Sept. 16-18, 2015 (tentative)
Weekend in the Black Hills, Mt. Rushmore, Badlands National Park, and Crazy Horse Mountain.
Get to know your fellow international students on our first and most popular excursion for the year! Along the way, you will enjoy amazing scenery and landscapes, learn about Native American history, and see South Dakota's most famous monument: Mount Rushmore. With luck, you may see buffalo, mountain goats or the wild and elusive jackalope.
Dec. 5, 2015 (tentative)
Day trip to Minneapolis/Mall of America.
Minneapolis, Minnesota is America's 16
th
largest metropolitan area and a favorite weekend vacation destination for Augustana students. Explore the city (mostly connected by Skyway) and shop at the Mall of America — the largest shopping mall in the United States, complete with an aquarium, theme park, 14 movie screens and more than 400 stores.