Viking Football Moving Forward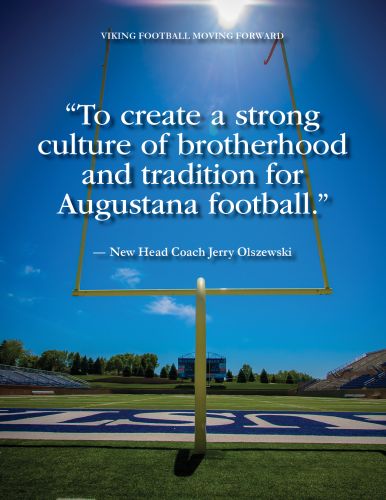 On December 12, 2012, Jerry Olszewski was named Augustana's 21st head football coach.
He comes to Augustana after five seasons as the head coach at St. Olaf College, where he compiled a 32-18 record. A highlight of his stint with the Oles was defeating the University of St. Thomas in an NCAA Division III record six overtimes.
With a whirlwind, but successful recruiting campaign behind him, the coach is concentrating on settling his family in Sioux Falls, becoming acquainted with the community, and preparing the Vikings for the 2013 season.
Olszewski (pronounced O-SHESH-KEY)and his wife, Deana, are parents of a son, Jett, and two daughters, Jersey and J.J.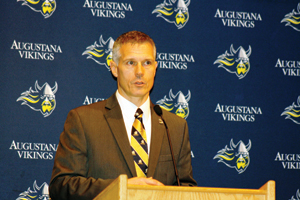 Q. What are your primary objectives for spring practice?
A. To assess talent of our current roster, create competition, implement new schemes for our program, and create a strong culture of brotherhood and tradition for Augustana football.
Q. What can Augustana fans expect when the Vikings open the 2013 season Sept. 7 vs. MSU-Moorhead?
A. I believe Augustana fans can expect to see a team that competes on every snap. We will be a disciplined football team that plays physical and with an emotional sense of urgency respecting all but fearing none.
Q. You have been an offensive, defensive, and special teams coordinator. How have those experiences impacted your role as a head coach?
A. I have been blessed in my career to have been all three. My time as a coordinator in the different phases has allowed me to see the game in a more holistic manner. I believe there is great strength in knowing why teams do what they do and how they attack various schemes. As a head coach, it also allows me to be a thorough leader of the coaches in my program to ensure that we are constantly placing our young men in a position to be successful on the field regardless of an opponent's scheme.
Q. Have you always wanted to coach football?
A. I knew at age 14 that I wanted to be a coach. I didn't realize I wanted to be a football coach until I was a collegiate player myself. I was blessed to have incredible mentors throughout my playing days as well as during my career in coaching. I knew my philosophy would be one that included player buy-in and an environment that encouraged them to be their personal best.
Q. Twice you were drawn away from coaching. What brought you back?
A. I truly only left coaching one time. The first time I was coaching coaches as the athletic director for a 6-12 grade school district in Wisconsin, while serving as the offensive coordinator/special teams coach for the Green Bay Bombers arena football team. The second time was when I was CEO of the Mankato Family YMCA. Though that was a valuable learning experience, I missed the day-to-day interaction with building young men into better people. I believe God has a plan for me and that plan is to serve others. Service to my God, my family, and my players is what called me back to this incredibly gratifying career.
Q. What attracted you and your family to Augustana and Sioux Falls.
A. My wife and I have always considered Sioux Falls a fantastic community as it has everything we are looking for in a place to raise our children. Augustana is a college that has intrigued me since my days coaching against the Vikings while I was at Minnesota State-Mankato. A Christian college with high academic standards, an administration that is supportive and visionary to the values that collegiate competition adds to the college, and a community and alumni base that backs the program. I feel blessed for this opportunity and look forward to a steady rise of success in the Viking football program. We will create a culture of pride in our student-athletes and alumni that will stay with them for the remainder of their lives."