Visit Days and Events
Augustana offers a variety of campus visit programs throughout the year. We invite you to identify the type of experience and date that works best for your personal schedule. Know that you are welcome to visit as often as you like.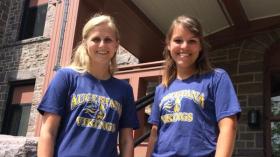 Sign up for one of our visit days and receive the world's softest college t-shirt when you visit!
Whether you've been to campus in the past or are visting for the first time, Explore Augustana provides an in-depth look at academic and student life opportunities. As part of your visit, you will have the chance to meet with faculty from your area(s) of interest, learn about scholarships and financial aid, and take a tour of campus.
As the end of your junior year approaches, you may find yourself thinking more and more about future college plans. We want you to know it's never too early to start visiting campus. Seniors always welcome as well.