Visit Days and Events
Augustana offers a variety of campus visit programs throughout the year. We invite you to identify the type of experience and date that works best for your personal schedule. Know that you are welcome to visit as often as you like.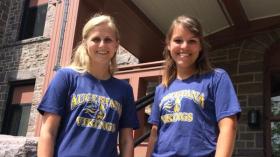 Sign up for one of our visit days and receive the world's softest college t-shirt when you visit!
Your senior year of high school will be busy, so take some time this summer to get a jump-start on your college search. As you make your summer travel plans, be sure to include a visit to Augustana University.
Never been to campus? Just looking for a quick refresher on what we offer? Come to Sneak Peek Saturday for an information session, campus tour, and lunch.
Whether you've been to campus in the past or are visting for the first time, Explore Augustana provides an in-depth look at academic and student life opportunities. As part of your visit, you will have the chance to meet with faculty from your area(s) of interest, learn about scholarships and financial aid, and take a tour of campus.