Voice of the Vikings
Meet the man behind the voice: Longtime Vikings play-by-play announcer Jeff Fylling, class of 1978.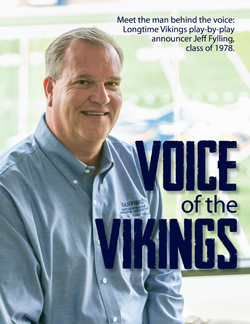 Imagine you're in your car. Or office or living room. Or really anywhere other than the Elmen Center watching the Vikings go head-to-head against the Winona State Warriors in a February 2010 barn burner.
Only seconds remain in the game. The Vikings trail by one. The Warriors are attempting their second free throw.
The radio's on. Longtime Augustana play-by-play announcer Jeff Fylling is calling the game – his voice has grown raspy and hoarse from all the action as he paints the picture:
"Coach Billeter has no time outs. Second shot is no good. Rebound Thomas. It's a one-point game. Passes to McCaffrey. Game on the line. Cam forces. Drives. Flips it up. Goes in! McCaffrey scores! The Vikings win! 82-81 Augustana!"
Is your pulse pumping yet?

Fylling's colorful, energetic and detail-rich account of that iconic 2010 buzzer beater by then-freshman point guard Cam McCaffrey '13 is just one example, among countless others, of why he's loved serving as the "Voice of the Vikings" for nearly 40 years.
Young Dreamer
"I was five years old when I decided I wanted to be a sports announcer. My dad listened to games on the radio. I always wanted to be the guy whose voice was coming out of the speakers," Fylling says.
He grew up in Lennox, S.D., and in high school formed a bond with legendary coach and teacher Sam Milanovich. When Fylling arrived at Augustana in 1974, Milanovich helped him get a job at KSOO-Radio as a freshman. It was Fylling's dream gig – a chance to call high school and Augustana games.
After majoring in history and minoring in political science, Fylling graduated in 1978 and took a job with a bank in Lennox – primarily, he said, because the schedule of the job allowed him to continue calling games at the radio station.
In 1982, he began calling games for Results Radio and 11 years later, he joined the station's marketing department.
He joined Sanford Health's Sports Medicine division in 2012 as director of public affairs for sports relations where he serves as the liaison between the marketing department and orthopedic surgeons. He also helps negotiate contracts between the health organization and various colleges/universities and professional athletes.
Painting the Picture
With his headphones on, Fylling admits to feeling a burst of adrenaline when the pre-game music starts. If he had to choose his favorite game to call, it would be football, simply because, he says he loves the sound of the game and being outdoors.
As he tells the story of what's happening on the field or the court, he thinks about his listeners.
"I think about people who are driving. Listening to games makes the time go faster. I think about farmers who are out in the field on a Saturday afternoon, listening to their handheld radios inside their tractors, passing the time."
"I try to paint a picture of what the game looks like, so listeners can see it in their minds."
"It's so real," he says. "It's never scripted. It can't be. It's like writing a new story every week – it always has a different ending."
At 56 years old, he's still a stickler for the details. He prepares for the weekend games during the week, making charts so he can memorize players' names and jersey numbers. He also researches stats on each player.
His meticulous nature has paid off. In 2005, he was named the recipient of the Kolpack Media Award, which was presented by the North Central Conference. The award was established in 1996 to honor a member of the sports media for their coverage of the NCC. This fall, he will be honored with an Augustana Alumni Achievement Award.
"Jeff has been the loyal 'Voice of the Vikings' for generations of Augustana fans. His familiar voice and humorous personality have provided a flair for Augie Athletic broadcasts on the radio for 30 years," said Augustana Athletic Director Bill Gross.
"Jeff truly loves Augustana and Viking Athletics. The College, its alumni and fans have been blessed to have a professional of his caliber covering our football and basketball games. We look forward to many more years of fun times listening to Jeff do the play-by-play for Augustana Athletics."
Don Jacobs, market manager and vice president for Results Radio/Townsquare Media, knows Fylling well.
"I can't eat chocolate-chip cookies without a glass of milk. I just can't imagine listening to Augustana Football or Basketball games without Jeff Fylling calling the games. For the past 30 years, Jeff has covered Augustana Football and Basketball games with passion, enthusiasm and his own unique style," Jacobs said.
"I get a lot of positive feedback from listeners of Augustana games on Jeff's enthusiastic and tell-it-like-he-sees-it coverage."
"Thanks Jeff ... I owe you some chocolate-chip cookies and milk," he said
For home games during football season, Fylling arrives at Kirkeby-Over stadium three hours early so he's fully prepared for kickoff.
"From my vantage spot in the booth, it's also a lot of fun to watch the people file into the stadium. It's just a great atmosphere."
Fylling has never had any formal radio voice training. He's found inspiration in some of the great play-by-play announcers of the past, including former NBC sportscaster Dick Enberg and longtime Minnesota Twins narrator, Herb Carneal.
After nearly 40 years of calling Viking games, he says there are a few matches that stand out in his mind:
"When the Vikings beat NDSU at the FargoDome. And a double-overtime win against [former NCC rival] South Dakota State University – really, just any time we beat those guys," he says with a smile.
He says he enjoys getting to know the players and the coaches as well.
"I've had the opportunity to build friendships and camaraderie with so many great coaches – guys like Virg Sandvig, Pastor Pete [Petersen], Ken Kessinger, Jim Heinitz and Borgie [Larry Borgum]," he recalls.
"I've really enjoyed watching how so many of our young athletes have gone on to become successful in life. It's fun to know they've succeeded and that Augustana played a role in their success."
As a student, he recalls Dr. Duane Matz (History) and Dr. Sandra Looney (English) as among his most inspirational and motivating professors.
"They drove me to be a better person – to be more whole," he says.
Looking ahead to what will come after he officially hangs up his headphones, Fylling admits he's not sure what's next. In his spare time (which, to be honest isn't much: he works 26 weekends a year and, over his career, has called 1,500 games), he enjoys reading books about history, writing and playing golf.
"I'll always love athletics – you can be sure of that," he says with a smile.