Faculty Bios
---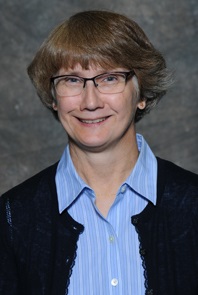 Sherry Barkley, Ph. D., FACSM
Department Chair & Associate Professor, Exercise and Sport Sciences
Phone: 605.274.4312
sherry.barkley@augie.edu
Dr. Sherry Barkley is an associate professor in the ESS department. She joined the faculty on a part-time basis in 1995 while she continued to work as a clinical exercise physiologist in a local hospital. She accepted a full-time appointment and became chair of the department in 2005. Dr. Barkley teaches a variety of courses including "Physiology of Exercise," "Fitness Measurement and Prescription," and "Nutrition and Exercise." She coordinates internships for exercise science and fitness management students and is the director of Augustana's Master of Arts in sports administration and leadership. Dr. Barkley received her B.S. in physical education and mathematics with a minor in athletic training from SDSU and her M.S. in exercise science from the University of Arizona. She earned her Ph.D. in Biological Science with an emphasis in nutrition from SDSU. She is recognized by the American College of Sports Medicine as a Certified Exercise Specialist and a Registered Clinical Exercise Physiologist. Dr. Barkley's research interests are in the role of exercise and nutrition in health promotion and disease prevention.

Dr. Heather Aldridge Bart
Professor
605.274.5471
heather.bart@augie.edu
Dr. Heather Aldridge Bart, received her Ph.D. from the University of Kansas. She teaches the introductory course as well as courses in argumentation, rhetoric and organizational communication. Her research is methodologically grounded in rhetorical criticism and argumentation. She has written and published works on rap music, environmental rhetoric and argumentation theory. Her contemporary research focuses on feminist theory and national security discourse. She is also the faculty advisor for the Phi Phi chapter of Lambda Pi Eta, the national communication honor society.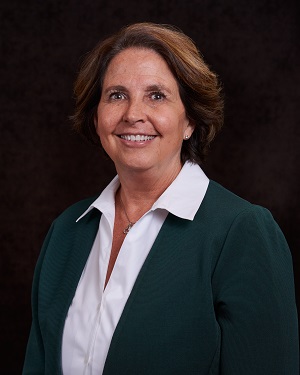 Shelly Gardner
Assistant Professor
605.274.5318
shelly.gardner@augie.edu
Twitter: @ShellyGardner
Shelly Gardner is a native of Sioux Falls. She received both her B.S. in Business Administration and MBA from the University of South Dakota. Her career began as a banker with Norwest Bank in Sioux Falls. During her career at Norwest, Shelly was an operations officer, a manager of two successful branch facilities and a vice president in commercial real estate. The life experiences encompassed in her 20-year career add to the course material that she conveys to students in the classroom.

Jason Harris
Assistant Professor
605.274.5224
jason.harris@augie.edu
Jason Harris, an Augustana alumnus, received his J.D. from the University of South Dakota School of Law, where he was active on the Moot Court Board. His courses include "Business Law," "Human Resource Management" and "Negotiations." Prior to coming to Augustana, he practiced law in both the public and private sector with focus on representing small business entities, municipalities and lobbying. He has argued several cases before the South Dakota Supreme Court.

Dr. Benjamin Jeppsen
Assistant Professor, Counseling Psychology
605.274.5479
benjamin.jeppsen@augie.edu
Dr. Jeppsen received his doctoral degree in Counseling Psychology from the University of Louisville. He teaches courses in counseling and psychotherapy, including both theory (Intro to Counseling and Psychotherapy) and skills/interventions (Human Relations). He also teaches Lifespan Development and Psychology of Religion and Christianity. Ben's research area is the psychology of religious experience, and he currently focuses on the relationship between private prayer and mental health. He plays percussion in the Augustana College/Community Band, and enjoys being a part of the Augie community. He is a bit of a batman nerd, but also loves to watch and participate in all sports.

Gretta Melsted
Augustana Softball Head Coach
Phone: 605-274-5527
gretta.melsted@augie.edu
Gretta Melsted has been the head softball coach at Augustana since 2006. She also teaches "Motor Development," "Stress Management" and "Theory of Coaching Softball." Gretta received her B.A. degree in history from Carleton College in Northfield, Minnesota and an M. Ed. in elementary and secondary education administration from William Woods University in Fulton, Missouri Gretta enjoys golfing, reading and traveling in her free time.

Dr. David O'Hara
Department Chair & Associate Professor of Philosophy and Classics
605.274.4890
david.ohara@augie.edu
Dr. David O'Hara teaches a variety of courses, including ancient philosophy, American philosophy, environmental ethics, Asian philosophy, and philosophy of religion.  He regularly teaches a course on classics in Greece, and a course on tropical rainforest and reef ecology in Belize and Guatemala. His most recent book is Downstream, (Cascade Press, 2014) about brook trout and the ecology of the Appalachians.  He is also the author of Narnia and the Fields of Arbol: The Environmental Vision of C.S. Lewis (U. P. Kentucky, 2008). He is currently preparing an edited volume of the Religious Writings of American philosopher Charles S. Peirce. Dr. O'Hara is a graduate of Middlebury College (B.A., Spanish), St John's College (M.A., Liberal Arts), and The Pennsylvania State University (M.A., Ph.D., Philosophy).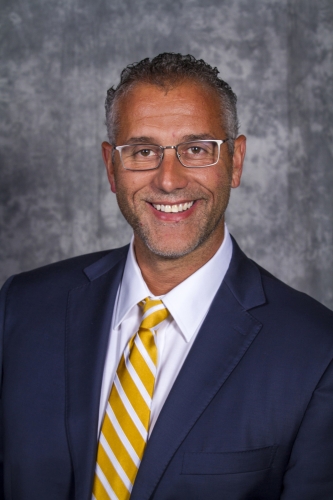 Mark Powell
Professor
605.274.5495
mark.powell@augie.edu
Professor Powell  joined Midco in 1993 and currently serves as the Vice President of Midco Sports Network. In his 25+ year tenure at Midco he has held roles in Sales Management, Marketing and Sports Management while serving on the Executive Leadership Team. He specializes in strategy development and pursuing growth opportunities in both the sales and sports roles. He became an adjunct professor in the Spring 2018 semester and teaches Personal Selling & Sales Management, Advanced Sport Management, Advanced Sport Marketing. Professor Powell is a graduate of Augustana University (B.A.), University of Central Oklahoma (B.S.), and University of Sioux Falls (M.B.A.).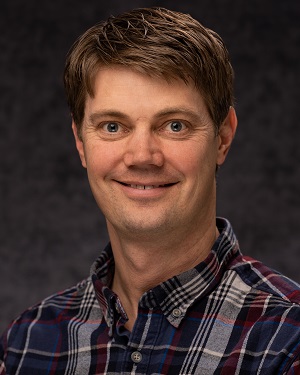 Shane Scholten, Ph.D.
Assistant Professor, Exercise and Sport Sciences
605.274.5469
shane.scholten@augie.edu
Shane Scholten, assistant professor of Exercise and Sport Sciences, earned his Ph.D. in Nutrition and Exercise Science from South Dakota State University. His research is related to vitamin D supplementation effects on physical performance in addition to investigating the uses of velocity barbell training in the weight room. He teaches Biomechanics, Nutrition, Exercise Leadership, Fitness Administration, Science of Exercise, and Introduction to Exercise and Sport Sciences at Augustana University and serves as an advisory board member on South Dakota's National Strength and Conditioning Association.