Our students come from a variety of undergraduate institutions, with varied industry experiences and career goals.
See our current students and get a feeling for the variety of professionals who join the program. To see a listing of our recent graduates, click ASGCGP Alumni.
Current Students
Class of 2022

Millie Anderson
Millie joins Augustana's Class of 2022 from Aurora, CO. She graduated from Colorado State University in 2016 with a Bachelor of Science in Biology and a minor in Anthropology. During her undergraduate career, she was involved with various organizations that allowed her to utilize her passion for educational outreach. She was part of CSU's "Dream Project," a program that paired undergraduates with first-generation high school students to support them in their pursuit of higher education. She also worked with CSU's "Little Shop of Physics," a program that took hundreds of hands-on science projects to schools across the state in order to spark early interest in science. Prior to being admitted to Augustana, Millie worked as a Genetic Counseling Assistant for a team of genetic counselors at Colorado Center for Reproductive Medicine. At CCRM, she was able to immerse herself into the world of genetic counseling and developed a fascination for reproductive medicine. She stayed involved in her community by becoming a language partner to a Spanish-speaking woman, providing ongoing support in her efforts to become comfortable speaking English. In her free time, Millie loves to try out new restaurants, play board games with friends, and hang out with her sweet cat, Lillian. She is so excited to take the first step in becoming a genetic counselor at Augustana and explore Sioux Falls over the next two years!

Abigail Draves
Abigail grew up in De Pere, WI, just outside of Green Bay, and attended the University of Wisconsin-Madison. She graduated in May 2020 with a Bachelor of Science in Genetics & Genomics and Psychology. During her undergraduate years, Abigail was on the Figure Skating Club team and served as President of the club for two years. She also worked with UW's Campus and Visitor Relations as an Information Guide to be a Wisconsin Ambassador and provide information or referrals to the campus community. Abigail was also an intern with a small private mental health clinic in Madison where she had the opportunity to interact with many health professionals and patients. Abigail is excited to continue her education and gain more experience and exposure within the field. In her free time, Abigail enjoys cheering on the Green Bay Packers and spending time outdoors, particularly going kayaking, paddle boarding, and hiking by her family's lake house in Door County, WI.

Becca Jirik
Becca is from Wausau, WI, and is a 2020 graduate of St. Olaf College (Northfield, MN) where she earned her bachelor's degree in Biology. As part of her undergraduate experience, she volunteered at the college's Sexual Assault Resource Network as a student advocate for survivors of sexual assault, and also as a clinic escort. Being an advocate for others was very rewarding and helped solidify her career goal of helping others. Additionally, she was lucky enough to be involved in numerous research opportunities. Her research experiences were highlighted by studying soil microbial genetics and the nitrogen cycle at St. Olaf, PUM protein's influence on gene control at the University of Minnesota, and the patient/provider alliance at the National Institute of Health. Shadowing genetic counselors at the NIH reinforced that genetic counseling is the perfect fit for her career and personal goals. Becca is excited to study genetic counseling in Sioux Falls and San Diego. In her free time, she also loves to run, ski, mountain bike, embroider, and talk on the phone with her twin sister.

Eryn Mares
Eryn grew up in Balsam Lake, WI, a map dot in the northwest region of the state. She received her bachelor's degree from the University of Wisconsin-Eau Claire in 2019 with a major in Biology and a minor in Chemistry. During her undergrad, she explored many different career avenues. In fact, she never imagined she would end up working in the medical field! Upon discovering genetic counseling, however, she realized it was a great fit for her as it is both challenging and rewarding. Eryn is especially drawn to the field because it is continuously evolving and she is excited to be a lifelong learner. To prepare for her future, Eryn volunteered with kids with disabilities, was a research assistant, and, upon graduating, worked as a Genetic Counseling Assistant at PreventionGenetics, where she gained insight into the non-clinical roles of genetic counselors. In her free time, Eryn enjoys biking, reading, kayaking, fishing, baking, spending time with friends and family, and playing competitive board games.

Bailey Mitchell
Bailey grew up in a small town in central Illinois and studied Foreign Languages and Psychology at Eastern Illinois University. After a personal experience with genetic counseling in her junior year, she decided to change academic directions and pursue the career herself. Experiences working as a study abroad peer adviser and volunteering as a crisis pregnancy advocate were significant in establishing her passion for working with others in a supportive role. In preparation for the field, she decided to stay at her undergraduate institution to earn a master's degree in Biological Sciences while working as a graduate teaching assistant and completing her thesis in plant genomics. After having opportunities to study and volunteer overseas in Spain, Ecuador, and Mexico, Bailey now works as a Spanish translator at Sanford World Clinics and looks forward to using her bilingual skills as a genetic counselor. She is thrilled to be joining the ASGCGP and in her free time enjoys outside activities, reading, and being with friends and family.

Emily Montoya
Emily earned her Bachelor of Science degree in Neuroscience with minors in Chemistry and Spanish from the University of Alabama at Birmingham in 2017. As an undergraduate student, she was an active member of the Global and Community Leadership Honors Program and enjoyed discovering ways to serve communities and individuals. She also spent a semester in Granada, Spain studying Spanish and developing skills in cultural sensitivity. When Emily learned about genetic counseling, she realized this career offered her the perfect opportunity to combine her science background with her desire to connect with and help others. Following graduation, Emily began working as a Genetic Counseling Assistant at Clearview Cancer Institute in Huntsville, Alabama. Through her experiences as a GCA, Emily developed a passion for expanding access to genetic counselors for both patients and hopeful genetic counseling students. In 2018, Emily took a short break from her job as a GCA to teach English abroad in the beautiful province of Songkhla, Thailand. Since returning stateside, she has spent time volunteering at Crisis Services of North Alabama on the local Helpline and National Suicide Prevention Lifeline. In her free time, Emily enjoys rock climbing, reality TV shows, reading, and traveling. As Emily continues her journey towards becoming a genetic counselor, she is looking forward to exploring Sioux Falls and San Diego, making lasting friendships and professional connections, and becoming part of the amazing legacy of the Augustana-Sanford Genetic Counseling Graduate Program.

Mitchell Muske
Mitchell is originally from Saint Joseph, MN. He earned his Bachelor of Arts in Biology with a minor in Psychology from Saint John's University (Collegeville, MN) in 2018. One of Mitchell's most fond memories from undergraduate school was helping to lead a 10-day medical brigade to Honduras with 30 of his peers. Mitchell first became passionate about genetic counseling after the profession had been suggested to him by a professor and mentor of his in undergraduate school. This led to his work as a patient advocate post-graduation at Maple Grove Hospital in Maple Grove, MN. As a patient advocate, Mitchell worked with patients who did not have health insurance to help them obtain coverage for their medical bills. He also worked part-time as a high school science tutor with students from the surrounding area. In his free time, Mitchell loves to play golf, write, spend time with friends, and try new things.

Gabriella Voso
Gabriella is from Baltimore, MD, and completed her Bachelor of Science in Cell and Molecular Biology from Towson University in 2016. After graduation, she spent a year in Seattle, WA as an AmeriCorps volunteer through the Jesuit Volunteer Corps Northwest program. There she served as a case aide at a day treatment center for adults with severe mental illness. Upon returning to the Baltimore area, she worked at a cold-weather shelter before joining the Rare Disorders and Prenatal teams at GeneDx as a Genetic Counseling Assistant. In her two years there, she was exposed to many exciting aspects of genetic counseling and was fortunate to have unique opportunities, such as attending Rare Disease Day at NIH and participating in a monthly journal club with her peers. During this time, she also served as an outreach volunteer with the Victim Assistance and Sexual Assault Program in Montgomery County, MD, and as a coach for Girls on the Run. In her free time, Gabby enjoys yoga, karaoke, listening to Ariana Grande, and planning the most inexpensive ways to visit national parks!

Mackenzie Wilson
Mackenzie is from Anacortes, WA and received her bachelor's degree in Biology with a minor in Marine Biology from the University of Washington in Seattle, WA in 2016. During her time at UW, she conducted biomechanics research at the Friday Harbor Marine Labs, spent a stint at sea onboard a NOAA research ship in the Gulf of Alaska—collecting data used to set fishing quotas—and as a Naturalist onboard whale watching tours in the San Juan Islands. These roles sparked her interest in the communication of science, which she brought to her next position as the Communications Director at Friends of the Forest, an environmental education and conservation non-profit. Mackenzie decided to switch gears and pursue genetic counseling after receiving a diagnosis that connected her with several inspiring health care professionals—showing her, from a patient's perspective, how impactful positive patient-provider interactions can be. Just as these providers served as fierce and compassionate advocates for her, she hopes to do the same for others as a genetic counselor. Since then, in addition to working as a Communications Director and a high school math and science tutor, Mackenzie interviewed and shadowed genetic counselors and took an online genetic counseling course through the University of South Carolina. Mackenzie also trained as a WA State certified Advocacy Counselor and volunteered at Skagit Domestic Violence and Sexual Assault Services, where she provided support to victims of domestic violence and sexual assault and their families during office visits, in the ER, and over the 24-hr crisis hotline. She'll jump at any opportunity to go sailing, skiing, or scuba diving and enjoys painting, yoga, and cooking. Mackenzie is excited to explore Sioux Falls and move back to San Diego, where she used to live when she was younger!

Kayla Zeck
Originally from East Grand Forks, MN, Kayla attended the University of Minnesota - Morris, where she earned a Bachelor of Arts degree, double majoring in Biology and Psychology. During her time in Morris, Kayla volunteered as a mentor and "Big Friend" to a child in the Morris community through the University's Big Friend, Little Friend program. After discovering the genetic counseling field during her freshman year, Kayla began job shadowing genetic counselors at Sanford Health in Bemidji and Children's MN in St. Paul. Kayla was particularly intrigued by the opportunity that genetic counseling offered to blend her passions and turn them into a career. To gain additional experience in healthcare, Kayla spent a summer volunteering in the Occupational Psychiatric ward at Altru Hospital in Grand Forks, ND, before interning with a genetic counselor at Sanford Health in Bemidji. The time spent observing and assisting genetic counselors confirmed she was headed down the right path, and Kayla is very excited to spend the next two years in the ASGCGP! In her free time, Kayla is an avid reader, enjoys taking landscape photography, listening to music, and trying her hand at Pinterest baking recipes.
Class of 2021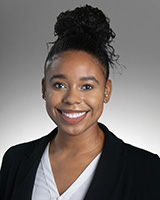 Jada Boyd
Jada is a Colorado native who earned her Bachelor of Science in Biomedical Sciences at Colorado State University in Fort Collins, CO. During her time at Colorado State, she earned a cancer research fellowship through University of Colorado and extended her time in the lab by becoming a lab assistant for a Boettcher-funded research study focusing on cancer genomics. After graduating, Jada started as a Research Coordinator for the Division of Gastroenterology and Hepatology at the University of Colorado Anschutz Medical Campus, where she managed several interventional clinical trials focusing on autoimmune liver conditions. With her ultimate goal in mind, Jada transferred to the Department of Neurology and became the Lead Psychometrist for the Alzheimer's and Cognition Center. She performed cognitive assessments for over 140 patients diagnosed with the following conditions: Down syndrome, Alzheimer's disease, mild cognitive impairment, posterior cortical atrophy, and healthy controls. This position provided her a higher level of patient interaction and the opportunity to support patients outside of a coordinator role. Jada is excited to continue her education and explore both Sioux Falls and San Diego. In her free time, Jada loves exercising, reading, painting, listening to live music, dancing, spending time with family, and cuddling with the sweetest doggy in the world.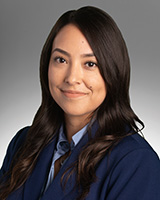 Yvonne Cardona
Yvonne is from Glendale, CA and received her bachelor's degree in Human Biology from the University of California, San Diego in 2011. Since graduating, she has worked at the Los Angeles Biomedical Research Institute at Harbor-UCLA Medical Center on different studies aimed at improving pediatric health outcomes. While working, she volunteered as a warmline telephone operator for Postpartum Support International, an organization that assists women and other individuals experiencing the effects of perinatal mood disorders such as postpartum depression or anxiety. Recently, Yvonne served as a Clinical Intern, assisting genetic counselors at the Roy and Patricia Disney Family Cancer Center under the Providence Saint Joseph health system. In her free time, she enjoys watching baseball games, dancing, roller skating, and crafting.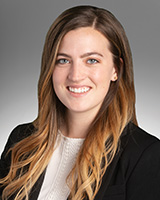 Kelsey Jones
Originally from Roswell, NM, Kelsey earned a bachelor's degree in Family and Human Services with a minor in Psychology from John Brown University in Siloam Springs, AR. During her time at JBU, she interned at the Northwest Arkansas Women's Shelter, working directly with women and children seeking refuge from domestic violence. She also co-authored and published a curriculum for young women as a capstone project, discussing interpersonal topics like intimacy, differentiation, and body positivity. Together, these experiences fostered a passion for women's health, which she is looking forward to studying further. The summer after graduation, Kelsey studied abroad in Poland, teaching English youth camps in local high schools and eating the most amazing pierogis. Upon moving to Colorado, she began working at the Emily Griffith Center as a Visitation Supervisor, providing parental coaching and mentorship. After shadowing a genetic counselor, she knew that it was the right fit for her because it combined her love for science and passion for helping others. In her free time, she loves camping, reading, brewery hopping, and cheering on the Broncos!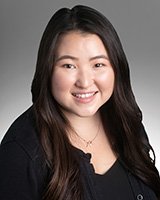 Savannah Lo
Savannah was born in Warren, MI but calls Minnesota her home. Her father was diagnosed with Hepatitis B and therefore spent a lot of time in hospitals. From a young age, Savannah was intrigued with the healthcare professionals who helped her father and knew that one day she wanted to be the one helping others. She attended Concordia University-St. Paul where she received her Bachelor of Science in Biology with minors in Chemistry and Hmong Studies. Throughout her undergraduate years, Savannah worked as an Office Assistant at the Office of Career Development. It was there that she was introduced to the genetic counseling world and received the resources to kick start her academic and professional journey. During her senior year and post-graduation, Savannah worked as a Clinical Program Assistant at Fraser, where she was able to work with autistic preschoolers in nurturing their growth and development by implementing and tracking their therapeutic goals and progress (coping skills, play skills, social skills, etc.). In addition, Savannah also volunteered at her local church and youth camp in serving the next generations of youth and young adults. Through her experiences, Savannah has confirmed her passion to help others and is excited to start her journey to become a Genetic Counselor. During her free time, Savannah enjoys practicing calligraphy, running marathons (on Netflix), and playing board games with friends.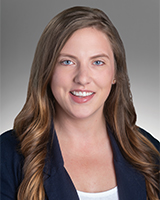 Lucy Mazaheri
Lucy is most recently from Chesterfield, MO. She attended North Dakota State University and graduated with a Bachelor of Science in Biotechnology in 2015 and a Master of Science in Genomics and Bioinformatics in 2018. Her graduate research centered around developing a molecular marker that tracks pest resistance in common bean. It wasn't until she was almost done with her thesis that she learned about the genetic counseling field and decided to pursue this dream. Lucy has been a lifelong advocate for the Down syndrome community and volunteered as a partner for Cass County Special Olympics. She also worked as a Genetic Counseling Assistant in a breast cancer clinic, providing help to the counselors and patients. In her free time, Lucy enjoys playing indoor volleyball, walking her dog, working out, and traveling to see family.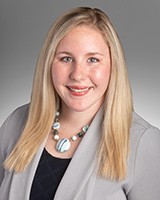 Lexie Mohror
Lexie was born in New Mexico and subsequently resided in New York, Alabama, and Indiana due to her father's service in the United States Air Force. She eventually landed in Fargo, ND, where she graduated from high school. Following in her grandmother's footsteps, she attended Augustana University in Sioux Falls, SD. There, Lexie worked towards a biochemistry degree certified through the American Chemical Society, as well as participated in Augustana's Civitas Honors Program. During her time at Augustana, she helped to conduct research on the bioconjugation of DNA-aptamers to inorganic quantum dot molecules, which she presented at the National American Chemical Society conference in San Diego. After graduating in 2016, she was offered a summer internship at the Avera Institute of Human Genetics, learning and working on next-generation sequencing research projects. In her most recent position as a Laboratory Specialist at Sanford Health's Imagenetics lab, she obtained valuable knowledge in molecular genetics, sparking her interest in genetic counseling. Shadowing genetic counselors and conversations with the lab's genetic counselors continued to kindle her passion for the field, and she is enthusiastic to continue her education as a Viking for a second time. For fun, Lexie participates on a curling team and in bonspiels because curling rocks! She is also an avid reader, enjoys the bike trail and events downtown, listens to a multitude of podcasts, and travels often to visit friends and family.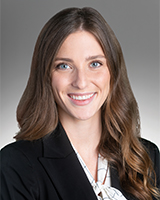 Allie Morris
Allie grew up in Redding, a small Northern California town. She attended California Polytechnic State University, San Luis Obispo. There she earned her Bachelor of Science in Animal Science and a minor in Psychology in 2018. She worked as a veterinary technician for many years, as she aspired to become a veterinarian. However, after discovering her passion for genetics and learning about genetic counseling, she began working as a Registered Behavior Technician (RBT) for children with autism. As a RBT, she worked one-on-one with six different children on the autism spectrum. She practiced Applied Behavior Analysis to teach positive behavioral changes and life skills to each child. She also helped to train their families to enhance success outside of the session. As well as working during her time at Cal Poly, Allie volunteered with Students Supporting People with Disabilities and Stand Strong, a domestic violence crisis line. Allie is looking forward to seeing what Sioux Falls has to offer! In her free time, Allie enjoys playing with her dog, boating on the lake, hiking, traveling, working out, and spending time with her loved ones.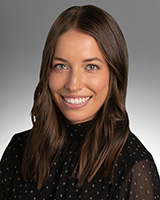 Danielle Onda
Danielle is a Colorado native, raised just outside of Denver. She earned her Bachelor of Arts in Integrative Physiology with a minor in Biochemistry from the University of Colorado Boulder in 2018. While at CU, she worked as a student ambassador, volunteered at a senior care organization, and provided in-person and over-the-phone emotional support as a victim advocate for Moving to End Sexual Assault. She also volunteered as a Special Olympics softball coach and attended support group meetings for families with children who have Fragile X. During her junior year, Danielle interviewed and began shadowing genetic counselors in cancer, prenatal, and lab specialties. She was also lucky enough to attend several genetic counseling symposiums at Children's Hospital Colorado. After graduating, Danielle worked with a local genetic counselor on research for a genetic pedigree software company. Danielle is excited to explore both Sioux Falls and San Diego over the next two years as she embarks on this next chapter of life. In her free time, Danielle loves hiking and backpacking, skiing, traveling, and trying to pet every dog she sees!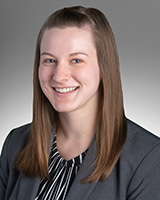 Katie Schleper
Katie grew up in St. Joseph, MN, just outside of St. Cloud, and attended Minnesota State University, Mankato. She graduated in December 2017 with a Bachelor of Science in Biology. During her time in Mankato, Katie was involved in the National Residence Hall Honorary and the Midwest Affiliate of College and University Residence Halls, as well as assisted with research in the Molecular Biology lab, working with a gene that is up-regulated in certain cancers. In addition, Katie volunteered with the Committee Against Domestic Abuse (CADA) in Mankato, and with Anna Marie's Alliance in St. Cloud after graduation, supporting survivors of domestic abuse and their families. Katie has been interested in genetic counseling since high school, after her mom took a job with the CentraCare Genetics clinic, and was excited to discover a field that blended her interest in genetics, education, and patient interaction in the health field. She was able to shadow genetic counselors in general/pediatric genetics, cancer, and perinatology. After graduating, Katie volunteered in the genetics clinic and helped create the first Genetic Counseling Assistant position at CentraCare. She was the clinic GCA for almost a year prior to entering the program, primarily helping with the familial cancer clinic and multidisciplinary breast clinic. Katie is excited to continue on her path to becoming a genetic counselor, explore Sioux Falls for the next two years, and find the best pizza, Mexican food, and coffee in the city. In her free time, she also enjoys reading, watching hockey, playing sand volleyball, and spending time outdoors.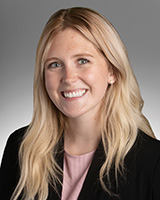 Claire Shepherd
Claire grew up in a small town in the Foothills of Alberta near the Canadian Rocky Mountains. She graduated from the University of Calgary in 2017 with a Bachelor of Science in Biological Sciences. During her first undergraduate year, she discovered her interest in genetics. Claire undertook a research project at the Molecular Genetics Laboratory in the Alberta Children's Hospital, where she studied the clinical utility of next-generation sequencing for prenatal congenital heart disease. She was fortunate enough to co-author an article in the Journal of Obstetrics and Gynecology Canada following her research. Claire continued at the Molecular Genetics Lab to study disease-causing variants through a summer research grant while also having the opportunity to attend genetic rounds and seminars. Following graduation, Claire realized genetic counseling was her ideal career, combining genetics and the ability to help and educate others. Claire volunteered at the Calgary Distress Centre as a Distress Line Volunteer, where she provided support for those in need. She also spent time volunteering at a therapeutic riding center, where children with disabilities are given the opportunity to ride horses. In her spare time, Claire likes to horseback ride, go snowboarding, read a good book, or play with her dog, Benson. She is excited to start her journey at Augustana University to pursue the career of her dreams in both Sioux Falls and San Diego.
ASGCGP Alumni
Class of 2020
Aaron Baldwin
Shea Bonine
Annina Cooper
Sarah Gould
Gillian Halter
Lindsey Schmidt
Alyssa Sherwood
Karina Skov
Sydney Strait
Malia Triebold
Class of 2019
Kaylee Dollerschell
Kaitlyn Givens
Samantha (Sam) McAllister
Brittany Noble
Dylan Platt
Andrea Schelhaas
Jessica Smith
Amy Stenhouse
Class of 2018
Kayleigh Avello
Kaitlyn (Katie) Burns
Liana Dayhoff
Arielle Flynn
Austin Huber
Allison Hutchinson
Jerica Lenberg
Maija (Rannikko) Trout