American Studies faculty include:

Dr. Daniel Gerling
Assistant Professor, English
605.274.5433
daniel.gerling@augie.edu
Daniel Gerling received his B.A. in philosophy and M.A. in English at Eastern Illinois University and spent significant time abroad before completing his Ph.D. in American Studies at The University of Texas at Austin. His research focuses on late-nineteenth and early-twentieth century American culture and its effect on U.S. foreign relations, and he is developing his dissertation, "American Wasteland: A Social and Cultural History of Excrement, 1860-1920," into a book. Gerling joined Augustana in 2012, and in he 2013 began serving as the director of the Writing Center, Augustana's nationally-certified peer tutoring program.

Dr. Joel A. Johnson
Professor, Government and International Affairs/Political Science
605.274.5319
Joel.Johnson@augie.edu
Dr. Johnson received his Ph.D. from Harvard University, where he also served as a lecturer on government. He teaches courses in Political Philosophy, Politics and Literature, and Asian Politics. The primary focus of his research is eighteenth- and nineteenth-century American political thought. He is the author of Beyond Practical Virtue: A Defense of Liberal Democracy through Literature (University of Missouri Press, 2007); A Connecticut Yankee in Saddam's Court: Mark Twain on Benevolent Imperialism (Perspectives on Politics, March 2007); and Disposed to Seek Their True Interests: Representation and Responsibility in Anti-Federalist Thought (The Review of Politics, Fall 2004). Dr. Johnson serves as advisor to the department's honors program and to the Committee of Undergraduate Political Scientists (C.O.U.P.S.).

Dr. Jeffrey Miller
Chair of Humanities Division and Professor, English & Journalism
605.274.5431
jeffrey.miller@augie.edu
Jeffrey Miller teaches courses in journalism as well as foundational courses in composition and literature. He also teaches American film and the capstone course "Cinema, Character and Culture," in addition to the "Reading Augustana" course in the Civitas program, of which he was director. His areas of interest include transnational television and film and American media history. He is the author of Something Completely Different: British Television and American Culture (University of Minnesota Press, 2000). Dr. Miller's Ph.D. in American Studies is from Michigan State University.

Dr. Stephen Minister
Associate Professor
605.274.5492
stephen.minister@augie.edu
Dr. Stephen Minister teaches courses in ethics, continental philosophy, modern philosophy, and philosophy of religion, as well as study-abroad courses on global poverty and the ethics of development. His research engages the continental tradition, especially the writings of Emmanuel Levinas, and focuses on conceptions of the human person, the relationship between responsibility and reason and practical issues related to global poverty, human rights, and economic justice. He is the author of De-Facing the Other: Reason, Ethics, and Politics after Difference (Marquette UP, 2012). He is also the co-editor of Reexamining Deconstruction and Determinate Religion (Duquesne UP, 2012) and author of a variety of journal articles and book chapters. He received bachelors degrees in philosophy and mathematics at Seattle Pacific University and his Ph.D. in philosophy at Fordham University.  He is also the advisor for the Augustana chapter of the philosophy honor society Phi Sigma Tau.

Dr. Michael J. Mullin
Professor, History
605.274.5322
michael.mullin@augie.edu
Curriculum Vitae Site
Michael Mullin received his Ph.D. from the University of California—Santa Barbara, where he also served as a lecturer in the history department. Trained as a colonial historian, with a special emphasis on American Indians, he teaches departmental courses in "American History to 1877," "Revolutionary America," "The Era of the American Civil War," "Western Civilization," and two different courses on American Indian history. His scholarly work has appeared in The American Indian Quarterly, American Indian Culture and Research Journal, and Mid-American Historical Journal. He is currently revising a manuscript concerning the Delaware Indians and Pennsylvania during the Seven Years War. Dr. Mullin received the University's inaugural Vernon and Mildred Niebuhr Faculty Excellence Award as outstanding teacher at Augustana. In addition to advising history majors, he oversees the University's social studies teaching major.
Dr. David O'Hara
Associate Professor, Philosophy and Classics
Department Chair
605.274.4890
david.ohara@augie.edu
Dr. David O'Hara teaches a variety of courses, including ancient philosophy, American philosophy, environmental ethics, Asian philosophy, and philosophy of religion.  He regularly teaches a course on classics in Greece, and a course on tropical rainforest and reef ecology in Belize and Guatemala. His most recent book is Downstream, (Cascade Press, 2014) about brook trout and the ecology of the Appalachians.  He is also the author of Narnia and the Fields of Arbol: The Environmental Vision of C.S. Lewis (U. P. Kentucky, 2008). He is currently preparing an edited volume of the Religious Writings of American philosopher Charles S. Peirce. Dr. O'Hara is a graduate of Middlebury College (B.A., Spanish), St John's College (M.A., Liberal Arts), and The Pennsylvania State University (M.A., Ph.D., Philosophy).

Dr. Matthew Pehl
Associate Professor, History
605.274.5335
matthew.pehl@augie.edu
Curriculum Vitae Site
Matthew Pehl received his M.A. in history from Utah State University, where he served as the S. George Ellsworth editorial fellow at the Western Historical Quarterly, and earned his Ph.D. in American history from Brandeis University, where he was the recipient of a Crown Fellowship. Professor Pehl specializes in modern U.S. history, with a particular interest in religious, urban, and working-class history. His recent publications include "The Remaking of the Catholic Working Class: Detroit, 1919-1941," in Religion and American Culture19, no. 1 (Winter 2009) and "'Apostles of Fascism," 'Communist Clergy,' and the UAW: Political Ideology and Working-Class Religion in Detroit, 1919-1945," in the Journal of American History (September 2012). His book, The Making of Working Class Religion: Class, Culture, and Christianity in Detroit, 1910-1970, is forthcoming from the University of Illinois Press. Dr. Pehl teaches courses on post-Civil War U.S. history, the history of religion in the U.S., and the Methods course for history majors. He also serves as faculty coordinator for the program in American Studies.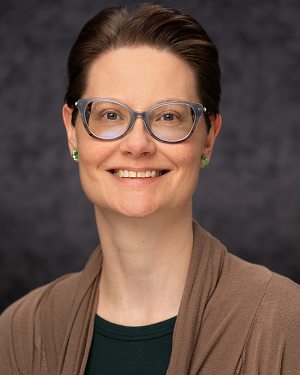 Dr. Darcie Rives-East
Associate Professor, English
605.274.5422
darcie.rives@augie.edu
Darcie Rives-East teaches the survey course in American literature as well as upper-level seminars on early American literature and modern American literature. She also teaches literary criticism and theory, in addition to foundational composition and literature courses. Further, she has taught the Civitas course "Race and Justice in America: 1600-Present," and is faculty advisor to the Augustana Women's Association. Her interests include women's and ethnic studies and popular culture, with a particular emphasis on speculative and Gothic literature and film. Dr. Rives-East's Ph.D. in English is from the University of Nebraska.

Dr. Emily Wanless
Assistant Professor, Government and International Affairs/Political Science
605.274.4622
emily.wanless@augie.edu
Dr. Wanless earned her bachelor's degree from Clemson University (political science major) and her master's degree in political science from the University of Montana. She holds a Ph.D. in political science from the University of Georgia. Dr. Wanless' teaching and research interests include American politics, institutions and elections. Most recently, she served as an adjunct faculty member for the University of Georgia's Department of Political Science, School of Public and International Affairs.