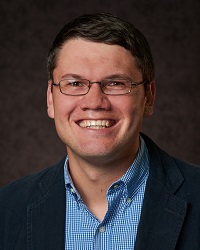 Dr. Georgy Loginov
Assistant Professor
605.274.4612
george.loginov@augie.edu

George Loginov has a Ph.D. in economics from University of Wisconsin, Madison. Georgy has worked previous semesters at Augustana University as a part-time instructor in economics as well as taught at University of Sioux Falls as a mathematics adjunct.
---

Dr. Reynold Nesiba
Professor
605.274.5310
reynold.nesiba@augie.edu

Reynold F. Nesiba serves as Professor of Economics at Augustana, where he's taught since 1995. He is an award-winning teacher, textbook author, published scholar, and experienced leader of study abroad courses. Dr. Nesiba received his B.A. in economics from the University of Denver in 1989, and his M.A. (1991) and a Ph.D. (1995) in economics from the University of Notre Dame. He is the recipient of both the Augustana Student Association (ASA) Faculty Recognition Award and the Vernon and Mildred Niebuhr Faculty Excellence Award for his teaching. His two co-authored textbooks, An Introduction to Financial Markets and Institutions and Economics: An Introduction to Traditional and Progressive Views, are published by and available from M.E. Sharpe. Dr. Nesiba's individual and collaborative academic research has been published in a variety of journals including Social Problems, the Journal of Economic Issues, the Journal of Urban Affairs, Cityscape, the Review of Radical Political Economics and other edited volumes. His current research interests include mortgage foreclosures, the history of money, and evaluating undergraduate political economy curricula. Over the last decade, Dr. Nesiba has led or co-led three spring break travel seminars to Nicaragua and five January-term courses to Australia. He also led the "Political Economy of Thailand" course in January of 2013. At Augustana University, Dr. Nesiba regularly teaches "Principles of Economics I," "Principles of Economics II," and "Money, Banking, and Financial Institutions."
---

Dr. David Sorenson
Professor
605.274.5223
david.sorenson@augie.edu

Associate Professor of Economics David Sorenson received his B.S. degree in geography from the University of North Dakota in 1981 and his M.A. in geography from the University of Iowa in 1985. He worked as a researcher at the Regional Research Institute of West Virginia University from 1986 to 1997 and completed his Ph.D. in economics in 1997 at West Virginia University with major fields in regional economics and money and banking. Sorenson joined the Augustana faculty in 1997 and currently teaches introductory "Statistics" and "Human Geography." His research interests include analyzing lending risk for banks and bank groups, economic impact assessment using control group methods, the regional implications of the growth and decline in economic sectors, population estimation and projection, spatial effects of the incidence of crime, and congressional voting behavior.