Opportunities
Our special guest speakers' series features prominent historians from around the country, such as John W.W. Mann of the University of Wisconsin, Dr. Mathias Bergmann of Randolph-Macon College and Dr. Michael Ezra of Sonoma State University.
Through the Boe Forum on Public Affairs sponsored by the University's Center for Western Studies, Augustana has hosted an impressive array of world leaders. Since the Forum's founding in 1995, these individuals have visited campus:

General Colin Powell
41st President George H. Bush
Former First Lady Barbara Bush
Former British Prime Minister John Major
Former Soviet President Mikhail Gorbachev
Archbishop Desmond Tutu
Her Majesty Queen Noor of Jordan
Former New York City Mayor Rudy Guiliani
Former Speaker of the House Newt Gingrich
Former Ambassador to Iraq Paul Bremer
Former Vice President Al Gore
Former President of Mexico Vicente Fox

Augustana hosted the "After Auschwitz: The Memory, Meaning, and Representation of the Holocaust" symposium in 2009, featuring scholars from across the country.
The History Club hosts movie nights, creates displays all over campus, and has worked on a comprehensive history of Augustana itself.
Membership is available in Phi Alpha Theta, the national history honor society.
Special Features
Every fall, all history majors gather for a dinner.
Every spring, a special reception is hosted for graduates and their parents.
Highlights
Our history majors have accumulated:
5 Woodrow Wilson Fellowships
11 Fulbright Scholarships
8 NDEA Fellowships
2 Rotary International Fellowships
1 Rhodes Scholarship
1 Rockefeller Fellowship
Recently faculty honors include:
Dr. Margaret Preston awarded the Stanley L. Olsen Chair of Moral Values in May 2019. The chair is to provide leadership to the campus in the areas of ethics and moral values by challenging faculty and students alike to confront value questions in our society, in our campus community, and in our individual private lives. This three-year appointment goes to a tenured associate or full professor who enjoys a reputation of being an excellent teacher and scholar and who has a personal and scholarly interest in questions of meaning and value.
Dr. Michael Mullin was named the 2008-2009 Kohlmeyer Distinguished Teaching Professor and the Vernon and Mildred Niebuhr Faculty Excellence Award as outstanding teacher at Augustana.
Dr. Peg Preston was selected as the Augustana Summer Research Fellow to study at Harris-Manchester College, Oxford University. She also received the ASA 2011-12 Faculty Recognition Award.
History Department News
Phi Alpha Theta Inducts Nine from Augustana (April 2019)
Students were recognized and inducted into the national history undergraduate honor society, Phi Alpha Theta at a gathering on April 24, 2019.
Inductees (pictured here) include from left-to-right, back: Margaret Dow, Taisya Gowlovech, Matthew Schwenk, Kolby Vander Woude, and Benjamin Borson. Left-to-right, front: Audreyanna Martin and Katerine Jacobs. (Not pictured: Hope Clark and Alexzandra Newville)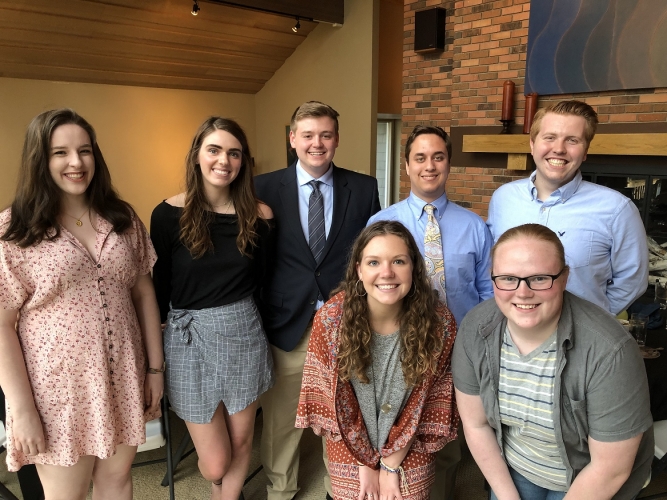 Amy Hulstein wins Library Associates Award (May 2009)
Amy Hulstein, a junior from Sioux Center, Iowa, is the recipient of the 2009 Augustana Library Associates Research Award. Her winning paper is entitled "In the Steps of a Soldier: Captured at the Bulge."
The $250 Augustana Library Associates Research Award is given in recognition of outstanding achievement in research methodology and writing.
Mullin Recipient of Kohlmeyer Professorship (June 2008)
At Augustana's Commencement ceremony, the President awarded history's Dr. Michael Mullin the 2008-2009 Kohlmeyer Distinguished Teaching Professorship.
Dr. Frederick C. Kohlmeyer, through a gift to Augustana upon his death in 1990, established this distinguished professorship to recognize and to reward outstanding teaching. The recipient receives a summer stipend of $5,000 for each of the two years of the award. Dr. Mullin is the eighth faculty member to receive the Kohlmeyer Distinguished Teaching Professorship.
Two Senior History Majors Received Recognition (Spring 2008)
Ryan Stobb won the award for best paper on regional history at April's 43rd annual Phi Alpha Theta Student History Conference held at the University of South Dakota. His paper was titled, "General Needed, No Experience Required: American Commanders of the 1862 Dakota Conflict."
Justin Simundson was selected as the 2008 Augustana Library Associates Research Award winner for his paper, "Above No-Man's Land: The Great War Experiences of a Royal Flying Corps Pilot."
Recent Faculty Publications
Dr. Margaret Preston
"Margaret Huxley" Dictionary of Irish Biography (Cambridge, Cambridge University Press, 2009).
"'We Cannot but Regret the Great Delay': Reflections on the Writings of the North Dublin Union Guardians During the Irish Famine" in Ireland's Great Hunger, Vol II ed. David Valone (Maryland: University Press of America, 2009).