This post-baccalaureate accelerated option is a full-time plan of study designed for students who have a bachelor's degree from an accredited institution and have completed the prerequisite courses. The accelerated program includes two fall semesters, a J-Term, spring semester and summer session, and is completed in 16 months.
In a little more than a year, this competitively priced program will allow you to begin a career in nursing, a field that is projected to grow by 9% from 2020 to 2030 — about as fast as the average for all occupations. (U.S. Dept. of Labor, Bureau of Labor Statistics, 2022)
Why Choose Augustana for Accelerated Nursing?
Time: Complete your clinical nursing courses in just 16 months and begin your career.
Excellence: As a nursing major at Augustana, your education will prepare you to provide the best care possible to your future patients. Pass rates on the National Council Licensure Examination (NCLEX) are consistently higher than the state and national average. Pair our pass rate with a consistent 100% job placement rate, and you will not want to prepare for your nursing career anywhere else.
Support: You'll receive the same quality face-to-face instruction from Augustana's renowned faculty as students in the traditional program.
Affordability: The program is competitively priced with other regional colleges.
Nationally Recognized: Ranked in the top 5 of Accelerated Nursing Programs across the nation by Best Value Schools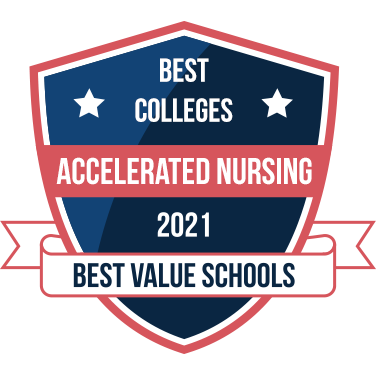 Review the following program information and reserve your spot in this exciting new program. Applications for fall admission are due by Feb. 15 of that calendar year. 
Program Information