ISBN: 978-0-931170-97-3
200 pages
SOLD OUT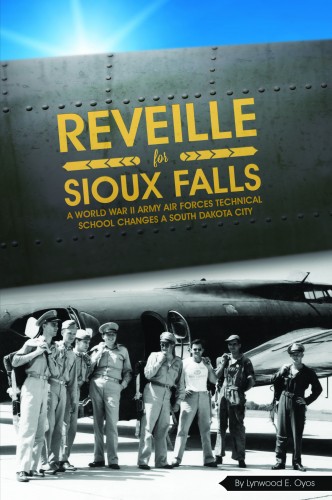 "Reveille for Sioux Falls: A World War II Army Air Forces Technical School Changes a South Dakota City" details the history of the World War II-era Army Air Forces Technical School in Sioux Falls and how it affected the development of the city during the latter half of the twentieth century.
The population of metropolitan Sioux Falls today exceeds 200,000 people. Whereas agribusiness was once its primary industry, now the city is also the center of healthcare, education, and financial services for a four-state region. Originally the site of Plains Indian encampments along the falls of the Big Sioux River, followed in the 1860s by English, Scandinavian, and German settlers, Sioux Falls today boasts remarkable ethnic diversity, with over fifty different languages spoken in the city school district. Many of these changes began with the advent in 1942 of the Army Air Forces Technical School.
In this new, illustrated history of the military technical school, author Lynwood E. Oyos proposes that, along with its air base, the school changed Sioux Falls in the post-World War II era as much as the railroads did in the nineteenth century. The radio communication school, where 50,000 men and women trained through 1945, brought new wealth to the community, changed social attitudes about women and minorities, stimulated construction of new homes and businesses, contributed to the city's first industrial park, and created Sioux Falls' first modern airport.
Learn more in this Q&A with Oyos.
Hear a sample from the book, narrated by Hal Thompson, '13, or an interview with the author on South Dakota Public Broadcasting's "Dakota Midday" program.
About the Author: Dr. Lynwood E. Oyos was Professor Emeritus of History at Augustana University. He authored many scholarly publications, including "The Family Farmers' Advocate: South Dakota Farmers Union, 1914-2000" (2000) and chapters in "A New South Dakota History" (2nd ed., 2009), both publications of the Center for Western Studies at Augustana University.