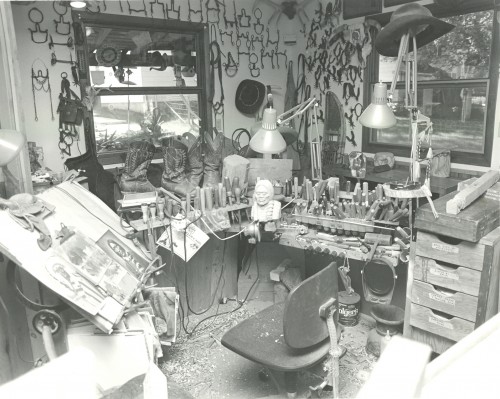 Many remember visiting Jim's workshop in the backyard of his home in Sioux Falls, SD. After his passing in 1986, the workshop was turned into the Jim Savage Memorial Studio. Jim's tools, artifact collections, and reference materials were preserved as when he used them. In 1992, the studio was moved to Village Square Plaza on 26th Street in Sioux Falls in true Western style—packed into a covered wagon pulled by a horse.
Later, in 1999, Merle Jones and Shirley Savage Jones donated some elements of the original studio to the Center for Western Studies where they were incorporated into the new Fantle Building as pictured here. The exhibit space in the Fantle Building is currently being re-designed. Though the studio exhibit is no longer featured, new long-term exhibits expected to be installed in the next few years will highlight Jim's work along side an expanded collection of folk art.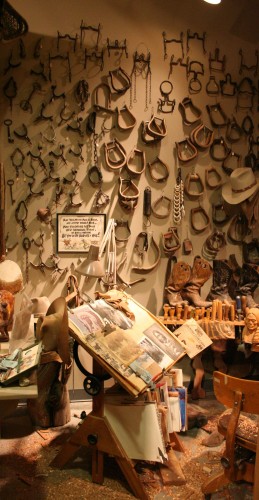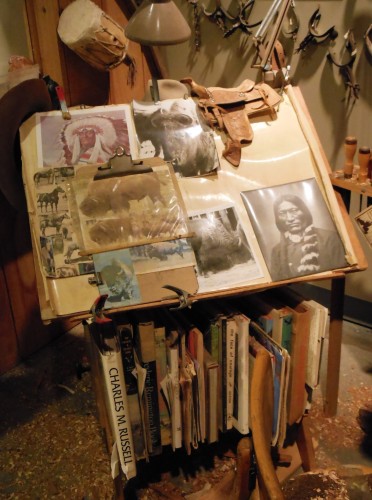 Of the utmost importance to Jim was historical accuracy and authenticity in his depictions of the west. His collections of stirrups, spurs, skulls, and other western objects were kept in his workshop where they could serve as models in the creation of his work.