Jim was a member of the National Wood Carver's Association and the National Buffalo Association. He and his wife, Shirley, operated the Jim Savage Western Art Gallery out of their home in Sioux Falls. In addition to Jim's works, the gallery featured paintings, bronzes, jewelry, and Southwest and Sioux Indian ethnographic art. They also sponsored an annual art show for regional artists. Their dedication to the arts in southeast South Dakota was worthy of admiration. At its 1984 Artists of the Plains Art Show and Sale, CWS presented Jim with a special award for his support of Western art.
Savage's work represents a unique period in the history of Western art which was just coming into vogue when he started. At that time, wood carving was considered more of a craft than a fine art, and it took years of convincing for Jim's work to be accepted at big art shows. But once there, his work spoke for itself, winning awards and gaining in popularity. His original style of using castoff materials and multiple kinds of wood intrigued buyers as well. The Western art boom lasted nearly ten years before the market changed again and the public's interest turned to traditional Native American pieces.
The Center for Western Studies Fine Art Collection preserves more than 80 of Jim Savage's works including 59 carvings and metal sculptures. Jim's interest in photography led him to also explore two-dimensional art forms such as pencil, colored pencil, and pastel drawings and watercolors. Several of these are also represented in the collection.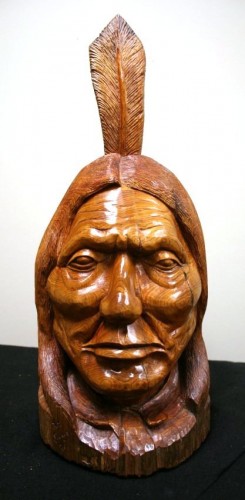 A sampling of Jim Savage works from the CWS Fine Art Collection. Clockwise from top left: Sitting Bull (1970), Horse and Rider (1971), Crow Indian (1973), and Deaf Bull (1984).
Many of Jim's pieces are currently on display in the Elmen Gallery of the Fantle Building. In addition, the CWS Gift Shop has notecard sets featuring images from Jim's limited edition prints available.
We are constantly reminded of the public's love for Jim and his beautiful works. People frequently stop by the Fantle Building to share memories of visiting his studio and watching the prolific artist at work. Hundreds of his sculptures and prints are held in private and public collections worldwide.
Though we preserve Jim's legacy, we are not professionally-trained appraisers and are unable to provide value estimates for Jim's works. It is against the U.S. tax code for our staff to provide appraisals, especially when the work in question is being considered for donation to the Center's research collections. The information presented here is for educational purposes only; please consult a qualified fine art appraiser for a value determination of Savage works in your personal collection.