Dr. Gubbels teaches introductory biology, human physiology, general physiology, immunology and a Scientific Intersections course entitled Life's Cycles:  Birth, Death, and a History of Medicine with Dr. Peg Preston in the History Department. Her research focuses on the function of neutrophils to instigate term and preterm birth. Dr. Gubbels received her bachelor's degree in biological research from Loras College in Dubuque, IA, and her Ph.D. in endocrinology and reproductive physiology from the University of Wisconsin-Madison.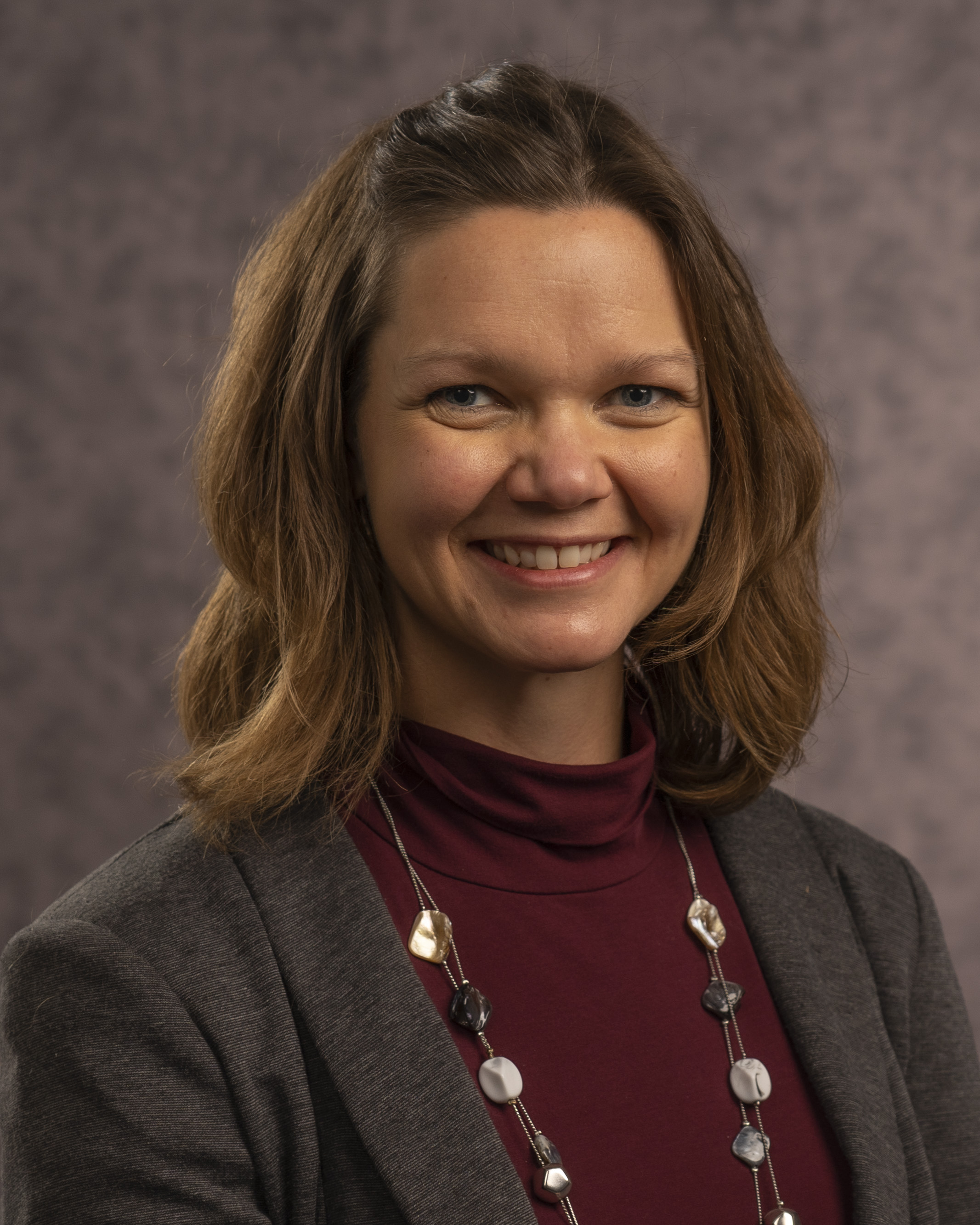 Associate Professor - Biology Department
Augustana University
2001 S. Summit Ave.
Sioux Falls, SD 57197
Phone 605.274.4728
Toll-Free 800.727.2844 ext. 4728
Fax 605.274.4718
E-mail: jennifer.gubbels@augie.edu
 
Education/Training
Ph.D., Endocrinology-Reproductive Physiology      University of Wisconsin-Madison           2009
Dissertation Title: "Cell Surface MUC16: Metastasis, Immune Evasion, and the Promise of Immunocytokine Therapies in Epithelial Ovarian Cancer."
B.S., Biological Research                                             Loras College, Dubuque, Iowa                 2004
Courses Taught
Human Physiology
Advanced Human Physiology
Introductory Biology
Immunology
Scientific Intersections: "Life's Cycles: Birth, Death, and a History of Medicine"
Research Interests
Parturition (labor) is a sterile inflammatory event whereby maternal leukocytes (neutrophils) invade the uterus and cervix.  This is the process by which labor, both term and preterm, is instigated.  Our lab is interested in two things:  1. What factors must be present in maternal blood for leukocytes to migrate to the lower uterus?  2. What changes occur on the surface of the leukocyte to enable it to respond to these factors?  To that end, we collect blood from women in different stages of pregnancy, isolate leukocytes, and use a variety of different techniques in order to answer these questions.  We draw blood, use confocal microscopy, RNA extraction and analysis, western blot, cell isolation protocols, cytokine analysis and flow cytometry.  The goal of the lab is to understand how labor is instigated, and therefore contribute to knowledge that would help detect preterm birth in a blood test before it begins.  By detecting preterm birth before it begins, patients at risk can be transported to health care facilities sooner in order to stop labor before it begins.  Another related project in collaboration with Dr. Paul Egland seeks to understand if extracts from mammalian placentas have antimicrobial and immune-enhancing activity.
 Cytoskeletal Proteins in Neutrophils from women in labor are more polarized.  Blood samples were drawn from women at 28 weeks (control not in labor, CNL), in spontaneous term labor (STL) and right before C-section term not in labor (TNL).  Rhodamine phalloidin was used to stain F-actin polarization from cells within these subject groups.  Using an Olympus Fluoview FV1200 confocal microscope, 50 cells were imaged per subject.  A.  F-actin pattern polarized neutrophil from an STL subject compared to a diffuse F-actin pattern on a CTL subject.  B.  STL samples have a significantly greater percent of polarized neutrophils than both CNL (p=0.0199) and TNL (p=0.0291), based on an unpaired one-tail t-test.  This may indicated enhanced neutrophil extravasation activity in women close to spontaneous term labor.
Publications
Lager TW, Roetman JJ, Kunkel J, Thacker M, Sheets JN, Egland KA, Miles CM, Larson MK, Gubbels JAA. "Sushi Domain Containing 2 (SUSD2) inhibits platelet activation and binding to high-grade serous ovarian carcinoma cells." Platelets. 18 Oct. 2018
Gubbels JAA, Vitiello SP.  "Creating and teaching science lessons in K-12 schools increases undergraduates students' science identity." Journal of Microbiology and Biology Education.  31 Oct. 2018
Gubbels JA, Gadbaw B, Buhtoiarov I, Horibata S, Kapur A, Patel D, Hank J, Gillies S, Sondel P, Patankar M, Connor J.  "AB-IL2 fusion proteins mediate NK cell immune synapse formation by polarizing CD25 to the target cell-effector cell interface."  Cancer Immunol Immunother.  27 Jul 2011.
Patankar M, Gubbels JA, Felder M, and Connor JP.  The immunomodulating roles of glycoproteins in epithelial ovarian cancer.  Frontiers in Bioscience. 1 Jan 2012.
Buhtoiarov I, Neal Z, Gan J, Buhtoiarova T, Patankar M, Gubbels JA, Hank J, Yamane B, Rakhmilevich A, Reisfeld R, Gillies S, and Sondel P. Differential internalization of hu14.18-IL2 immunocytokine by NK and tumor cell: impact on conjugation, cytotoxicity and targeting. J Leukoc Biol. 19 Jan 2011 (Epub)
Belisle JA, Horibata S, Gubbels JAA, Petrie S, Kapur A, Andre S, Gabius HJ, Rancourt C, Connor J, Paulson JC, Patankar MS.  "Identification of Siglec-9 as the receptor for MUC16 on human NK cells, B cells, and monoctyes."  Mol Cancer 2010 May 24; 9:118.
Gubbels JAA, Claussen N, Kapur AK, Connor JP, and Patankar MS.  "The detection, treatment, and biology of epithelial ovarian cancer."  Journal of Ovarian Research.  2010 Mar 29;3:8
Gubbels JAA, Felder M, Horibata S, Belisle JA, Kapur AK, Holden H, Petrie S, Migneault M, Rancourt C, Connor JP, and Patankar MS.  "MUC16 provides immune protection by inhibiting synapse formation between NK and ovarian tumor cells."  Mol Cancer. 2010 Jan 20; 9:11
Goodell CA, Belisle JA, Gubbels JAA, Migneault M, Rancourt C, Connor J, Kunnimalaiyaan M, Kravitz R, Tucker W, Zwick M, Patankar MS.  "Characterization of the tumor marker muc16 (ca125) expressed by murine ovarian tumor cell lines and identification of a panel of cross-reactive monoclonal antibodies."  Journal of Ovarian Research.  2009 Jun 18;2(1):8.
Gubbels JAA , Connor JP, and Patankar MS. "The Role of MUC16 in the Pathogenesis of Epithelial Ovarian Cancer." Book Chapter. Methods of Cancer Diagnosis: Therapy and Prognosis. Springer Co. 2007.
Belisle JA, Gubbels JAA , Raphael C, Migneault M, Rancourt C, Connor JP, Patankar MS. "Peritoneal natural killer cells from epithelial ovarian cancer patients show an altered phenotype and bind to the tumor marker MUC16 (CA125)" Immunology. 2007 Nov; 122 (3): 418-29.
Gubbels JAA , Belisle JA, Onda M, Rancourt C, Migneault M, Ho M, Bera T, Connor J, Sathyanarayana BK, Lee BK, Pastan I, Patankar MS. "Mesothelin binds with high affinity to N-linked glycans expressed on the ovarian tumor mucin, MUC16"Mol Cancer. 2006 Oct. 26; 5(1): 50.
Engle DB, Belisle JA, Gubbels JAA , Petrie SE, Hutson PR, Kushner DM, Patankar MS. "Effect of acetyl-l-carnitine on ovarian cancer cells' proliferation, nerve growth factor receptor (Trk-A and p75) expression, and the cytotoxic potential of paclitaxel and carboplatin."Gynecol. Oncol . 2009. Mar; 112 (3) 631-6.