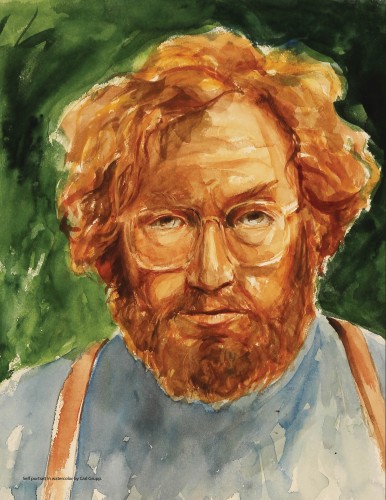 All it really takes to change the course of history is one brief moment in time, being in just the right place at precisely the right second.
Then, magic.
For Carl Grupp, professor emeritus of art, that moment – his moment – happened inside a Sunshine grocery store.
Yes, a grocery store.
It was unexpected.
And delightful.
And unforgettable.
Just like Grupp himself.
Carl Grupp's story really begins in the late 1950s when he was a red-haired teenager with thick glasses who watched "Dick Tracy" cartoons on TV, listened to "The Lone Ranger" shows on the radio, and dreamed of becoming a cartoonist.
As a senior at Washington High School, he was admittedly a poor student. After some gentle nudging from a journalism teacher, he began working for the Orange & Black, the student newspaper, drawing cartoons.
After school and on the weekends, he worked at Sunshine Foods, stocking shelves and bagging groceries for 45 cents an hour.
He didn't have any big plans for life after high school. He figured maybe he'd keep working at the grocery store. He'd made some good friends there and he was good at his job.
He was working in the store one afternoon during his senior year when he heard a familiar voice ask, "Carl, are you going to college next year?"
He looked up to see his high school civics teacher.
"No, I don't think I'm college material," Grupp answered.
"Well, you really should go," the teacher replied.
It was one brief moment – the one Grupp needed.
"Because of him, I changed my mind and tried to go to school," Grupp said. "I started out part time at Augie taking English and art. I thought it was amazing that he would tell me that. I wasn't a great student in high school. I'd be lucky if I got a C in civics class. You just never know where the encouragement you need is going to come from."
"I called him up some years back and thanked him for changing my life – for encouraging me."
Little did that civics teacher know that the red-haired kid he encouraged that day would go on to become an award-winning artist and teacher who is today one of Augustana's most revered, impactful and beloved figures.
Learning From the Great Ones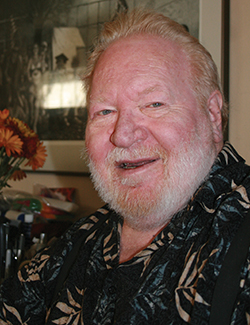 When Grupp came to campus in 1957, he studied under Augustana art icons Palmer Eide and Ogden Dalrymple. He credits the two with helping him discover his passion and love for art.
"They were really influential. I found out that I loved art. I found out that an artist was not just something that you saw in an encyclopedia ... but it was something you could really be. I found I had an aptitude for drawing."
Grupp studied at Augustana for a year before leaving for the School of Associated Arts in St. Paul, Minn. After forming a friendship with a student from the Minneapolis College of Art and Design, he made the decision to enroll there. Grupp majored in painting, minored in printmaking and worked his way through school as a gas station attendant and a restaurant dishwasher.
"I'd bring home leftovers from the restaurant – prime rib. My roommates and I ate like kings," Grupp said, laughing.
He eventually earned his Bachelor of Fine Arts degree and was awarded the prestigious Ethel Morrison VanDerlip Fellowship, a cash award given to an outstanding senior. Grupp would later use the money to travel to Europe.
After graduating, he spent a year working as a teaching assistant for a printmaking class before traveling abroad. His first stop was Amsterdam "to see the Rembrandts and the Van Goghs." He went on to tour Italy, Germany and France before returning to Amsterdam, where he spent time working on his art at the Vrije Academie in The Hague.
Grupp eventually ran out of money and was forced to return home to the U.S.
"I sold some pieces to get enough money to fly back to the states and got a job teaching adult education classes for the University of Minnesota," he said.
Wanting to grow more as an artist, Grupp applied for and received a fellowship to Indiana University in Bloomington. After earning his M.F.A. in art with a major in printmaking, Grupp says, frankly, that he didn't know what his future held.
"I didn't know what would be next. I figured maybe I'd go back to the gas station," he says with a laugh.
Returning to Augustana
Grupp didn't go back to pumping gas.
After receiving a call from his former art professor Palmer Eide, he returned to Augustana in 1969 to interview for a job teaching for the art department. He interviewed with then President Charles Balcer.
"I met with [President Balcer] and the dean and told them what I'd need, in terms of a lithopress and stones to be able to start the lithography and printmaking department," Grupp said. "I also told them I wanted to be able to teach figure drawing. For a long time, [Augustana was] the only school in the state that taught with nude models."
His first office was in the old barracks building, next to a retired freezer. Grupp recalls the space with humor.
"There was no heat in my room, but I had a little space heater. I'd teach classes wearing overshoes and a coat. It was pretty bleak. I used to buy these chuck roasts at the grocery store. If they were grilled they tasted pretty good. I'd grab the leftover bone from the roast before I came to work the next day and keep it in a plastic bag. I'd have it for lunch. At one point, I was sitting on the floor in my office by the space heater, wearing my overshoes and coat, chewing on a bone and I thought, 'Well, I finally made it. I'm a college professor.'"
In the beginning, Grupp taught printmaking, drawing and painting. He rose to the rank of full professor and served as the chair of the art department from 1986-1995 and from 1996-2002.
"The nice thing about being an art teacher is working one-on-one with people. I feel very lucky to have worked with such incredible students," he said. "A colleague in another department once said to me, 'I envy you, Carl, because I go home and think about how well I delivered my lecture. But you see the students grow and evolve and you know what's happening with them.'"
Those who had the chance to study under Grupp say they are the lucky ones.
Jim Cambronne, class of 1976, went on to the Yale School of Art after Augustana. An award-winning artist, today Cambronne serves as a professor at the Massachusetts College of Art and Design. He shared his thoughts on Grupp as an artist and a teacher for the 2004 Grupp Retrospective, "The Wonder of Life," presented by the Eide/Dalrymple Gallery and the University of South Dakota.
"He asked us to read, draw and draw and draw and paint and sculpt, and to work in as many mediums as we could. He wanted us to see and know as many artists as possible. He encouraged us to listen to criticism without personal offense and to experience film, theater, music and dance," Cambronne wrote.  "… to this day I am still asked whom I studied with and where I went to school. I am proud to say that I studied with Carl Grupp at Augustana College. … Most of us are indebted and thankful for Carl's example. Carl Grupp, the consummate storyteller, has enriched our lives and the visual culture of South Dakota."
Grupp spent countless hours building the printmaking area within the department and later served as founder of the Eide/Dalrymple Gallery.
The seeds of the gallery, which is today housed inside the Center for Visual Arts, began with a project he worked on with Doris Huseboe, then student activities director.
Huseboe wanted to create an exhibit in honor of Fine Arts Month, so she asked Grupp to display some of his work inside the Morrison Commons (in what is today the Siverson Lounge).
Grupp agreed and displayed some of his pieces alongside some sculptures done by Minneapolis artist Paul Grandlund. It was the first exhibit of many held inside the Commons.
"I felt it was really important for our students to see original art. I knew a lot of artists that I was able to tap in order to create exhibits. I'd drive to get the art, then students would help me frame the pieces and hang them," Grupp remembers.
While the exhibits were gaining momentum, the central location of each display created challenges since many pieces featured nudes.
"The first year was difficult. People couldn't get past the nudity. At that time, it was just the way it was," Grupp remembers. "The location in the Commons was so public. People going through there weren't expecting to see nude figures."
The exhibits were eventually moved to one of the art buildings before finding a more permanent home inside Old Main.
"We started the gallery in Old Main. I asked the students, 'What should we call it?' Brian Hanson '73, who's now an architect in St. Paul, Minn., said 'Let's call it the Eide/Dalrymple Gallery.' So, I said, 'OK, that's what we'll call it.' And that's how it got its name."
The Eide/Dalrymple Gallery later moved to what is now the Archeology Lab Annex before moving to the CVA in 2006.
Grupp was also key in building what is today known as the Carl Grupp Permanent Collection, an assembly of 3,500 pieces, including works by Picasso, Chagall, Winslow Homer, Whistler, Matisse, Rouault, Andy Warhol and others, housed on campus for the purpose of teaching.
"I felt it was really important to build up a collection so students could see original art all the time," he said. "I found opportunities to buy original art for the College and the collection grew over time."
Dr. Lindsay Twa, assistant professor of art and director of the Eide/Dalrymple Gallery, agrees.
"The opportunity to see changing exhibitions of current artists is incredibly important for our students. The opportunity to see examples of works from master artists from centuries past, however, is invaluable," Twa said. "To study an original etching by Winslow Homer, for example, allows a student to see the hand of the artist and his mind at work. It demystifies what great art is, and reveals to the attentive looker that art is a process of constant inquiry and disciplined work — something that our young students can strive for and dedicate themselves to. In turn, for students and visitors who are not visual artists, the study and contemplation of works of art in the Carl Grupp permanent collection can help illuminate the past in ways not possible through lectures and video. More importantly, it also builds an appreciation for the quality of original artwork and hopefully encourages them to support the artists of today by buying art and supporting museums and galleries locally and wherever they travel."
Grupp, the Artist
"I think my work is like jazz. With an eight-bar theme, you get up and improvise," Grupp once said.
Clearly for Grupp, improvising works.
Since 1961, Grupp has participated in more than 100 regional, national, and international art exhibitions, with dozens of one-man shows. This fall [September 2013], the Eide/Dalrymple Gallery and the Center for Western Studies presented a retrospective of his work, titled "Why Are We? Carl Grupp – A Retrospective of a Life Half Finished."
The exhibit featured 120 works, many of which had never before been displayed — pieces Grupp had considered "half finished" or too experimental to show. These works, Twa says, reveal Grupp's development, working methods, and his relentlessly searching mind.
Dr. L. Adrien Hannus, professor of anthropology and former director of the Eide/Dalrymple Gallery, calls Grupp a "true renaissance scholar."
"The amazing breadth and depth of his knowledge of the arts, literature, music and history is reflected in his prodigious body of work," Hannus said. "Carl brought these multi-faceted spheres of intellect to his teaching as well as to his own art. His keen sense of the links between the diverse and eclectic realms that comprise our universe and his holistic approach to creating art were the gems that attracted students and, in turn, helped mold their visions of the world."
Today at 74 years old, Grupp continues to create art, calling watercolors his favorite tool as of late. His home is filled with his own work, along with hundreds of books, CDs, photographs and his white fluffy cat, named Charmin Ultra. He has also begun writing short stories, which he is working to publish.
His signature piece, a triptych intaglio on paper titled "Diogenes' Dream: The Human Condition, Changing, Illusions" hangs over his dining room table.
He says it illustrates the story of the breakdown of his marriage.
"As an artist, you're a conduit for things that are happening in your life. I've always tried to be a good conduit. This piece ... it's very personal. The human condition is changing illusions."
"I used to depict myself as the juggler. I did all these paintings of the juggler. I saw myself as trying to be a teacher, artist, father, husband – trying to do all these things and then dropping the ball all the time, and try to collect them all again and keep going."
Today, the juggling is easier. It's clear that Grupp has found his balance.
"I like to think of my life as a series of going up the rollercoaster – something comes out as significant, then you crash, and then you climb again."