Last fall, Dr. David O'Hara offered students in his Ancient Philosophy class an optional field trip to Badlands National Park, a rugged stretch of some 240,000 acres in western South Dakota where age-old geologic deposits form jagged, mountain-sized ranges that rise up from the rolling prairie like magical pages in a child's pop-up book.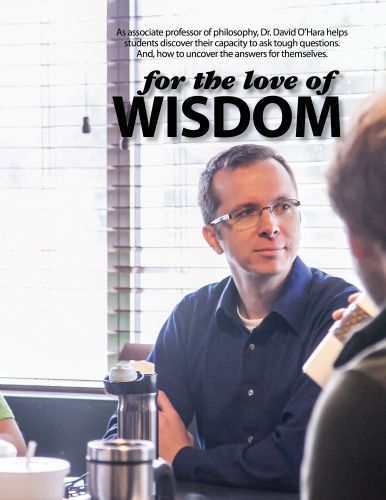 As he shared details of the outing with his class, he was quick to note that it wouldn't be any ordinary field trip. He wasn't requiring any papers and he wasn't offering any class credit for going.
And, most importantly, participants would need to bring sleeping bags.
Fifteen or so students took him up on it, following O'Hara west on a Friday afternoon, over the Missouri River and just past the legendary Wall Drug and its free ice water.
They set up tents in the Park's primitive campground and waited.
After the sun set and millions of stars debuted in the black, cloudless sky, O'Hara and his students simply looked up and watched.
They saw the Big Dipper, witnessed the wonder of meteor showers, watched the Milky Way turn and saw Jupiter rise and cross the sky. Looking through an amateur telescope, they could make out four of the gigantic planet's moons and watched angry weather patterns swirl over its surface.
Despite having brought sleeping bags, most of them never went to sleep.
For many of the students, the trip will likely go down as among their most memorable Augustana experiences.
For O'Hara, it was a chance to see his students cultivate wisdom while utilizing the "Socratic Method" – a way by which individuals discover answers for themselves, first-hand.
"It's sort of like in mathematics. You can tell someone the answer to a problem, or you can show them how to solve a problem. Or you can help them discover how to solve problems. The solutions will wind up being the same as what others come up with. But, they'll own it if they figure out how to do it on their own."
"Do you know that feeling when you watch your kids ride a bike for the first time," O'Hara asks. "That's kind of like the feeling that accompanies my teaching. I love watching students discover for the first time that it's possible to think their way through some of life's toughest questions."
That love of wisdom, he says, is what philosophy is all about. 
Finding the Answers
O'Hara came to Augustana in 2005. He was born and raised in Woodstock, N.Y., (yes, that Woodstock) and says he knew he wanted to teach at the college level when he was in middle school.
Having learned French at a young age, he earned his bachelor's degree from Middlebury College and studied in Spain, intent on teaching Spanish. At the same time, he discovered a passion for talking with college students about "these great big questions that are really hard to answer. Questions about the 'meaning of life' and about 'vocation,' 'calling,' and what we can know about God, our souls and ourselves. Those questions are really hard to answer but they're the questions that matter most to us, I think."
He enrolled in the "Great Books Program" at St. John's College in New Mexico, a curriculum that includes no lectures, no exams, no grades and very few electives. There, he read and debated famous works by Aristotle, Freud, Newton, Einstein and others. He then went on to earn his Ph.D. from Penn State.
His time at St. John's, he says, continues to influence his teaching even today.
"I try to offer students as much of that experience as I can – the experience that allows you to stop caring about grades and start caring about the satisfaction of wonder."
Eudaimonia
Philosophy is, by definition O'Hara says, "the love of wisdom."
But in a practical sense, it's much more than that.
"Absolutely, it's valuable for students to learn a profession – to learn how to do something. But, we also believe it's important to reflect on what we do and why we do it. So philosophy, we joke, doesn't bake any bread. It's not a strictly useful discipline, which often makes it difficult to see why people should study it at all."
"I think what students find by studying philosophy is not so much that they have better answers to questions. It's that they have better questions. They have the capacity to ask questions that they wouldn't have even thought of as questions before."
That's because, O'Hara says, as it turns out, there are different kinds of "knowing."
"There's 'knowing' where we have 'certainty' of something. There's the kind of knowing where we think something is 'likely' to happen. Then, there's the kind of knowing where we think there's a 'possibility' something will happen. When you think about that problem, you start to discover what we mean by knowledge and you can then examine the claims others make. Philosophy turns out to have great value and application for so many elements of life – for debating politics, for talking about religion, economics, parenting and all sorts of other topics."
It's why O'Hara says the study of philosophy is not training for a profession. It's training, he says, in life.
"There's this word that shows up in ancient philosophy and it still shows up today – it's 'eudaimonia.' The 'daimon' means 'spirit' and the 'eu' means 'good.' So 'eudaimonia' means 'having a good spirit in you.' The ancient philosophers considered this to be the aim of philosophy – to have a good spirit within you. The word is perhaps most simply translated as happiness."
"There are professions that will train students on how to accumulate a lot of money. What we want is for our students to be able to ask 'what's that money for? And, how will my relationship with money contribute to my happiness?' Does money buy you happiness? Will sex get you happiness? Will power? Will a new car? There are lots of forces giving these messages to students. Many can change our desires. I think it's helpful for students to be critical of these messages so they don't end up adopting someone else's desires. They need to learn about their own souls and discover what sorts of things will contribute to their eudaimonia."
Finding a Calling
After Augustana, philosophy majors take a variety of routes, O'Hara says. Many go on to medical, dental or law school. A number go into politics or into the study of politics. Others pursue ministry work, professional positions such as computer programming or business administration, or nonprofit work.
But most, O'Hara hopes, will have discovered their "calling."
He cites Plutarch, a philosopher who lived in the first and second centuries of this era, whose essay "On Listening to Lectures" says "a mind is not a vessel to be filled but a fire that is awaiting kindling."
"This is what sets a small liberal arts college and a philosophical education apart – we don't think of our students as empty vessels that we need to fill up. They come to us with the tinder and the logs of their fires already there. But oftentimes, they're not aware of it. Our job is to see the capacity they have to light the fires of their mind. Once those fires are lit, they can light fires in others, as well."
"Frederick Buechner said, 'Your vocation is a matter of finding the deep need in the world and a deep desire in you. And, where those two come together, that's what you're called to do.'"
"So, for our students, it's finding what they're good at; what makes them feel alive; and what they want written on their gravestones. The answers to those questions aren't the same. It's where those three come together where we find our calling."
Tea and Talking
In Augustana publications that feature current students and their experiences, a large number list O'Hara as among their most inspiring and influential professors. They have said the door to his office, a room lined with books and comfortable chairs, is always open; his tea kettle is always ready; and his ear is always willing to listen.
His work extends off campus as well. During his time at Augustana, O'Hara has led six study abroad courses in Greece, (which have included stops in other countries such as Holland, Italy and the United Kingdom) and has co-led courses in Nicaragua and Guatemala.
His students' education is something O'Hara, 42, takes very seriously.
"I begin every day by reading and praying. I pray for myself and I pray for my students. The core of my prayer is that I'll be a blessing to them. I'm not always confident that I am, but I can at least try, right?"
The responsibility O'Hara feels toward his students, and his commitment to helping them learn is what makes him a great teacher, according to Dr. Murray Haar, professor and Chair of the Religion and Jewish Studies Department.
"David is a person of character who knows how to teach students to be people of character," Haar says. "He has genuine humility. The very best teachers are the most self-critical. The really good ones are those who worry about their approach; they anguish about whether they're doing their jobs well. David doesn't know how good he really is. He genuinely cares about his students and his passion for philosophy is contagious. He's a teacher-scholar in every sense of the word. He's just that good, and I don't say that about many people."
In recognition of his efforts, O'Hara was named the recipient of the 2012 Vernon and Mildred Niebuhr Faculty Excellence Award, an honor that celebrates excellence in teaching and brilliance in the classroom. The award was presented at Augustana's Commencement ceremony in May.
For O'Hara, the awards and the praise are humbling. In the end, though, he considers himself the lucky one.
"I love my job. I often reflect on this. A student will be here, sitting in the Lazy Boy and we'll be sipping a cup of tea ... no haste about it … we're just sitting, talking, surrounded by these amazing books. It's just us – talking about God and marriage and money and politics and all these great big questions. We're not having to solve the problems of the world, but we're having a fair go at it. It's then when I stop and think, 'I'm at work right now.'
"I have an amazing job," he says, smiling.
Learn more about Religion, Philosophy & Classics at Augustana.