Dr. Larson teaches Cell Biology, Biochemistry, Pharmacology, and Drug Design and Development. Dr. Larson is the co-director of the biochemistry major, along with Dr. Jared Mays, associate professor of chemistry.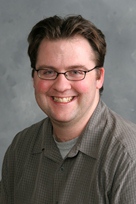 Professor
  Biology Department
  Augustana College
  2001 S. Summit Ave.
  Sioux Falls, SD 57197
  605.274.4700
  Toll-Free 800.727.2844 ext. 4700
  Fax 605.274.4718
  Email: mark.larson@augie.edu
Education
Ph. D. Pharmacology, University of North Carolina, Chapel Hill, NC, 2003
Dissertation: Mechanisms and functions of the collagen receptor glycoprotein VI-mediated Rap1 small GTPase activation in platelets. Advisor: Leslie V. Parise.
B.A. Biology and Chemistry, Concordia College, Moorhead, MN, 1998
Undergraduate research: Sequencing and characterization of the class II pilin gene in Neisseria meningitidis (at Concordia). Identification of novel Protein Kinase A anchoring proteins (AKAPs) in airway epithelial cells (NSF REU at UNC-Chapel Hill).
Appointments
Professor, Augustana University, Sioux Falls, SD, 2019 to present
Associate Professor, Augustana College, Sioux Falls, SD, 2012 to 2019
Assistant Professor, Augustana College, Sioux Falls, SD, 2006 to 2012
Postdoctoral Fellow, Centre for Cardiovascular Sciences, University of Birmingham, United Kingdom, 2004-2006 Advisor: Steve P. Watson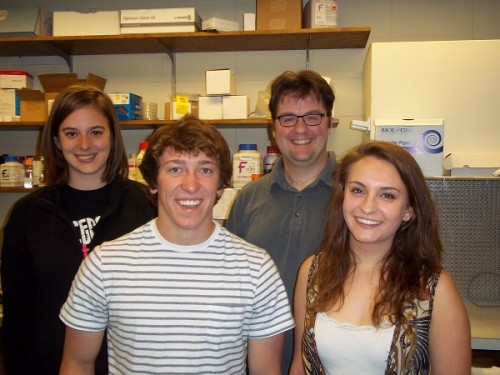 Summer Research team 2013
Anna Kollasch '15 (Mt Marty College) Lance Shaull '15, Dr. Larson, and Betsy McCue '15
Current Research
Platelets are small, anucleate cells that circulate through the vasculature and are critical for normal hemostasis and contribute to disease-causing thrombosis. Given this pivotal role in human health, platelets are a focal point for study and treatment of occlusive cardiovascular disease. Central to their role in responding to vascular damage is the ability for platelets to recognize microenvironmental perturbations after injury via receptor-mediated cell signaling. Released chemical mediators and exposed proteins following injury bind to platelet receptors and result in platelet adhesion, self-aggregation, and recruitment of clotting and inflammatory mediators to facilitate repair.
My lab focuses in two elements of this platelet response.  First, we study how the platelet response to environmental mediators is integrated. Even though we know many of the individual protein players that facilitate the response, how these proteins form larger communication networks is still largely unknown. To better characterize how alterations in the platelet environment change overall platelet function, I am using a systems approach to platelet signaling that merges platelet responses measured at the lab bench with proteomic tools. My main goal is to use computational models to make detailed maps of platelet signaling.
Second, we aim to understand how genetic variation influences platelet function.  My lab has been obtaining blood samples from Native Americans and measuring their platelet phenotypes. We aim to correlate the phenotypes with the underlying genotypes with the goal of finding genetic signatures that correlate to variable platelet function. This project may help address some of the disparities in cardiovascular health in Native Americans, as the platelet responses may help inform treatment options.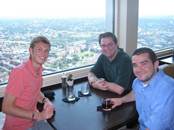 Matt Braithwaite, Dr. Larson and Jordan Anderson–Daniels working at Brigham and Women's Hospital with Dr. Joe Italiano, Jr
Selected Publications (*Asterisk denotes Augustana undergraduate)
Platelet small G-protein signaling
1. Holly, S.P., Larson, M.K. and Parise, L.V. The unique N-terminus of R-ras is required for Rac activation and precise regulation of cell migration. Mol. Biol. Cell 16:2458-2469, 2005.
2. Larson, M.K., Chen, H., Kahn, M.L., *Taylor, A.M., Fabre, J.-E., Mortensen, R.M., Conley, P.B., and Parise, L.V. Identification of P2Y12-dependent and independent mechanisms of glycoprotein VI-mediated Rap1 activation in platelets. Blood 101:1409-1415, 2003.
3. McCarty, O.J.T., Larson, M.K., Auger, J.M., Kalia, N., Atkinson, B.T., Pearce, A.C., Ruf, S., Henderson, R.B., Tybulewicz, V.L.J., Machesky, L.M., and Watson, S.P. Rac1 is essential for platelet lamellipodia formation and aggregate stability under flow. J. Biol. Chem. 280: 39474-39484, 2005.
4. Wang, Z., Holly, S.P., Larson, M.K., Liu, J., Yuan, W., Chrzanowska-Wodnicka, M., White II, G.C., and Parise, L.V. Rap1b Is Critical for GPVI- but not ADP Receptor-Mediated alpha 2 beta 1 Activation. J. Thromb. Haemost. 7:693-700, 2009.
Megakaryocyte development and signaling
1. Larson, M.K., and Watson, S. P. Regulation of proplatelet formation and platelet release by integrin alpha IIb beta 3. Blood 108:1509-1514, 2006.
2. Larson, M.K., and Watson, S. P. A product of their environment: do megakaryocytes rely on extracellular cues for proplatelet formation? Platelets 17:435-440, 2006.
3. Dhanjal, T.S., Pendaries, C., Ross, E.A., Larson, M.K., Protty, M., Buckley, C.D., and Watson, S.P. A novel role for Pecam-1 in megakaryocytokinesis and recovery of platelet counts in thrombocytopenic mice. Blood, 109: 4237-4244, 2007.
4. Thon, J.N., Montalvo, A., Patel-Hett, S.R., Devine, M.T., Richardson, J.L., Ehrlicher, A., Larson, M.K., Hoffmeister, K., Hartwig, J.H., Italiano Jr., J.E. Identification of intermediate stages in proplatelet maturation and a mechanism of platelet release. J. Cell Biol. 191:861-874, 2010
Omega-3 fatty acids and platelet function
1. Larson, M.K., *Ashmore, J.H., *Harris, K.A., *Vogelaar, J.L., Pottala, J.V., Sprehe, M., and Harris, W.S. Effects of Omega-3 Acid Ethyl Esters and Aspirin, Alone and in Combination, on Platelet Function in Healthy Subjects. Thrombosis and Haemostasis. 100:634-41, 2008.
2. Block R.C., Duff R., Lawrence P., Kakinami L., Brenna J.T., Shearer G.C., Meednu N., Mousa S., Friedman A., Harris W.S., Larson M., and Georas S. The effects of EPA, DHA, and aspirin ingestion on plasma lysophospholipids and autotaxin. Prostaglandins Leukot. Essent. Fatty Acids. 82:87-95, 2010.
3. Larson, M.K., Shearer, G.C., *Ashmore, J.H., *Anderson-Daniels, J.M., *Graslie, E.L., *Tholen, J.T., *Vogelaar, J.L., *Korth, A.J., Nareddy, V., Sprehe, M., Harris, W.S. Omega-3 fatty acids modulate collagen signaling in human platelets. Prostaglandins Leukot Essent Fatty Acids 84:93-98, 2011.
4. Block, R.C., Dier, U., CalderonArtero, P., Shearer, G.C., Kakinami, L., Larson, M.K., Harris, W.S., Georas, S., Mousa, S.A. The Effects of EPA+DHA and Aspirin on Inflammatory Cytokines and Angiogenesis Factors. World J Cardiovasc Dis. 2:14-19, 2012.
5. Keenan, A.H., Pedersen, T.L., Fillaus, K., Larson, M.K., Shearer, G.C., Newman, J.W. Basal omega-3 fatty acid status affects fatty acid and oxylipin responses to high-dose n3 HUFA in healthy volunteers. J. Lipid Res. 53:1662-1669, 2012.
6. Larson, M.K., Tormoen, G.W., *Weaver, L.J., *Luepke, K.J., Patel, I.A., *Hjelmen, C.E., *Ensz, N.M., *McComas, L.S., McCarty, O.J.T. Exogenous modification of platelet membranes with EPA and DHA reduces platelet procoagulant activity and thrombus formation. Amer. J. Phys – Cell Phys. 304:C273-C279, 2013.
7. Wachira, J.K., Larson, M.K., Harris, W.S. Omega-3 Fatty Acids Affect Hemostasis But Do Not Increase Risk for Bleeding: Clinical Observations and Mechanistic Insights Br. J. Nutr. 111:1652-62, 2014.
8. Adili, R., *Voigt, E.M., *Bormann, J.L., *Foss, K.N., *Hurley, L.J., *Meyer, E.S., *Veldman, A.J., Mast, K.A., Whiteheart, S.W., Holinstat, M., and Larson, M.K. In vivo modeling of DHA- and EPA-mediated inhibition of both platelet function and accumulation in arterial thrombi. Platelets 30:271-279, 2019.
9. Walker, R.E., Jackson, K.H., Tintle, N.L, Shearer, G.C., Bernasconi, A., Masson, S., Latini, R., Heydari, B., Kwong, R.Y., Flock, M., Kris-Etherton, P.M., Hedengran, A., Carney, R.M., Skulas-Ray, A., Gidding, S.S., Dewel, A., Gardner, C.D., Grenon, S.M., Sarter, B., Newman, J.W., Pedersen, T.L., Larson, M.K., Harris, W. Predicting the Effects of Supplemental EPA and DHA on the Omega-3 Index. Am. J. Clin. Nutr. 110:1034-1040, 2019.
Larson Lab Research Alumni and further schooling/employment
Dr. Joe Ashmore '08: PhD, Nutrition, Penn State University; Postdoc, Molecular Epidemiology, Washington State University
Dr. Tina (Harris) Jackson '08: PhD, Nutrition, Penn State University
Dr. Jessica (Vogelaar) Olcott '09:  MD, University of Minnesota-Duluth; Pediatrics Resident, Mayo Clinic
Dr. Amanda Korth '09: OD, Pacific University; Optometry resident, Lexington, KY VA Medical Center
Dr. Erika Graslie '10: DPT, Regis University
Dr. Jordan Anderson–Daniels '10: Graduate School, Interdisciplinary Graduate Program in Biomedical and Biological Sciences, Vanderbilt University; Postdoc, Virology, Vanderbilt
Jillian Tholen, '10:  MS, Nutrition, University of Minnesota
Dr. Matt Braithwaite '11: MD, University of Iowa; Internal Medicine Resident, University of Utah
Mercedes Hodges '16: BS, Neuroscience, Georgia State University
Rebecca (Niewohner) Silker '12: BS, South Dakota State University
Dr. Leah McComas '12: DDS, University of Minnesota
Dr. Carl Hjelmen '13: PhD, Ecology and Entomology, Texas A&M University; Postdoc, Entomology, Texas A&M University
Nicole Ensz '13:  BS, Biomedical Engineering, Washington University
Dr. Lucinda Weaver '13: MD, University of South Dakota; Pediatrics Resident, University of Alabama at Birmingham
Dr. Kristen (Luepke) Schroeder '14 Pharm. D., South Dakota State University
Betsy McCue '15: MS, Global Health; Global Health Research Associate, University of Notre Dame
Dr. Lance Shaull '15, Medical School, Rush Medical College ('20), Resident, Boston U., Emergency Med.
Anna Kollasch '15, BS, Mt. Marty College; MLS, St. Luke's Hospital; Graduate student in Healthcare Admin, UIowa
Jordan Bormann '17: Medical School, University of South Dakota
Evan Meyer '17: BA, Medical School, University of South Dakota
Ellen Voigt '17: Research Associate, Sanford Research; MD/PhD program, University of Iowa
Kaitlynn (Foss) Bakk '17, Research Associate, Sanford Research; BioTechne
Luke Hurley, '18, Medical School, University of South Dakota
Amber Veldman '18, Medical School, University of South Dakota
Katelyn (Graber) Hurley, '18, Graduate School Biology and Microbiology, SDSU
Kirby Hora, '19, Medical School, University of South Dakota
Tania Rodezno, '19, Research Associate, Gubbels Lab, PhD student, University of Alberta
Sarah Stein, '20, PhD program, Pathology, University of Nebraska Medical Center
Kendall Cornick, '20, Medical School, University of Iowa
Benjamin Kelvington, '20, PhD program, Pharmacology, University of Iowa
Matt Pohlmann, '20, Medical School, University of South Dakota
Tesla Cheek, '19 BA University of Sioux Falls
Krista Goerger, '21 USF current undergraduate
Grace (Valen) Gatrost, '21 current undergraduate
Brady Williquett, '21 current undergraduate
Lauren Ostlie, '22 current undergraduate
Peyton Baker, '22 current undergraduate