Meet senior nursing major Brandon Varilek,  a native of Clark, S.D. He shares how Augustana offered him the hands-on clinical experience he'll need for his career in healthcare. 
Q. Why did you choose to "Go Viking?"
A. I first visited Augustana my senior year of High School and I immediately knew that this was the place for me. Everyone was so friendly and helpful. They made Augustana feel like home!
Q. Please share a bit about your experience as a nursing major. What things do you enjoy, challenges,
opportunities, etc.
A. Being a nursing major at Augustana is very intensive and challenging, however the benefits to the students are evident while in the hospital. The faculty prepares us with skills labs prior to our in-hospital experience to ensure we are as prepared as we can be. I believe that being a nursing major at Augustana presents huge benefits because of our location in Sioux Falls. The program has extraordinary connections with both Avera and Sanford, making Augustana nursing grads a high priority for hiring.
Q. Augustana is a few hours from your home so you probably spend a lot of weekends on campus? Talk about the social/study scene on Saturday and Sunday.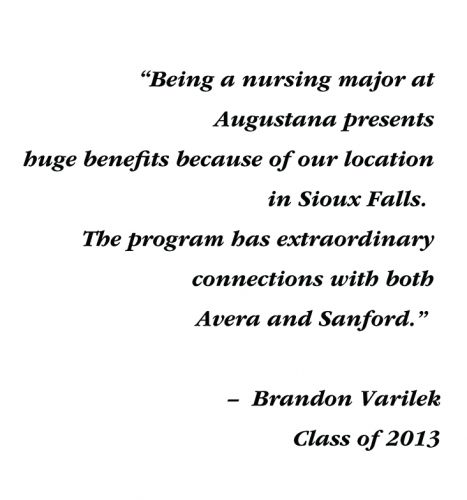 A. There is always something to do on the weekends on campus, whether it is a sporting event, comedian, or a concert. However, this can really interfere with studying if you aren't careful, especially as a nursing major with so much studying to do!
Q. What have you discovered about Sioux Falls during your time here? As a student, what opportunities and or benefits have you found in the city for recreation, etc?
A. Sioux Falls is a city that really has everything anyone could need. You should never be bored in a city like Sioux Falls. Because it's a bigger city, there are numerous entertainment opportunities throughout the year.
Q. You're living off campus this year. Is there anything you miss about living on campus?
A. The thing I miss most about living on campus is being so close to my friends in the dorms. Fortunately, I live only a few blocks away from campus, about five minutes by foot, so I can easily stay connected with friends and it's easy to attend events.
Q. Share a bit about your experience as a member of the Augustana Choir. Do you participate in any other clubs, organizations or activities?
A. My four years in The Augustana Choir have changed my life. It has strengthened not only my vocal skills, but my faith as well. I have met some amazing people through choir and the memories we have together are priceless, especially memories from our Interim tours.
Q. What/where is your favorite place on campus?
A. My favorite place on campus is Humanities 173, which is the choir rehearsal room. Choir rehearsal is the best part of my day. It is a place where I can go and forget about the stresses of college for an hour and fifteen minutes a day and focus on preparing the choir's sermon-in-song for the next performance.
Q. What has been your favorite class so far?
A. My favorite class was Pharmacology. Learning about thousands of different medications and how they help protect and promote human health is simply fascinating.
Q. Do you have a favorite professor?
A. This is a tough question. I have had many amazing professors, but my favorite would be Dr. Pam Schroeder, a nursing professor. She has a contagious energy about her that makes having an 8 a.m. class with her something to look forward to, which is tough to do for any college student!
Q. What is your best Augustana memory/moment so far?
A. My favorite memory is from The Augustana Choir's 2011 Interim tour while we were in Chicago. We heard that an alumnus of The Augustana Choir, who had just turned 102 years old, was going to be at our concert. However, because she was feeling ill that day, she was unable to make it. After the concert, [former Choir director] Dr. [James] Johnson decided to visit the nursing home where she was living and the choir sang to her in the courtyard. I think all of the residents came out to listen to us sing! As we sang, she grabbed Dr. J's hand and didn't let go until we left. Before we departed, we sang "God Be With You Till We Meet Again." There was not a dry eye in the room when we were done. This is something I will never forget!
Q. What is the most valuable thing you've learned?
A. Never be afraid to try something new. If you open your mind to something different once in a while, it could change your life!
Q. What would you say to students considering Augustana?
A. What are you waiting for?! If you want to be more than a number to your professors, come to Augustana. The professors here have a vested interest in your success and they truly care about you. Also, if you have the option to study abroad, DO IT! I traveled to Chile during Interim 2012 to study Chilean government and culture. It was an awesome experience with an equally awesome group of people. It was easily the best month of my life!