Students in Dr. Emily Wanless' GOVT 210 course, "Congress," had a special guest in class today: U.S. Sen. John Thune (R-S.D.).
Thune, the No. 3 republican in the Senate, talked with students about the budgetary process and called for change to three key areas:
Presidential engagement. Today, Thune said, the budget is a non-binding resolution, so the President doesn't need to sign it into law. As a result, Thune said, the President isn't engaged in the process.
Every-other-year budgets. Thune advocated that the budget process should only be held in even-numbered years, when people aren't running for election. "Right now, the only penalty for not passing a budget is a political penalty," he said.
Baseline spending. In order to truly reform the budgetary process, Thune called for the abandonment of baseline budgeting.
He also talked about the critical need to spur economic growth.
"In addition to getting the budget under control, we also need to encourage economic growth – that's the real solution."
He also took questions, including one from a student who asked how he thought his leadership position in the Senate benefited South Dakota.
"I think there's value in being at the table when decisions are made and bringing a South Dakota, common-sense perspective to the discussion," he said.
Watch interviews with Thune and students tonight on KELO-TV, KDLT-TV and KSFY-TV.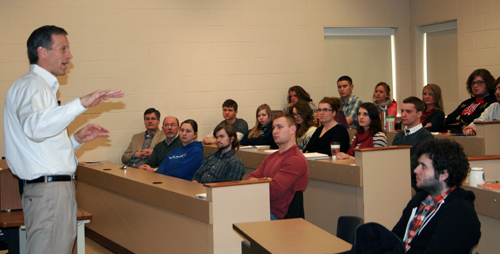 Students in the GOVT 210 course, "Congress," listen
to U.S. Sen. John Thune speak on Monday, March 25.