For most Augustana students, senior year is a time to finish up classes, send out job applications and, most importantly, create memories. Senior Sarah Domangue (Sioux Falls, S.D.), a 24-year-old double major in special education and elementary education, is doing all of that while being a single mother to a child with special needs.
Domangue's six-year-old son, Jaiden, has cerebral palsy; he was diagnosed at four months' gestation as having a brain abnormality. Caring for Jaiden and managing a full course load hasn't been easy. A major challenge for Domangue was her home, which was not handicap accessible. As a result, Jaiden's wheelchair, walking support and other equipment had to be kept at his school.
In January 2012, Domangue contacted Habitat for Humanity, a non-profit organization that helps build and preserve homes for people in need, to explore housing opportunity. Habitat accepted Domangue and her son as one of nine family recipients for homes built in 2013. The mother/son pair was selected from more than 100 applications.
"Owning a safe, affordable home impacts the health of the family members, improves children's grades, and leads to more successful long-term goals and dreams, as well as broadens the tax base in a community," Habitat states on its website.
As a part of the program, Habitat's "sweat equity" strategy requires Domangue to complete a minimum of 400 hours building her home and the homes of others in need.
"By going beyond a mere financial investment in their property and performing sweat equity alongside other volunteers and neighbors, Habitat homeowners gain a greater sense of self-worth and become more personally invested in their community," Habitat stated.
Help from Fellow Students
Along with Habitat for Humanity, members of the Augustana Football Team and Augustana's Student Council for Exceptional Children (SCEC) recently volunteered to help on a build day for Domangue's home.
"We work with Habitat for Humanity every spring on a project," said Head Football Coach Jerry Olszewski. "It is very important for our young men to learn to serve, so that when they leave Augustana, they move on to become a servant leader in their future communities."
Domangue's home will have wider hallways, a level garage and main floor entry from the garage, leveled entry through the front door, laminate wood flooring for smoother accessibility, a lowered kitchen sink and a roll-in shower.
"These modifications will make a world of difference in our daily living," Domangue said. "Everything from getting Jaiden around the house, to giving him equal access, to everything the house has to offer."
The changes will make senior year easier for Domangue, who is currently student teaching and finishing up her college career at Augustana.
"It truly has been an overwhelming experience in the greatest way possible," Domangue said. "The amount of selflessness that has been exhibited towards this project will always be cherished and remembered."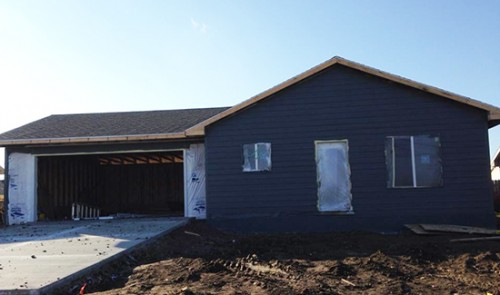 Sarah Domangue's home, supported with help from Habitat for Humanity.
- Chi Ngo '13