(l to r): Dr. Joe Graves, superintendent of Mitchell School District, First Lady Linda Daugaard, Amanda Christensen, Gov. Dennis Daugaard, State Secretary of Education Dr. Melody Schopp
---
South Dakota teacher and alumna Amanda (Metzger) Christensen is the recipient of a $25,000 Milken National Educator Award, recognizing her work furthering excellence in education.
Christensen earned a bachelor of arts in elementary education in 2011 and a master of arts in reading in 2015 from Augustana. She teaches fourth grade at Mitchell's Longfellow Elementary School and received the award Wednesday, Jan. 4, from Gov. Dennis Daugaard, State Education Secretary Dr. Melody Schopp and Mitchell School District 17-2 Superintendent Dr. Joseph Graves during an assembly at the end of classes.
Christensen is the only Milken Educator Award winner from South Dakota this year, and the first from Mitchell School District 17-2 since 2003. Christensen is one of up to 35 honorees who will receive this national recognition for 2016-17. Since South Dakota joined the Milken Educator Awards program in 2002, a total of $475,000 has been awarded to 19 South Dakota recipients.

The Milken Educator Awards were established by Milken Family Foundation Chairman Lowell Milken to provide public recognition and individual financial rewards of $25,000 to elementary and secondary teachers, principals and specialists who are furthering excellence in education. The Awards alternate each year between elementary and secondary educators; its recipients are heralded in early to mid-career for what they have achieved and for the promise of what they will accomplish. This season marks the 30th year of the Milken Educator Awards, hailed by Teacher magazine as the "Oscars of Teaching."
In addition to the $25,000 prize and public recognition, Christensen's honor includes membership in the National Milken Educator Network, a group of more than 2,700 top principals, teachers and specialists dedicated to strengthening education. The 2016-17 recipients will attend a Milken Educator Forum this spring in New Orleans, where educators will have the opportunity to network with their new colleagues and hear from state and federal officials about the importance of maximizing their leadership roles to advance educator effectiveness.
Coverage of Christensen receiving the award: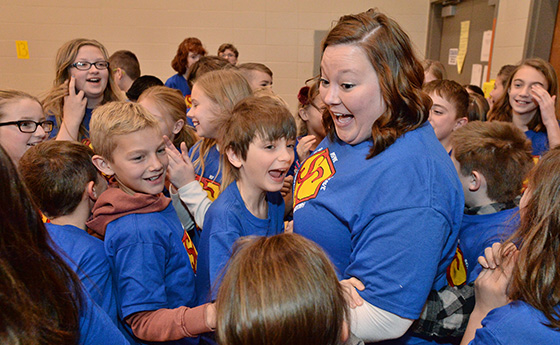 Mitchell Daily Republic: "Mitchell teacher honored with national education award"
KELO-TV: "$25,000 Surprises Mitchell Teacher"
Argus Leader "Mitchell teacher receives 'Oscar of teaching' award"
KSFY: "Mitchell teacher receives prestigious Milken Educator Award"
KDLT: "Fourth-Grade Teacher in Mitchell Awarded $25,000 Milken Educator Award"