"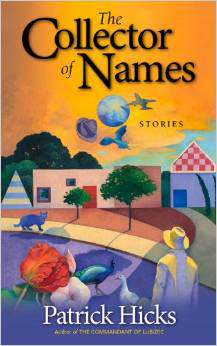 The Collector of Names," a new short story collection by Augustana's Writer-in-Residence, Dr. Patrick Hicks, is a quilt of heartbreak and loss, sewn together with hope and reverence, and bound over a fabric that looks and feels like his home state of Minnesota.
The 12 stories in the collection represent a decade of work for Hicks, whose first novel, "The Commandant of Lubizec," has received national and international praise since its release in 2014, holding company among only 20 books selected for the 2014 list of Great Group Reads by National Reading Group Month.
We caught up with Hicks, who serves as an associate professor of English, to learn more about the book.
Q. How did this book come about?
A. All of these stories were published in literary journals in North America, England and Ireland before I started work on my first novel. So, these stories really represent my beginning as a writer. That tends to be the way of things ... you prove yourself as a short story writer then people are more likely to take you on as a novelist.
I'm really so gratified to see these stories collected together. Several of them have won awards and a number of them were nominated for the Pushcart Prize. They really do represent the "cutting of my teeth."
There's been a resurgence lately in American letters for short story collections and the recent winner of the National Book Award was for a collection of short stories. People seem to be gravitating toward shorter fiction again.
Q. Tell us about the collection. What can readers expect?
A. These stories represent a decade of my life — a decade of different concerns and worries.
"57 Gatwick," the very first short story in the collection, is based on the bombing of Pan Am Flight 103, which until 9/11, was the worst case of aviation terrorism anywhere in the world. One of my relatives was involved in mapping where all the debris fell that night. And, when I say all the debris, I mean all of the debris, if you can imagine.
I wanted to interview him in 2008 to commemorate the Pan Am explosion over Lockerbie but he turned me down. He just couldn't talk about it anymore. But, I felt compelled to write the story, so I wrote "57 Gatwick" and set it in the U.S. instead of Scotland.
That was also my first major short story that got picked up by a nationally ranked literary journal. Glimmer Train routinely ranks in the top-10 places to publish short fiction in the nation.
The vast majority of these stories take place in my home state of Minnesota. That was conscious on my part because I wanted to root the stories within a social setting that I was familiar with. I knew the cadence of speech of the people and I understood their fears, their worries and the changing of the seasons around them.
Q. How did these stories help you become an artistic researcher?
A. I can say with great comfort that I would never have been able to write my novel on the Holocaust ("The Commandant of Lubizec") if I had not written some of these stories.
There's a story in the collection that takes place in a burn unit so, to research that topic, I shadowed some of the nurses who work in the burn unit at Avera McKennan Hospital.
I also interviewed the fire chief in Sioux Falls. I got really comfortable learning how to do research for artistic ends, and had I not learned that, there's no way I could've written my Holocaust novel. I learned how to take nonfiction and place it into a fictional framework.
Q. A number of the stories explore loss, including "Leaving the Hospice," which you said allowed you to reflect on the loss of your grandfather in 2007. Talk about that.
A.  "Leaving the Hospice" examines the final 72 hours of a man's life, how a family reacts to that experience, and the extraordinary work that hospice nurses do.
It's based on the loss of my grandfather. I was leading a study abroad program to London in March of 2007, and when I said goodbye to him before I left, he promised me that he would be there when I got back.
I got a phone call from my mom when I was in the Minneapolis airport on our return trip saying that he only had an hour or two left to live.
He waited until he knew I was in American airspace because he didn't want me to worry. He promised that he'd stick around until I was back on American soil. And that's exactly what he did. My grandfather was such a selfless man, and even in death he didn't want me to worry about him. He told me to focus on my students and that he'd still be around when I came home. He passed away shortly after my mother told him that my plane had landed.
Another story, "Cabin #5," is about a young woman whose husband goes off to fight in Iraq. The story is told from her perspective and examines what her husband is like when he returns from war.
There are several stories about veterans coming home from war. If those are in any way useful to people; or if those stories touch people in some way, I'd feel very satisfied.
Q. This book comes closely on the heels of your debut novel, "The Commandant of Lubizec" and your latest poetry collection, "Adoptable." What's it been like to have these projects all come together so quickly?
A. I'm just so monumentally grateful that my work is resonating with people all across North America, and indeed, the world. It's wonderful and strange that I've been working on this material for so many years and then, in less than a year, I've had three books come out. I've been doing a lot of book tours — I've been really busy lately.
Q. What's next for you?
A. I just finished my latest novel, "The Lazarus Bomb," earlier this year. I plan to start work on another novel this spring and I hope to travel to Germany this summer for research.
---
About Patrick Hicks
Patrick Hicks is the author of seven poetry collections, most recently "Adoptable" and "This London." He is also the editor of "A Harvest of Words," published by the Center for Western Studies and funded by the National Endowment for the Humanities. Learn more about his books.
His work has appeared in some of the most vital literary journals in America, including Ploughshares, Glimmer Train, The Missouri Review, Tar River Poetry, Salon, Prairie Schooner, Natural Bridge, American Life in Poetry, and many others. He has been nominated seven times for the Pushcart Prize. He was recently a finalist for the High Plains Book Award, the Dzanc Short Story Collection Competition, and the Gival Press Novel Award.
His work with PBS's "Over South Dakota" was nominated for an Emmy. A winner of the Glimmer Train Fiction Award, he is also the recipient of a number of grants, including individual artist awards from the Bush Foundation and the South Dakota Arts Council. Recently, he was named a finalist to serve as the next South Dakota Poet Laureate.
A former visiting fellow at Oxford, he is the Writer-in-Residence at Augustana as well as a faculty member at the low-residency MFA program at Sierra Nevada College. He has lived in Northern Ireland, England, Germany, and Spain.
---
Excerpt from "57 Gatwick," the first short story in "The Collector of Names"

The story follows George McCourt, the tender-hearted, recently widowed County Coroner, as he works to identify the remains of 358 individuals on board Flight 57 after it exploded over the city of Duluth, Minnesota.

"More than anything, George McCourt wanted to sanitize what fell from the sky that night. He wanted to restrain and muzzle the horror so that the families might be spared from just how awful the butchery really was. Let them imagine their loved ones, asleep, slipping through the clouds like wingless angels. Pieces of husbands and wives and children had not been sprinkled over his city. There were no dents in the road where bodies had bounced up after their fall. No, he would protect the living from such brutal knowledge. He promised God he would do this."