Augustana hosted an open house for the campus community on Wednesday to celebrate the opening of the University's new Interfaith Reflection Room, located inside Morrison Commons.
The space is designed to provide a safe place for people of all religions and non-religious traditions to pray, meditate, worship, reflect, study and practice their faith.
Campus Pastor Rev. Ann Elizabeth Rosendale '04 said the Interfaith Reflection Room grew out of an effort on campus to acknowledge, accommodate and celebrate religious and non-religious diversity at AU.
"The past decade at Augustana has seen increased diversity of beliefs. This has been especially true as more international students have found their way to Augustana, bringing a rich variety of culture and faith traditions," she said.
Creating the space on campus was a collaborative effort, Rosendale said.
"The effort was ultimately a collaboration between a number of groups on campus, including Campus Ministry, Campus Life, the International Programs Office, the Augustana Student Association, Better Together, the Muslim Student Association, and others. A team of students were instrumental in thinking about what items would be most beneficial to put in the space so that the room could be used by a variety of people. We've been working on this project for nearly a year, and are delighted to see it finally come to fruition," she said.
The Interfaith Reflection Room is important for the campus community, Rosendale said, because it will serve as a space where Christian and non-Christian students alike can grow in their religious literacy and deepen their own faith.
To that end, the room includes sacred texts from a variety of religious traditions, encouraging visitors to learn about faiths they may be less familiar with.
"Augustana's Christian students will deepen their Christian conviction as they learn and talk with their brothers and sisters of other faiths. They will naturally become more articulate about what they believe and why as they engage in conversation with people different from themselves," Rosendale said, explaining that the new space aligns with the University's mission and values.
"The Bible is filled with stories of Jesus crossing boundaries, even religious boundaries, to share life with the neighbor. Jesus is constantly reaching out to the other, meeting their need, and encouraging others to do the same as a way of faithfully living out God's mission. It is not in spite of our Christian faith, but precisely because of it, that we are called to develop spaces and opportunities like this at Augustana. We're convinced that doing so only makes us more faithful followers of Jesus."

— Rev. Ann Elizabeth Rosendale
Campus Pastor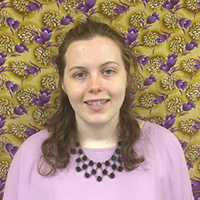 Junior Hannah Norem is a member of the Augustana Campus Ministry team who worked on the effort to create the Interfaith Reflection Room. She said the new space will help students feel safe and comfortable.
"(Before today), people were praying in their dorm rooms or professors' offices because their religion mandated that they pray five times a day (but they didn't feel like they had a place on campus to pray)," she said.
"I'm a Lutheran and I can just go to the Chapel and pray," Norem said, explaining that the new space aims to provide the same opportunity for comfort and accessibility to all students. "That's why this space is crucial. People are so welcome to come in and really realize that we are more alike than we are different, which is super cool for a Lutheran college to do."