Ever snooped in someone else's medicine cabinet?
It makes you think: "I wonder why she takes that."
You make discoveries: "I never knew he wore contacts."
And, you find commonalities: "Whaddaya know? We use the same kind of dental floss."
Dr. David O'Hara understands the power of snooping.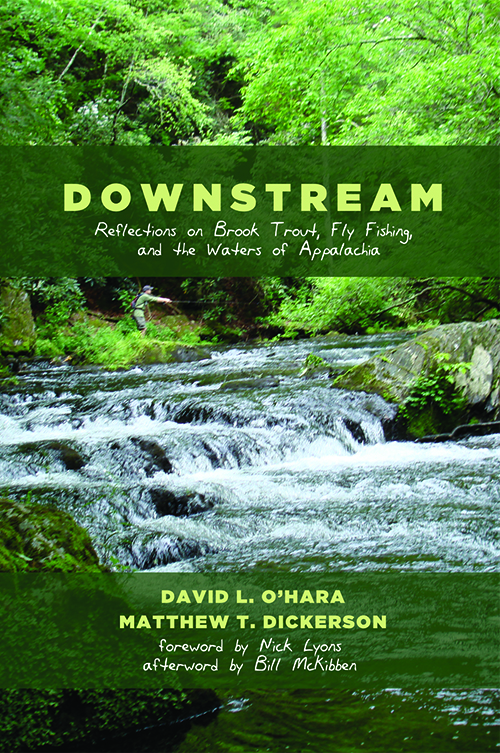 In his new book, "Downstream: Reflections on Brook Trout, Fly Fishing and the Waters of Appalachia," O'Hara chronicles his journey into the streams and rivers of Maine, Pennsylvania, New York, Kentucky, Tennessee and North Carolina in search of understanding, self-discovery, and fish.
O'Hara tells it like this: To catch a brook trout, arguably Appalachia's most famous fish, first you have to find them. To find them, he says, you have to understand them. You have to know them as a species.
In other words, you have to snoop.
O'Hara, an associate professor of philosophy and classics, and his co-author, Matthew Dickerson, a professor of computer science and creative writing instructor at Middlebury College, did just that. They spent six years studying everything from the insects brook trout feed on, to the waters they call home, to the communities that surround them.
Along the way, O'Hara found himself thinking philosophically and spiritually about ethics and nature. He rediscovered how being intimate with nature could impact all facets of his life. And, while fly fishing with his family, he found similarities between himself and his children.
The result is a book that's just as much about fly fishing as it is about the wonder of nature, the power of place and what it means to be human.
Fishing ... and Life
O'Hara's connection to fishing for brook trout goes back to his childhood.
"I grew up in the Catskill Mountains of New York, home to world famous trout streams," said O'Hara, an associate professor of philosophy and classics. "I played in those streams. Every April on the opening day of trout season, my dad would take me fishing."
Without question, it's exciting and fun to catch a trout, O'Hara said. But for him, fly fishing isn't just about the catch.
"When you go out and stand in a stream, you learn to appreciate the stream. It's about being in touch with what's living in the water. It's about taking our children there and spending time together. We need that familiarity."
To support the project, O'Hara and Dickerson won a fellowship from Oregon State University for science and nature writers. Both Augustana and Middlebury also supported research for the book.
In between their nature writing and vivid fly fishing narrative, O'Hara and Dickerson also share rich personal reflections. O'Hara captured this memory of seeing his son, Michael, hook a fish:
"I hand the rod to Michael. Holding the rod in his right hand, he strips the line in rhythmically, as I have taught him. He tugs the line down and to the left with his left hand. Tug, then wait. Tug, then wait. The smelt surges a few feet, pauses, surges again. Tug, then wait. We both feel the tension of the moment as the smelt streamer pulses like a heartbeat. We cannot see the drama underwater, but we know that more than one fish is eyeing the smelt; upstream we have seen them break the surface chasing other smelt. Tug, then wait. Tug, bang! A thousand droplets of water spring like mist from the suddenly-taut line. The rod bows down towards the dam. Michael lifts the rod to set the hook and the rod bends nearly double."
"For a moment his life and the brook trout's are connected, and it is not clear what is the boundary between the two."
"This is a book about a species I love, in places I love. But it's also a book about the species other people love and the places they love," O'Hara said. "Being intimate with nature keeps us living in the world; it reminds us what it means to be human. In the age we live in, it's easy to live a life mediated by screens. It almost doesn't matter where we are; all places can become alike if we let them. It's really only when you go outside that you see the differences in places."
For O'Hara, the takeaway for readers of the book is simple.
"It would really please me if as a result of reading this book, people choose to become more intimate with their natural environments, wherever they may be," he said. "The environmental philosopher Kathleen Dean Moore says that sometimes the most loving thing we can say to someone is 'Look.' That's just what Dickerson and I are trying to say with Downstream. We want to bear witness to what we have seen, and to invite others to look at nature anew."
Published by Cascade Books, "Downstream: Reflections on Brook Trout, Fly Fishing and the Waters of Appalachia," is available at the Augustana Bookstore, amazon.com and via the publisher's website.
Dr. O'Hara teaches a variety of courses, including ancient philosophy, American philosophy, environmental ethics, Asian philosophy, and philosophy of religion.  He regularly teaches a course on classics in Greece, and a course on tropical rainforest and reef ecology in Belize and Guatemala. He is also the author of "Narnia and the Fields of Arbol: The Environmental Vision of C.S. Lewis" (U. P. Kentucky, 2008). He is currently preparing an edited volume of the religious writings of American philosopher Charles S. Peirce. Dr. O'Hara earned his bachelor's degree from Middlebury College, his master's degree from St. John's College and his M.A. and Ph.D. in philosophy from The Pennsylvania State University.