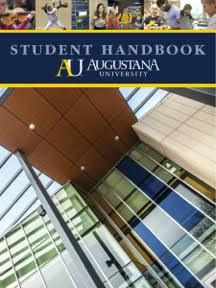 Augustana's Student Handbook is the official resource that defines our expectations for student life. These are the policies and practices that allow us to collaboratively work alongside each other, to respectfully respond to conflicts with one another, and to resolve violations of our Code of Student Conduct in ways that emphasize learning and personal accountability.
This important resource along with the Academic Catalog (see the blue menu for contents) contains important information that Augustana students are expected to be familiar with. We hope that you will take many opportunities to become familiar with the contents of both publications. It is important for you to know that the responsibility for understanding and following our policies and procedures whether it is the Code of Student Conduct or the requirements for graduation rests entirely with you, the student.
On behalf of our faculty and staff, we wish you a successful academic year, and we look forward to participating with you in the special events and programs that make Augustana a uniquely special learning community.