Augustana Cultural Exchange (ACE) Ambassador Program
The Augustana Cultural Exchange (ACE) program is an exciting leadership opportunity for students interested in developing intercultural skills and establishing friendships with international students. Sponsored by the International Programs Office, the program is designed to help international students transition to the United States and to facilitate meaningful, intercultural relationships. Ambassadors play an essential role in the successful integration of new international students at Augustana.
Ambassadors in the ACE program work in groups. Leadership teams will include at least one U.S. student and one returning international student who will lead 7-8 new international students as they adjust to life at Augustana and the United States. Ambassadors assist with a 5-day orientation program — answering questions about culture, academics and resources and introducing international students to new people, places, customs, and procedures at Augustana. Ambassadors provide leadership for international programs on campus and are encouraged to join the Augustana International Club (AIC).
The IPO is seeking motivated student-leaders to become Ambassadors in the Augustana Cultural Exchange (ACE) Program.  Students may apply individually, in pairs, or in teams.
Program Goals
To help international students transtition to Augustana and the United States
To help foster friendships between U.S. students (non-Ambassadors) and international students
To provide advice, support and camaraderie to new international students
To share ideas and celebrate cultures
To provide opportunities to experience local culture in Sioux Falls and the surrounding area
Why Participate?
Meet new students from around the world and form lasting friendships
Develop and enhance your intercultural skills, international competency, and language ability
Enhance your resume with an intercultural leadership position
Expectations of Ambassadors
Attend a training session during spring semester to help prepare you for your role
Attend and assist with welcome events and International Student Orientation

You MUST be able to attend all orientation activites - August 18-23, including assisting with  airport pickups and helping newly arrived students get settled into on-campus accommodations
Please note, it is NOT possible to be both an ACE Ambassador AND Viking Advisor or Viking Guide because of schedule conflics.

Assist with three 2-hour ongoing orientation sessions in September and October
Invite group members to participate in Augustana activities with you after orientation is finished
Attend occasional IPO meetings and provide feedback
Get involved with Augustana International Club (AIC) events
Have fun getting to know new international friends!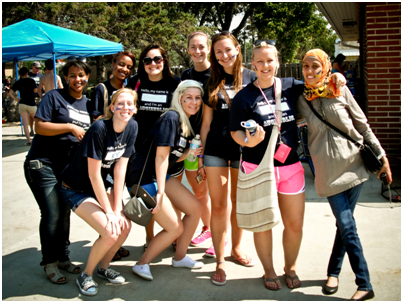 "ACE has benefitted me personally by helping me make friends from all across the world. It is a way to meet others through ordinary American activities. Activities that are routine for the average American, but become alive again when participating in them with friends that are experiencing them for the first time. Through ACE I have learned about many different cultures and traditions with people while learning more about myself. It is a great program to get international students interacting with others, but it is also an opportunity for American students to learn about a greater world."
~ Krista Youngberg, Augustana Class of 2014
To apply, please submit the following by Friday, February 28:
1. Submit the ACE Ambassador Application.
2. Submit a short letter of recommendation from a faculty member to ipo@augie.edu. 
3. Schedule an interview with IPO Staff at ipo@augie.edu or 605-274-5050
ACE Ambassador positions are open to returning Augustana students.  For more information, please contact Jessica Fauteck or Erin Kane in the International Programs Office at 605.274.5050, or erin.kane@augie.edu or jessica.fauteck@augie.edu.