Summit Avenue Apartments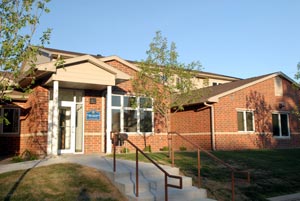 The Summit Avenue Apartments are located on the corner of 33rd St and Summit Avenue. Our newest apartment building, Summit Avenue houses 32 third- and fourth-year students in eight apartments. Amenities include on-site laundry facilities, common lounge space, student storage and private off-street parking.
Living at Summit Avenue has many benefits. The apartments are located very near the main campus, affording students the independence of apartment-style living in the Sioux Falls community. However, Summit Avenue offers the convenience of campus life, as the complex is close to the Elmen Center and athletic facilities, and only a few minutes walk from the Morrison Commons and all academic buildings. Rent is paid once a semester rather than monthly like most apartments and rentals, and wireless internet is included in the cost. Bedrooms are furnished with a bed(s), dresser(s), and study desk(s) and chair(s). Living room and dining areas are also furnished.
Students eligible to live in Summit Avenue must be enrolled full-time in their third or fourth year of college study. Apartment placements are determined during room selection in the spring semester of each academic year.