Advancement Staff
Advancement consists of the following:
The Office of Advancement is located on the third floor of the Administration Building, located at 2101 S. Summit Ave.
The campus scheduling and logistics staff office is on the main floor of the Edith Mortenson Center near the theatre and Student Services office suite.
---
Development, Annual Giving and Planned Giving

Bob Preloger
Vice President
605.274.4922
bob.preloger@augie.edu
Bob serves as the Vice President for Advancement and previously served as Vice President for Marketing & Communications at Augustana from 2006-2012. From 1993-2004, he served the College as Vice President for Enrollment, overseeing admission and financial aid. Between 2004-2006, he worked for The Lawlor Group, a Minneapolis-based higher education marketing firm. He earned his B.A. and M.A. at Concordia University Chicago.

Nate Dally
Senior Director of Development
605.274.5533
nate.dally@augie.edu
Nate is the Senior Director of Development. He works with donors to secure major gifts to the College — capital, endowed, or through estates. He earned his bachelor's degree from Concordia College in Moorhead, Minnesota, majoring in business administration, political science and English. Nate is a lifetime resident of Sioux Falls and has given more than 25 years of service to Augustana in the Advancement Office.
 

Bill Gross
Senior Major Gifts Officer
605.274.4315
bill.gross@augie.edu
After 28 years at the helm of the Augustana athletic department, Bill Gross left his position as Director of Athletics to be a Senior Gifts Officer. He works with donors to secure major gifts and planned gifts to the College. A 1973 graduate of Augustana, Bill has spent 35 years as a member of the athletic staff and has played a role in all aspects of the department, student-athlete, coach and administrator. He earned his master's degree in physical education from the University of South Dakota.

Stan Krebs '75
Director of Major Gifts
651.492.1350
stan.krebs@augie.edu
Stan serves as Director of Development for Augustana in the State of Minnesota and is involved with major, annual, and planned gift work. He is a 1975 graduate of Augustana and majored in History. After a few years as a teacher in Mitchell, South Dakota, he spent 28 years in financial sales in the Midwest banking industry. Stan joined Augustana in January 2010 and currently resides in the Mahtomedi, Minnesota, area.

Mike Flynn
Director of Development
605.274.4912
mike.flynn@augie.edu
Mike is Director of Development. He works with donors to secure major gifts and planned gifts to the College. From 2004 to 2010, he was Executive Director of the Sioux Falls Catholic Schools Foundation. He earned his bachelor's degree from USD, majoring in business administration.

Stephanie Larscheid
Director of Major and Planned Gifts
605.274.4323
stephanie.larscheid@augie.edu
Stephanie serves in the role of Director of Major and Planned Gifts for Augustana, focusing her efforts on major gifts and deferred gift fundraising. She has more than eight years of higher education fundraising experience and joined the Augustana staff in 2011. Stephanie is a native Iowan; she earned a bachelor's degree with majors in marketing and management from Iowa State University and an MBA from the University of South Dakota.

Jackie Payne
Director of Development
605.274.5238
jackie.payne@augie.edu
Jackie serves as the Director of Development, working with donors to secure major gifts and planned gifts to the College. She also leads the College's Parent Relations team. Most recently, she worked at Midcontinent Communications and, from 2001-2010, served as Senior Account Executive and Assistant V.P. for Wells Fargo. After attending two years at Augustana, she earned her B.A. at Concordia College in Moorhead, Minnesota.

Director of the Augustana Fund & Annual Giving
605.274.5020
corey.camp@augie.edu
Corey is the Director of the Augustana Fund and Annual Giving. He leads annual giving initiatives and is responsible for the successful management of Augustana's efforts to generate renewable gifts on an annual basis. Corey is a 1994 Augustana graduate who majored in communications. Prior to returning to Augustana, his career experiences include real estate, the financial services industry, marketing and Nike.

Brad Heegel '76
Administrative Director of Performing and Visual Arts
605.274.5508
brad.heegel@augie.edu
Brad serves as the Administrative Director of the Performing and Visual Arts. He leads the efforts for marketing this area (art, music, and theatre), fundraising for those departments, and coordinates the College music tour programs. At Augustana since graduating in 1976, he has served as the director of admission, public events, and college relations.
Jon Eng '91
Director of Athletic Development
605.274.5236
jon.eng@augie.edu
Jon is the Director of Athletic Development. He manages and secures gifts for the Augustana Athletic Club, which supports Augustana's student-athletes and athletic programs. A Sioux Falls native, Jon graduated from Augustana in 1991 with a bachelor's degree in history/secondary education.

Dawn Krumvieda
Director of Development Operations
605.274.4425
dawn.krumvieda@augie.edu
Dawn is the Director of Development Operations. Dawn joined Augustana in 1994. She oversees the fundraising database and assists the fundraising team.

Jane Schroeder
Advancement Analyst
605.274.4119
jane.schroeder@augie.edu
Jane is the Advancement Analyst and also works in the Business Office as an Internal Auditor. She performs prospect research, oversees the annual scholarship banquet and assists with the database, report writing and other development areas.

Kristi Worden
Coordinator of Gift Processing
605.274.4117
kristi.worden@augie.edu
Kristi is a 1992 graduate of St. Cloud State University with a major in international business. Kristi joined Augustana in 2005 as part of the Business Office before moving to her current position in 2007. She helps oversee all gifts and pledges to the College, manages student workers, and supports scholarship creation, prospect research, and other development areas.

Carolyn Cordie
Advancement Coordinator
605-274-4404
carolyn.cordie@augie.edu
Carolyn is the Advancement Coordinator, joining the staff in July of 2014. She provides support for the Advancement office, with her main focus on Alumni Relations and Event Services. She came to Augustana from Citibank, S.D., N.A., where she worked in various roles for 26 years. 

Beth Bornhoft '91
Administrative Assistant, Athletic Development
605.274.5420
beth.bornhoft@augie.edu
Beth is the Administrative Assistant for the Athletic Development Office and the Augustana Athletic Club and has been in this position since November 2011. A 1991 Augustana graduate, she most recently worked on campus as the division coordinator for the Humanities division.

Advancement Ambassadors
If you have questions or would like more information on the Ambassador program, please contact Jennifer Meiners in the Office of Advancement.
Advancement Ambassadors are an integral part of alumni and donor events, serving as a representative of the student body while gaining hands-on experience in the fields of event planning, fundraising and business networking. Becoming an Ambassador offers a student countless opportunities to enhance their resume and create lasting relationships benefiting them both professionally and personally.
---
Alumni Relations

Mary Toso '90
Director of Alumni Relations
605.274.5530
mary.toso@augie.edu
Mary is Augustana's Director of Alumni Relations. She advises the Alumni Council, Class Agents, the Augustana Academy, and coordinates Viking Days, reunion and alumni programming. A 1990 Augustana graduate, she majored in English and journalism, and earned a master's degree with an emphasis in student affairs at Loyola University Chicago.
---
Marketing and Communications

Kelly Sprecher
Director of Communications & Media Relations
605.274.5526
kelly.sprecher@augie.edu
Kelly is the Director of Communications and Media Relations and editor of The Augustana magazine, joining the staff in 2010. She came to Augustana from Wells Fargo Regional Banking where she served as assistant vice president and communications consultant. Prior to her eight years at Wells Fargo, Kelly wrote for The Daily Republic in Mitchell, South Dakota. She earned her bachelor's degree with a major in mass communications from USD.

Peggy Kapusta
Director of Online Communications
605.274.5053
peggy.kapusta@augie.edu
As the Director of Online Communications, Peggy works with the campus community to gather, generate, and update website and e-communication content, while ensuring established editorial, graphic and navigation standards are followed. A South Dakota State University journalism graduate, Peggy came to Augustana in 2008 from Wells Fargo, where she was an e-business consultant.

Emily Sievers '04
Director of Marketing
605.274.4618
emily.sievers@augie.edu
Emily is the Director of Marketing. Working closely with the Marketing and Communications team, she strives to create market distinction and seeks out ways to illustrate the Augustana brand and student life experiences in print, online and via other proven media. She is responsible for stewarding the brand through trademark and licensing initiatives and overseeing efforts to create "brand experiences" through major events. A native of Albert Lea, Minnesota, Emily began her career at Augustana upon graduation and assumed her current role in 2014.

Jennifer Meiners
Director of Event Services
605.274.4904
jennifer.meiners@augie.edu
Jennifer is the Director of Event Services, joining the Office in 2011. She graduated from Briar Cliff College in 1998 and began her career at Augustana College in 1998 as the government documents assistant at the Mikkelsen Library.

Katie Foutz '00
Assistant Director of Online Communications
605.274.5231
katie.foutz@augie.edu
Katie is the Assistant Director of Online Communications, joining the staff in 2012. Katie produces and manages content for the alumni and college websites, manages college and alumni social media, coordinates email marketing and contributes to The Augustana magazine. Before joining the world of higher education, she worked as a reporter and editor for Sun-Times Media in Chicago.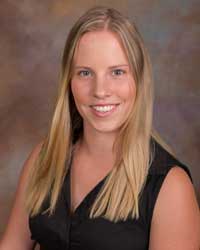 Kaia Chambers
Assistant Director of Communications
605.274.5303
kaia.chambers@augie.edu
Kaia is the Assistant Director of Communications, spending most of her time writing for the Augustana website and magazine publications. She joined Augustana in June 2014 after earning her bachelor's degree from Concordia College in Moorhead, Minnesota, with majors in communication studies and multimedia journalism. At Concordia, she worked as a student writer for their communications office. Kaia is from Decorah, Iowa.

Pete Roberts
Assistant Director of Admission Communications
605.274.5015
pete.roberts@augie.edu
Pete is the Assistant Director of Admission Communications. In this role, he manages and maintains the database of prospective future Vikings. He designs many of the publications that are used in the Admission Office and works with both the Offices of Admission and Advancement on projects related to technology integration and logistics. He earned his bachelor's degree from Iowa State in 2002, majoring in industrial technology, and holds a master's degree in education from the University of Oklahoma in 2006. He also serves the Augustana Athletic Department as the Statistics and Technology Coordinator.
---
Conferences and Scheduling

Jackie Schmidtman
Coordinator of Conferences & Scheduling
605.274.4546
jackie.schmidtman@augie.edu
After an extensive career serving various law offices in Billings, Minneapolis and Sioux Falls, Jackie began her work at Augustana in 2007 as the Coordinator of Conferences and Scheduling. She is responsible for managing facility use across campus and for coordinating off-campus rental requests. She also coordinates conferences held on campus, including planning and overseeing of Augustana's summer conference programs. A native Minnesotan, Jackie graduated from Itasca Community College.

Brian Rieger
Logistics Coordinator
605.759.2207
brian.rieger@augie.edu
Brian is the Logistics Coordinator, managing major event set-ups on campus and providing logistical and technology support for meetings and conferences. Brian came to Augustana in 2005 after a career with Fuji Film. He has been in his current position since 2006.

Joe Brown
Assistant Logistics Coordinator
605.310.3390
joe.brown@augie.edu
Joe is Augustana's Assistant Logistics Coordinator, working with Brian Rieger on set-ups and tech needs for meetings and conferences on campus. He is a USF graduate who majored in communications studies and minored in business. An Army National Guard veteran, he most recently worked at Hy-Vee and for Bluefire Design Group as a project manager.

Chris Johnson
Assistant Logistics Coordinator
605.274.5451
chris.johnson@augie.edu
Chris is the Assistant Logistics Coordinator for the Humanities Center (since 2009) and manages recitals, concerts and performances for the Music Department, as well as other on- and off-campus events. Previously at the Washington Pavilion for nearly 10 years, Chris was the senior stagehand and house head rigger. He holds a B.S. degree in Technical Theatre from the University of Central Arkansas.