Scholarship Luncheon FAQs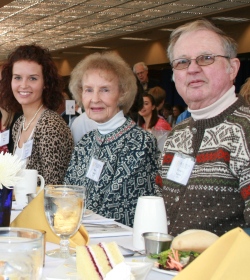 The following are frequently asked questions regarding Augustana's Scholarship Luncheon. The annual event will be at 12:30 p.m. on Sunday, April 10, in the Ordal Dining Room in the Morrison Commons.
For further questions or additional information, contact the Advancement Office by calling 605.274.5521 or emailing development@augie.edu.
Q Why was I invited?
A. If you are a student who received a scholarship or a donor/ representative of a scholarship, then you were invited.
Q What should I wear?
A. This is a special event for all who attend. Formal, business attire (like you might wear to a job interview) is requested.
Q When should I arrive?
A. We ask that you plan to arrive at least 15 minutes early. This way you will have time to check in, get your nametag and find your assigned seat.
Q Where should I park and which door should I enter?
A. If you attended the event in the past, it is in the same location. If you are a new attendee, the Morrison Commons is #6 on the campus map. Parking is available in the Edith Mortensen Center or Humanities lot off of Grange Ave. You can drop off guests at the south circle drive entrance of the Commons located at Commons Drive and Grange. Elevators are available on the east side of the building. We will have ushers available to direct you.
Q What can I say to start the conversation?
A. Feel free to welcome your donor or student as they arrive and introduce yourself. Share your Augustana experience and why the support you receive or gave is so important to you. A scholarship always has a story behind it. Is it named after a loved one? Does it support a specific area of study? Exchange what you love about Augustana, why you chose Augie and what your future plans are. Donors want to hear about the students they support — you! 
Q How can I keep in touch?
A. Networking is important and this is a great opportunity to do so. If you made a connection with your donor or student and you would like to keep in touch, feel free to ask them for their contact information. We can also help can arrange that! Contact Hannah Munce, Donor Relations Coordinator, in the Advancement Office by emailing hannah.munce@augie.edu or calling 605.274.5521.
Q What if I cannot attend and I RSVP'd yes?
A. Ahead of time, you may edit your registration by clicking on the link at the bottom of the confirmation email you received when you originally registered for the event. If it is last-minute, please contact the Advancement Office as soon as possible with your information.
For further questions or additional information, feel free to contact the Advancement Office by calling 605.274.5521 or emailing development@augie.edu.